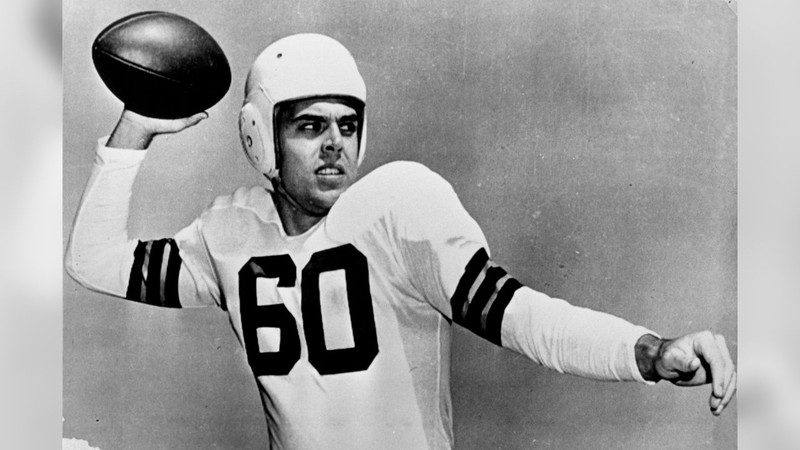 By Zane Miller

This is a new series I'm doing where I look at NFL quarterbacks that have amassed more than 10 wins in a single season, which has occurred 254 times since the QB win-loss record was established in 1950. In this installment, let's take a look at Cleveland Browns quarterback Otto Graham.
Graham was already coming off an impressive 1950 season with the Browns, becoming the first quarterback to officially reach a double-digit win total, racking up 10 wins as the team went 10-2, eventually winning the Championship Game 30-28 over the Los Angeles Rams, earning the title in the Browns' first season as members of the NFL.
In 1951, Graham and the Browns kept the momentum firmly on the gas pedal, as despite a week one loss to a fellow ex-All-America Football Conference team in the San Francisco 49ers, the team rattled off 11 straight wins to end the regular season at an 11-1 record.
Graham's best game of the season from a touchdown pass perspective was his December 2nd matchup against the Chicago Cardinals, passing for four touchdowns and 217 yards, with all four of the touchdowns coming in the first half alone. Graham would orchestrate two more scoring drives in the third quarter, allowing the Browns to take a 42-0 advantage going into the final frame. While the Cardinals would fight their way back in the fourth quarter, Graham would claim a defensive touchdown for good measure, taking back a fumble in the Browns' 49-28 victory. His best passing yardage game came a week prior, as he threw for 277 yards and a pair of touchdowns as the Browns won 42-21 against the Chicago Bears.
Even in his lone loss against the 49ers, Graham was still able to pass for over 200 yards, getting 222 pass yards and one touchdown, which would be the first score of the game and the only time the Browns would find the end zone as San Francisco took it 24-10, with Graham being intercepted twice by linebacker Pete Wismann.
Graham finished the 1951 season with 17 passing touchdowns and 2,205 passing yards, taking second place in both categories behind Detroit Lions quarterback Bobby Layne, who had 26 pass TDs and 2,403 pass yards for a 7-4-1 record. Graham's other close counterparts were Green Bay Packers quarterback Tobin Rote, who finished one spot behind in touchdown passes with 15 but struggled to a 3-8 record, and New York Yanks QB Bob Celeri, as he amassed 1,797 pass yards to seal third place in the category, although he too had a rough year in team success with just one win in the Yanks' final season before relocating to become the Dallas Texans.
As Cleveland's 11-1 record automatically qualified them for a rematch against the National Conference champion Rams, this time Los Angeles would come out on top with a 24-17 win. Graham had his best passing yardage game of the season with 280, although he would be picked off three times and held to only one touchdown pass.
With his 1951 performance, Graham would be awarded as a first-team All Pro selection, the first of four times he would receive this honor during his stint in the NFL. However, the 1951 season would be the only one in which he would win over 10 games, due to his era allowing him to play only 12 games per season. Graham would also be inducted into the Pro Football Hall of Fame in 1965 and his #14 jersey number would be retired by the Browns in 1956, although he wore #60 during the 1951 campaign.
With all of the statistics in mind, I grade Graham's season at an A, due to coming in second in both major passing categories and making a Championship Game appearance, although coming up short just keeps this season from reaching A+ territory.