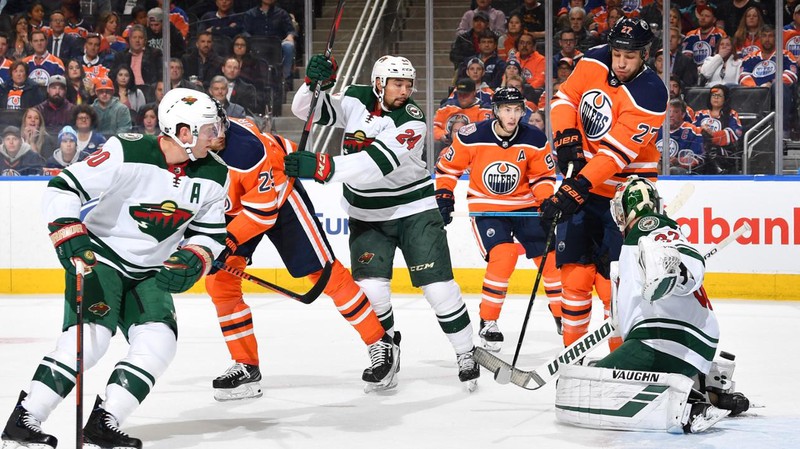 The Oilers fell 4-3 to the Wild tonight on a game decided on special teams. All the Oiler's needed was one powerplay or penalty kill to go their way tonight and this game would have at least gone to overtime. The Wild were 3-3 on the PP, while the Oiler's went 0-5 a drastic difference and enough to cost the club the game.
Despite good numbers, I've been pretty critical of the Oiler's power play this season. The top unit features five left hand shots and at times looks extremely awkward. The numbers make it look like the powerplay is being successful, 22% success rate but a lot of the PP goals are scored on the rush and not a result of executing a powerplay setup. I feel that Milan Lucic and Oscar Klefbom are just not offensively gifted enough to warrant spots on the top unit. Lucic has been shockingly ineffective as a net front presence. He's rarely in position to provide a screen and his hands aren't good enough to make plays in close to the goal. Oscar Klefbom just isn't an offensively minded player. If you look back on his career so far, the numbers show that's just not the player he is. I's really like to see Evan Bouchard take over Klefboms spot and I think Lucic could be replaced by pretty much anyone on the roster. I doubt the coaching staff will make any changes in the near future and I really hope it doesn't end up costing up any more games before then.
I expect tonight's loss will give Jesse Puljujarvi a chance to get back into the lineup. He's been in the pressbox for the last four games and I think the youngster deserves another chance to prove he can play. I'm not sure who exactly will come out of the lineup for Puljujarvi but I wouldn't be shocked if it was Kailer Yamamoto. That would mean Jesse would likely be playing alongside Connor McDavid, a move that would surely boost his confidence.
Tonights loss put an end to a three game winning streak as well as the month of October for the Oiler's. The Oiler's end October with a record of 6-4-1 and are very much in the playoff hunt. The schedule eases up a bit for the Oiler's in November and I think it will be very important for the club to use that to their advantage. It would be very nice to be sitting near the top of the division in one months time.