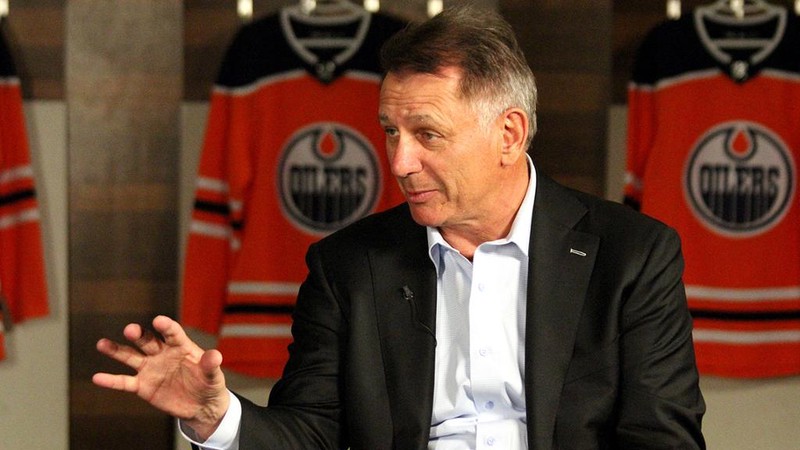 One interesting thing about a change in management is how they handle players currently in the organization versus players brought in by the new management. At a prospect level, a player can go from being on the verge of making the NHL to being gone from the club in a hurry. Right now that Oilers are in a management transition and we still don't know what will happen with our current stock of prospects and other players on the verge of cracking the NHL.
Ken Holland has me very confused on this front, he's acquired a long list of middling forwards since taking over and then panic bought out a defenseman on the back end. So the message seems to be, forward prospects are going to have to move heaven and earth to make the NHL but we are opening up a fresh spot in the defense that one of you has to fill. Granted the Oilers defensive prospects are much more highly touted than their forward group but we are talking about spots at the bottom end of the roster. The closer we get to training camp, the less chances we see a forward making the jump from AHL to NHL.
Contract wise this is a make or break year for a large portion of the Oilers AHL group and there will be major turnover next season. For the 2020-21 season there are 7 forwards under contract, only 2 defensemen and the starting goalie will be out of a contract as well. This is a make or break year for the prospect group, especially the defensemen.
I believe the Oilers AHL team is going to be stacked at forward this season and some of the guys in the bottom half of the roster may not get much opportunity to show the organization if they are worth giving another contract to. Nolan Vesey and Cameron Hebig would fall into this category, not very high on the prospect depth chart and will really have to impress to earn another contract. Then we have a group of older players who will be UFA's at the end of the season, if they don't find some success in the NHL this year they could be passed over next summer and be forced to find work elsewhere. This group includes players we've seen in the NHL but never did enough to stick around, Brad Malone, Patrick Russell and Josh Currie. Worst part for this trio is that Ken Holland already brought in a long list of players likely to steal any opportunity from them at the NHL level. I'll be rooting for Josh Currie especially because he had a huge season last year and showed fairly well in the NHL, he's got a list of players he need to climb over to get back to the NHL though.

The defense in Bakersfield is a slightly different situation. Someone is playing in the NHL this year and most of the players without a contract for next season will get games in the NHL. When Andrej Sekera was bought out, it virtually guaranteed we would see at least one rookie on the opening night roster. Caleb Jones, William Lagesson and Ethan Bear are all hoping they are that player. I hope we see all three in the NHL this season because the trio is all close to being NHL ready and none of them ahve contracts next season. They will be RFA's but I doubt we see all three in the Oilers organization a year from now. That could mean one of them gets traded or the Oilers just don't offer them a new contract. There is also a lot of pressure from underneath this trio as we have Evan Bouchard, Philip Broberg and Dmitri Samorukov all being highly touted heading into this season. With Ken Holland not having a history with Jones, Lagesson and Bear, they have to have big years this season to keep their dreams of being an Oiler alive.
Two different approaches to two sides of the roster. Only time will tell what happens to this batch of Oilers prospects. The deck is stacked against some of them but the door has been left open for a few others. We will see major turnover among the group over the next year as Ken Holland makes his mark on the team and sculpts the depth chart to his liking. There will be moves that leave long time fans angry after seeing their favorite prospect head out of town but the changes are inevitable. this will be a major transition year for the Oilers prospect list and a make or break year for a good chunk of our prospects.