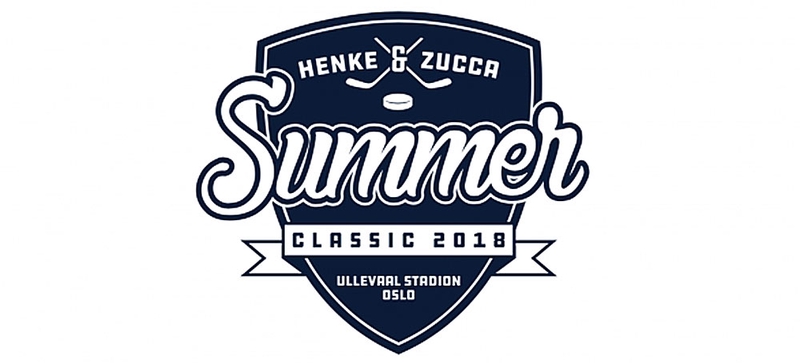 We all saw the NHL Winter Classic many times, but what about a Summer Classic? An outdoor game on the ice in August? Is it real? Yes! On Saturday, 11 August Ullevaal Stadium in Oslo, Norway hosted the Henke and Zucca Summer Classic 2018, a charity outdoor game organized by the New York Rangers' players Henrik Lundqvist and Mats Zuccarello.
An ice hockey game was held for the first time at the Ullevaal Stadium, the biggest one in Norway and the home arena of the Norway soccer national team. The warm weather on the gameday is another interesting detail, Norway is a Nordic country, but summer is warm here and the temperature of +18 C degrees is not a comfortable one as for the ice. Anyway, on Saturday team Henke faced team Zucca and both rosters were full of ice hockey stars. It was a charity game so all the money generated from ticket and merchandise sales went to the three charities: Lundqvist's and Zuccarello's own foundations and an international charity "Right to Play".
The Henke and Zucca Summer Classic wasn't just the game itself, but also a dinner and a "Draft Night" on Friday, where both captains choose their squads.

And here are the rosters:

Team Zucca: Mats Zucarello - C, Antti Raanta, Peter Forsberg, Zdeno Chara, Ryan McDonagh, Derick Brassard, Victor Hedman, Nikolaj Ehlers, Roman Josi, Filip Forsberg, Nino Niederreiter, Alexander Wennberg.
Team Henke: Henrik Lundqvist - C, Daniel Alfredsson, Loui Eriksson, Oliver Ekman-Larsson, Carl Hagelin, Mattias Ekholm, Artem Anisimov, John Klingberg, Hampus Lindholm, William Karlsson, Kevin Fiala, William Nylander.
Mostly European players participated in the Summer Classic, and many of the Swedes were on the team Henke roster.
Both Mats and Henrik made a special decorated equipment for this game, new hockey pads for Lundqvist (an easy question) and funny skates for Zuccarello (a little bit harder task).
It was nearly sold out at the game on Saturday, more than 20 000 fans were at the Ullevaal Stadium in Oslo to enjoy an outdoor hockey in midsummer and see the NHL stars, both active and retired. The final result is 10-7 Team Henke won, but during the game, Team Zucca led 6-3 - the game was very interesting and full of fun.
The highlights of the Summer Classic
I'm sure hockey fans in Norway liked this event and all the players enjoyed the game.