I haven't posted onto Scorum in a while, so I know it's time to make a post that enters with a bang!
Last week, a new Upper Deck product came out called Upper Deck Engrained! The theme of this product is WOOD! There are a ton of game used hockey stick pieces in this product! Of course, there are a lot of wooden stick pieces in it, but there are modern carbon sticks in it as well! It's a pretty neat product. There are cards in it completely made out of wood in them! Try to imagine pulling a wooden hockey card out of a pack! They're sometimes autographed as well!
This box cost me $270 CDN, so it wasn't cheap. I immediately opened it on release day!
Here's the video link! Please subscribe to my YouTube channel at Shaun's Collectibles!
My box was decent, but not spectacular. Here's the best hit: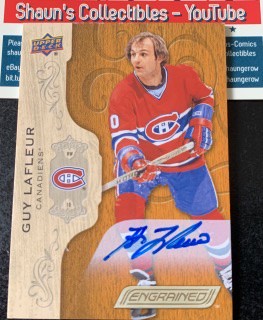 You get at least two autographs per box. This was a nice hit! Gotta love getting autographs of Hall of Game players like Guy Lafleur!
I don't think I'll buy another box of Engrained unless I win the lottery. Money's pretty tight in this economy right now.
Stay tuned for more Hockey Card videos from me!
Contact me for buying and trading here, or through the following ways:
Upper Deck E-Packs: randymeeks
eBay: 3883shaun
YouTube: Shaun's Collectibles
Minds: ShaunsCollectibles
Bittube: ShaunsCollectibles
Reddit: shaunscollectibles
Instagram: shaunscollectibles
LinkedIn: Shaun Gerow
Hive.com: shaungerow
Scorum: shaungerow
Happy Collecting! 😄