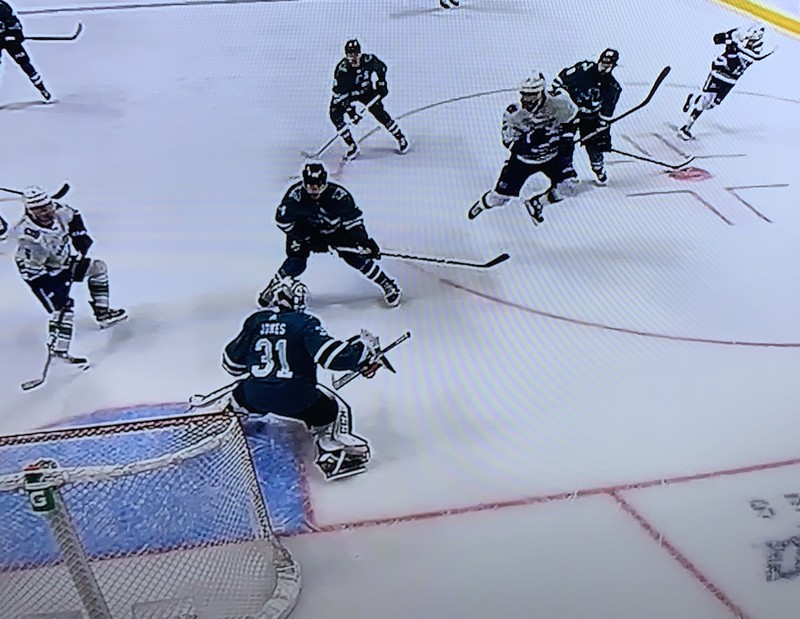 Unbelievably, the Canucks are only 1 point out of a playoff spot at the start of this game.
Erik Karlsson back in the lineup tonight when the Canucks have 7 players out of the lineup=bad news for the Canucks
The Sharks spanked the Canucks 7-2 earlier this week with Michael DiPietro as their starting (and only) goaltender. You'd like to think the Canucks will show up for this game after that.
Martin Jones vs Jacob Markstrom tonight. Surprisingly, Jones hasn't had a good year, while Markstrom has.
The game starts- Pouliot gets a dumb penalty for delay of game- he lifts the puck over the glass. Horrible way to start the game only 2 minutes in when the Sharks are a good team at home with good specials teams.
MEIER SCORES- Of course, the Sharks PP looked really good. UGH! Will this be a long night? Meier now has a career high of 21 goals on the season.
ROUSSEL SCORES- on a breakaway! The Canucks actually respond quickly! Biega with a nice pass to him to put him on the breakaway. Biega doesn't really belong in the NHL, but that was a nice pass.
Erik Karlsson gets a penalty for tripping Horvat- let's see if the struggling Canuck PP can do anything. It's been terrible the past month.
Zack MacEwen is getting some PP time for the Canucks. You know you're desperate to get something going when....
Canucks don't score- PP looked decent.
Biega takes a ridiculous Cross Checking penalty- That was blockheaded. More proof he doesn't belong in the league. Thankfully, the Sharks don't score.
The HNIC broadcasters report the Canucks have lost 186 man games due to injury (and counting) this year. I've been astounded to just how much bad luck the Canucks have had the past 4 years between injuries and the draft lottery.
Labanc gets a penalty by tripping up Boeser. Leivo hits the post and the Canucks don't score. Yuck.
END FIRST
The Canucks looked ok. Markstrom played well.
In the intermission, Brian Burke says the Canucks should keep their first round pick. Thanks for stating the obvious, Brian.
SECOND PERIOD
Hutton and Stetcher have been playing close to 30 minutes a game since Tanev and Edler got hurt. I just hope neither of them get hurt. Without them, we'd have an AHL calibre defence.
Canucks have a really good start to the second. They get a PP, don't score, but at least they got some chances.
COUTURE SCORES- Gudbranson got tripped on the play- NO CALL- Even the HNIC broadcasters didn't notice Gudbranson get tripped.
MacEWEN and Goodrow FIGHT- I'll call it a draw. MacEwen seems to look decent. Definitely a fringe player, but at least he seems willing to put his body on the line for the team.
The Canucks are waaayyy outplaying the Sharks in this period and have nothing to show for it.
Leivo gets a high stick penalty..... Sharks don't score, Sharks get a penalty- 4 on 4... nothing happens.
END SECOND
The Canucks outshoot the Sharks 18-6 in the second!
Kelly Hrudey praises the Canucks- says they play the right way. I'll second that motion. I'd like to see more toughness on the team, but at least this Canucks team doesn't quit.
the HNIC roundtable praises Zac MacEwen. Even Biega. Spare me. Neither of these two players belong in the NHL right now.
ThIRD PERIOD
After the puck drops, the Canucks keep playing the Sharks!
BOESER SCORES- It's Boeser's 100th career NHL point! Only Pavel Bure got there faster although I'm quite sure Pettersson will break that midway through next season.....
Canucks get a slashing penalty. Uh oh. It's a crap call. HUGE KILL! The Canucks escape unscathed!
Sharks have a 18-5-4 home record. It'll be huge if the Canucks can even get a point out of this game.
HNIC is going on full fawning mode over Peterson. You name it, they're praising it. Now they are talking about his defensive play. I agree. He's much more of a complete player than Pavel Bure was. No doubt in my mind Pettersson will wind up being the best player in Canucks history if he stays healthy. They even mention Pettersson has 22 points (11 G, 11 A) in his last 16 road games. He doesn't disappear when the game gets bigger- he seems to just get better. On top of that, Pettersson is only 6 points away from Pavel Bure and Ivan Hlinka's Canucks rookie points records and 9 game tying goals this season. CLUTCH!
PAVELSKI SCORES- Biega coughed up the puck. No surprise there. That's what happens when you have AHL calibre defensemen on your team.
San Jose has a 12 game points streak on the Canucks- 11-0-1 win that span.
The Canucks press- they keep playing well. With about 30 seconds left, Pettersson hits the post with Markstrom pulled. Look at the picture above.
Damn. Canucks lose 3-2.
Not getting a point out of an effort like this sure is a bitter pill to swallow. This game was very winnable, or at least, tieable (did I just make up a word?) and they got nothing- and it doesn't look like the Canucks will be getting healthier anytime soon.
What can you do?
I just hope Troy Stetcher and Ben Hutton don't get hurt,. The Canucks will be dead last in the NHL within two weeks without them!
Onto the next game!