Today was the end of a long and frustrating work week for me. One good thing about hockey? I know hockey will always be my friend and opening packs of hockey cards will always be fun, even when you don't get lucky while opening them!
I have a pack of 2016-17 Upper Deck Series One today! It's always good to know you have a shot at a big Auston Matthews Young Guns Rookie Hit! The 2016-17 rookie class was a good class! Lots of good rookie cards to score out of these packs!
Here's the video link! Please subscribe to my YouTube channel at Shaun's Collectibles!
No Auston Matthews, but I still had a REALLY good day!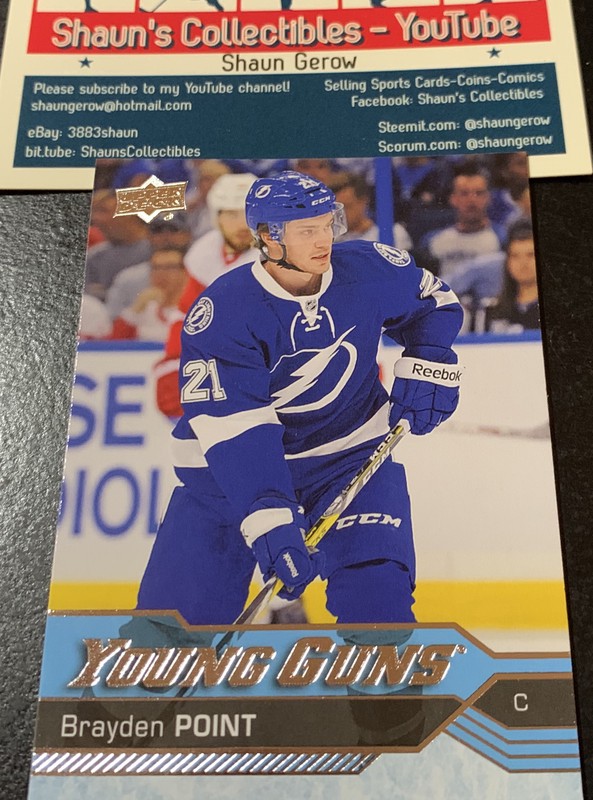 This is a really good Young Guns! I might try to get this card graded! Point is a great player! If he played in a big market city, he'd be a big star player, but he plays in a place where it isn't exactly a hockey hotbed. I think it'll take a long playoff run for many hockey fans to realize how good Point is. That might happen this year!
Please check back tomorrow for Hockey Card Pack Break 103!
Contact me for buying and trading here, or through the following ways:
eBay: 3883shaun
YouTube: Shaun's Collectibles
Facebook: Shaun's Collectibles
Bittube: ShaunsCollectibles
Minds: ShaunsCollectibles
Reddit: shaunscollectibles
Instagram: shaunscollectibles
Steemit: shaungerow
Scorum: shaungerow
Happy Collecting! 😎