I just watched tonight's World Series Game between the Washington Nationals and Houston Astros. We're going to a Game 7! I'm not a fan of either team, but seeing a Game 7 usually makes for a great end to any sports series!
Back to business! I have a pack of 2018-19 Upper Deck Series Two for all of you today! Carter Hart Young Guns Rookie here we come!
Here's the video link! Please subscribe to my YouTube channel at Shaun's Collectibles!
Well, at least I got a rookie hit today!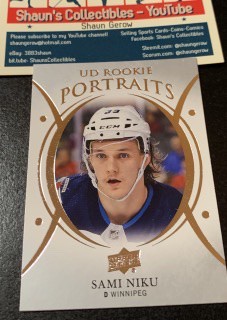 I've never even heard of Sami Niku before today. He was a 7th round draft pick and he's playing for the Manitoba Moose right now. How many 7th round picks play in the NHL?
Please check back tomorrow for Hockey Card Pack Break 116!
Contact me for buying and trading here, or through the following ways:
eBay: 3883shaun
YouTube: Shaun's Collectibles
Facebook: Shaun's Collectibles
Bittube: ShaunsCollectibles
Minds: ShaunsCollectibles
Reddit: shaunscollectibles
Instagram: shaunscollectibles
Steemit: shaungerow
Scorum: shaungerow
Happy Collecting! 😀