It's Scorum's favourite (and only) hockey card pack breaker here with another box to break open for you!
Today I'm going higher end! I have a box of 2017-18 Upper Deck Ice! There are super rare Ice Premieres Rookie Cards in this set! This year has a Brock Boeser I've Premieres Rookie serial numbered out of 99! I'd love to add that card to my collection!
Here's the video link, don't forget to subscribe to my YouTube channel at Shaun's Collectibles!
I didn't get a Brock Boeser Ice Premieres Rookie, but this was a pretty darn good box!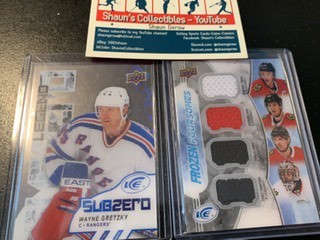 This box was quite solid! The Chicago Blackhawks Jersey Card is quite rare! I'm not much of a jersey card guy, so I'll put this up on eBay! I'm sure there will be a Chicago Blackhawks collector out there who would love to have that card!
I have more boxes of Upper Deck Ice to break! Come back soon!
Contact me for buying and trading here, or through the following ways:
eBay: 3883shaun
YouTube: Shaun's Collectibles
Facebook: Shaun's Collectibles
Bittube: ShaunsCollectibles
Minds: ShaunsCollectibles
Reddit: shaunscollectibles
Instagram: shaunscollectibles
Steemit: shaungerow
Scorum: shaungerow
LinkedIn: Shaun Gerow
Happy Collecting! 🙂