It feels like it's been an eon since I blogged here in Scorum!
Has it ever been a crazy last few weeks! Blogging and doing hockey card videos has fallen by the wayside! Living in pandemic paradise has sure been interesting. Not fun, but interesting.
It's time to get back into the swing of things with a bit of a different video! I did an E-Pack Break- this time with 2017 Upper Deck Grandeur Silver Coins!
Here's the video link, please subscribe to my YouTube channel at Shaun's Collectibles!
I didn't get a gold coin with this break. No rarer parallel coins, either. Not a great day for spending $100 US.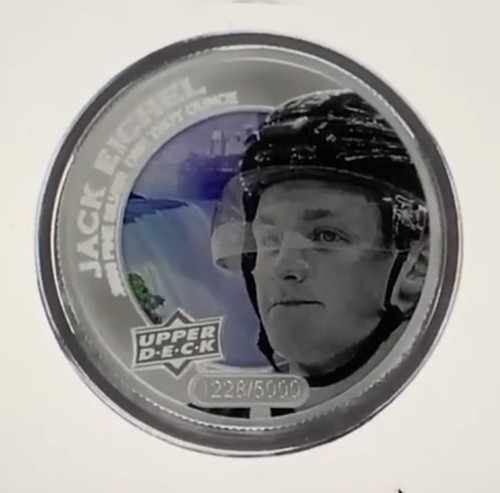 I also got a Dustin Byfuglien Silver Coin /5000, But this Eichel is clearly the better hit. I'm eventually going to put together the whole entire set of 20 coins together. Can't wait to put it into my personal collection!
I plan on doing more videos soon, it's just been a bad month! I've missed blogging with my fellow Scorumites! Stay tuned for more videos!

Contact me for buying and trading here, or through the following ways:
eBay: 3883shaun
Facebook: Shaun's Collectibles
YouTube: Shaun's Collectibles
Minds: ShaunsCollectibles
Bittube: ShaunsCollectibles
Instagram: shaunscollectibles
Reddit: shaunscollectibles
LinkedIn: Shaun Gerow
Steemit: shaungerow
Scorum: shaungerow
Happy Collecting! Stay healthy out there, everyone!