It's been a while since I've done a Scorum blog and now is a great time to do it! I opened up a high end box just a few days ago! 2019-20 Upper Deck Ultimate Collection! You only get 4 cards in a box, but there's huge potential to hit big! You can get up to three autographed cards, although chances are you'll get two autographs and a relic card along with a base/parallel/introductions card. This box was pricey, but sometimes you pay for higher quality!
Here's the video link! Don't forget to subscribe to my YouTube channel at Shaun's Collectibles!
I hit big this time around! A big autographed card from a first overall draft pick!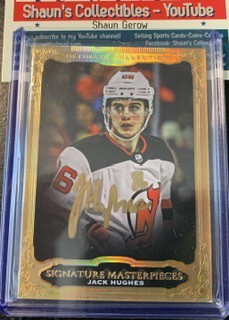 Beautiful!
It's a time like this where I'm reminded why I collect hockey cards! It can be aggravating spending my hard earned cash and not hit big, or even decent. It's always a great day when I hit big! It's a bizarre feeling to describe. It's not too different from the pride I feel when my son accomplishes something. I feel proud. Obviously, they're just hockey cards, but I take a lot of pride in my collection. I honestly think I'll give my personal collection to my son one day when the time is right!
Contact me for buying and trading here, or through the following ways!
eBay: 3883shaun
Upper Deck E Packs: randymeeks
YouTube: Shaun's Collectibles
Instagram: shaunscollectibles
Happy Collecting! 😃