I haven't blogged here on Scorum for a while, so I figured I'd keep things simple and just show off my personal hockey card collection!
I opened up a box if 2020-21 Upper Deck Allure last week- not a bad product. You get a guaranteed autograph and memorabilia card in a box and it isn't too expensive. $160 CDN, plus GST is affordable.
What did I get in this box, you ask? We'll, Allure has a lot of parallel cards. One that caught my eye in particular was this: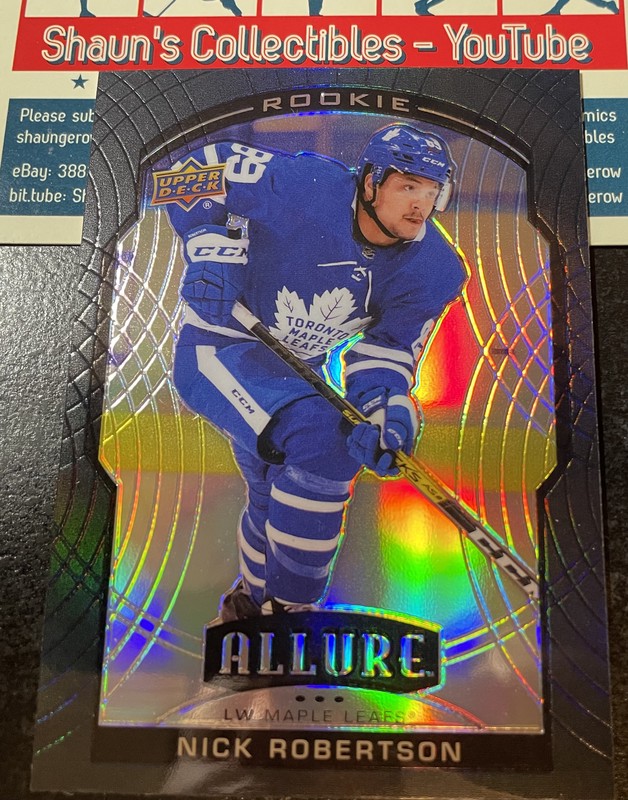 It's pretty amazing what they can do with cards these days. The flashy designs are way out there compared to back in the 1980s when I first started collecting. This is like getting a rookie card on steroids when you get a parallel rookie. Not to mention how good it looks. I'm not a Keafs fan, but this would be a must for my personal collection if it was.
If you want to watch the video where I got this card, you can view it here:
Let me know what you think!
You can contact me here for buying or trading hockey cards, or through the following ways:
eBay: 3883shaun
YouTube: Shaun's Collectibles
Facebook: Shaun's Collectibles
Instagram: shaunscollectibles
Happy Collecting! 😃