I hope everyone out there in Scorum land is handling pandemic paradise as well as they possibly can! Please comment on this post and let me know how you're doing!
Time for business! I recently posted a big hockey card pack break on my YouTube channel! This break consisted of several packs of 2016-17 Upper Deck! I just used the packs from 2016-17 Upper Deck Series One for the break. I have more packs coming in a future break coming soon!
Here's the video link! Please subscribe to my YouTube channel at Shaun's Collectibles!
I did it! I hit the jackpot! I hit the big hit!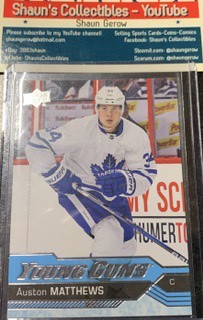 It's a great day when you get the greatest rookie hit that you can get in a pack break!
Auston Matthews Young Guns Rookies sell for $150-200 CDN on eBay. I'm going to look into getting this card graded! Hopefully, the hockey gods shine upon me and I can get a good grade out of this card!
I have more Walmart style hockey card pack breaks on the way! Stay tuned for my next break!
Contact me for buying and trading here, or through the following ways:
eBay: 3883shaun
YouTube: Shaun's Collectibles
Facebook: Shaun's Collectibles
Minds: ShaunsCollectibles
Bittube: ShaunsCollectibles
Reddit: shaunscollectibles
Instagram: shaunscollectibles
LinkedIn: Shaun Gerow
Steemit: shaungerow
Scorum: shaungerow
Happy Collecting! 😁