We're all still in pandemic paradise, but that won't stop me from opening up hockey cards, my fellow Scorumites!
I picked up these boxes at my local Walmart, my fellow Scorumites! They were titled Championship Collection and on the outside of the box, it said there would be 4 packs and a guaranteed autograph and relic card in every box! I love autographs, so I couldn't pass this up! I picked up 5 boxes at about $15 CDN, plus taxes! I figured I couldn't go wrong for less than $80 CDN!
Here's the video link, please subscribe to my YouTube channel at Shaun's Collectibles!
I got some pretty nice autographs, but none better than this one!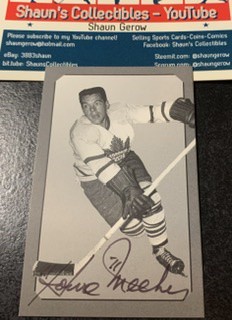 Getting a Howie Meeker autograph is sweet because I grew up watching Howie Meeker on Hockey Night In Canada doing his commentary on video replay! I loved watching him grow up! Does anyone else out there remember Howie Meeker?
I'll definitely buy more of these boxes if I find them in my local Walmarts!
Contact me for buying and trading here, or through the following ways:
eBay: 3883shaun
YouTube: Shaun's Collectibles
Facebook: Shaun's Collectibles
Minds: ShaunsCollectibles
Bittube: ShaunsCollectibles
Instagram: shaunscollectibles
Reddit: shaunscollectibles
LinkedIn: Shaun Gerow
Steemit: shaungerow
Scorum: shaungerow
Happy Collecting! 😁