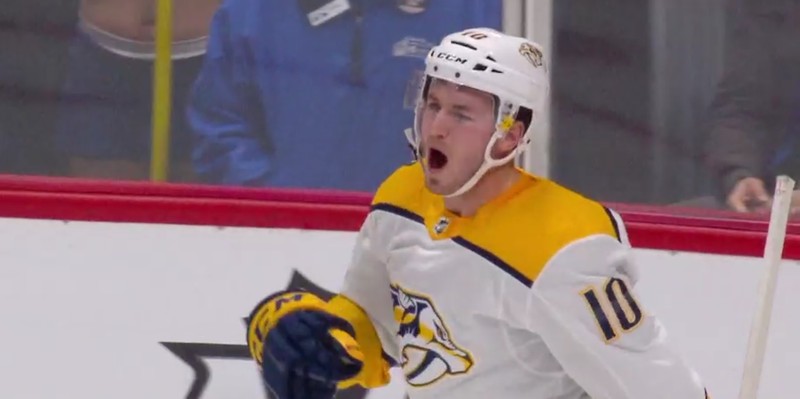 There must be something in the water in Denver. Something Colton Sissons particularly enjoys. Something that makes him look like superhuman every time he plays the Colorado Avalanche.
"Seriously, Colton Sissons. What did we ever do to you?" - was The Denver Post Sean Keeler's cry after last night's game between Avalanche and the Nashville Predators, won 4-1 by the latter team, thanks to Sissons' second NHL hat trick and Ryan Hartman's late empty net goal.
It was the night Sissons tripled his season's goals tally after he had scored only one in previous 14 games. It was his first multi-goal game since March 16, when he scored two... well, in Denver against Avalanche. And he's not the one who scores a ton of goals. He now has 26 in 205 regular season games and 8 of those 26 has been scored against 'Avs'. That's 30,8 %.
Now, judging by the headline you might think there must be something in my water. No folks, I'm not insane. Not to the extent of suggesting that Sissons is even nearly as talented hockey player as Connor McDavid at least.

McDavid had twice as many points last season as Sissons has in the NHL by far. But here's one funny stat - since the start of the 2017-18 season Predators' left wing has scored seven goals against the Avalanche and that's most in the league. McDavid has six, although admittedly in only three games, while Sissons has played five, so his goals per game ratio is lower. But nevertheless, it's impressive for a grinder.

Obviously, Sissons has more chances to score against his beloved opponent since Predators and Avalanche both play in Central Division and that's part of the explanation of his success from the player himself. 'Everybody has a team or two they have success against and feel good against' - he said last night quoted by nhl.com, downplaying it a bit. 'Fortunately for me it's a team in our division. They are always tough games and I like playing in those games. Maybe that's it'.
And the funniest part of Sissons' last night performance is, goalscoring was not what coach Peter Laviolette expected of him. He and his third line teammates Nick Bonino and Ryan Hartman were put on the ice mostly with the defensive side of the game in mind, to play against NHL's arguably best line of the season - that three-headed monster Landeskog - MacKinnon - Rantanen. They did quite well since MacKinnon was the only one on the scoresheet with one assist. And let's just say that three goals by Sissons, one by Hartman and Bonino's hat trick of assists were more than a nice bonus. "The best defense is a good offense" after all.

"Sissons played really well tonight," said Laviolette after the game. "That line did a terrific job. Colton had a big night". I told you. There must be something in the water in Denver.