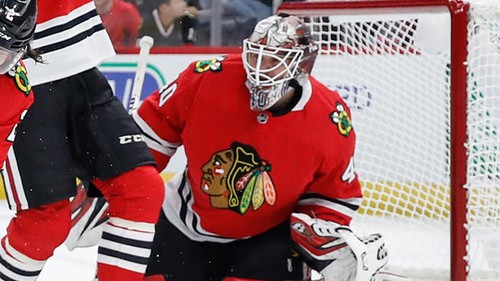 By Zane Miller
The Florida Panthers defeated the Edmonton Oilers 6-2, Panthers goaltender Sergei Bobrovsky took the win with 24 saves on 26 shots.
The St. Louis Blues defeated the Detroit Red Wings 5-4 in overtime, Blues goaltender Jordan Binnington took the win with 29 saves on 33 shots.
The Chicago Blackhawks took down the Los Angeles Kings 5-1, Blackhawks goaltender Robin Lehner took the win with 38 saves on 39 shots.
The Ottawa Senators defeated the San Jose Sharks 5-2, Senators goaltender Craig Anderson took the win with 34 saves on 36 shots.
The New York Islanders defeated the Philadelphia Flyers 5-3, Islanders goaltender Semyon Varlamov took the win with 28 saves on 31 chances.
The Boston Bruins defeated the New York Rangers 7-4, Bruins goaltender Jaroslav Halak claimed the win with 25 saves on 29 shots.
The Vegas Golden Knights defeated the Anaheim Ducks 5-2, Golden Knights goaltender Marc-Andre Fleury took the win with 13 saves on 15 shots.