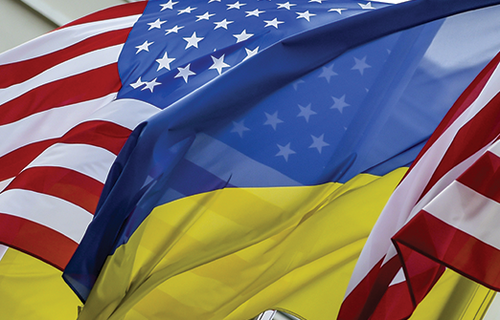 On April 28, 2022, the House of Representatives adopted a law on Lend-Lease for Ukraine. It lifts any restrictions on arms supplies for this east-european country. 417 votes adopted the law. 10 legislators voted against it.
President Biden's administration also requested an additional $20 billion in military assistance from Congress as part of the $33 billion Lend-Lease package. The program of assistance to Ukraine is modeled on the mechanism that operated during World War II.
For the last two months, about $2.5 billion has been allocated by the United States to supply weapons for the Army of Ukraine. At the moment, 18 M-777 howitzers and 40,000 ammunition, 300 M-113 armored personnel carriers, 121 Phoenix Ghost tactical combat drones, 300 Switchblade drones, 17 Mi-17 helicopters, and M142 HIMARS multiple rocket systems and other heavy weapons are expected to be shipped.
Ukraine, currently fighting aggression by the Russian Federation, is supported not only by the United States. Many countries around the world are transferring various military products to Ukraine.
The UK announced the supply of Stormer anti-ship missiles and armored personnel carriers. British Army has already supplied Ukraine with MANPADS systems, anti-tank weapons, and ammunition.
The Czech Republic handed over anti-tank ammunition suitable for use with Soviet weapons. In addition, the Czech authorities handed over dozens of BMP-1 and T-72 to the Ukrainian army.
Poland has also contributed to the support of the Armed Forces of Ukraine by supplying Russian-made weapons systems and ammunition. Some of them have undergone deep modernization. Poland tried to hand over MIG-29 fighters to Ukraine a month ago. However, this attempt at that time was stopped by other NATO countries.
Slovenia declared its readiness to hand over Soviet-made tanks to the Armed Forces of Ukraine. Germany offered Marder IFV and Luchs reconnaissance vehicles in return.
Even before the outbreak of hostilities, Turkey managed to supply Ukraine with about 20 Bayraktar TB2 strike drones. Germany handed over anti-tank weapons defenses and ammunition from its stockpiles. It has already been stated that the German authorities intend to transfer the self-propelled artillery system "Cheetah" to the Armed Forces of Ukraine.
Australia transfers 6 M777 howitzers and ammunition to Ukraine and 20 Bushmaster armored personnel carriers. Canada intends to send M-777 howitzers to help the Armed Forces of Ukraine. Sweden will hand over FH77 BW Archer self-propelled artillery units to the Ukrainian army.
More news on Bitryc.com