Hi Scorumians,
Hope you all are doing fine. You guys may remember that I have posted the reason behind my absence that I am busy on Steemhunt so I couldn't able to give time here. Soon, I'll be active here as I am working on one of the best sports which I'll be taking for writing about here. For now, I am going to introduce STEEMHUNT Platform in an actual way that how can you earn FREE HUNT Tokens from there.
First off, wishing you a very Happy New Year 2k19 to all of you from the bottom of my heart! I wish, may this year brings lots of happiness & success in your life.
Before starting with,
I knew that all of you left Steemit because of certain reasons and loved this Platform more than that but I want to convince you guys a little. Not gonna bothering please,..
My Feelings are same as you people but it lasts that date only when I joined STEEMHUNT Platform. This SH platform gimme more than I expected from Steemit blogging platform because I earned huge votes on my hunted posts and comments as well. I am earning more than 15 coins each day including Steem & SP with lots of Hunt Tokens. I couldn't able to get if I only sustained on steemit. I have faith in Steemhunt that is a dApp on Steem Blockchain where I am earning not only getting Steem Votes but Hunt Tokens as well. And, I am loving it because it becomes my Real Earning Source.
This is a real Survival dApp even in this bearish market. Go and earn some Steem to buy bread for yourself. This is the best time to join SteemHunt. Join it otherwise you will feel REGRET by the passage of time.
What is SteemHunt?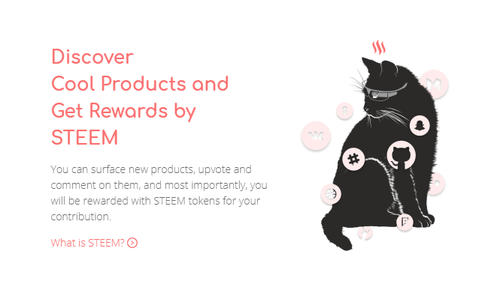 Steemhunt is all about digging cool tech, innovative products, applications, and services provider websites stuff in order to earn Steem. Simply, dig products and earn Steem. I'd quote Official definition of Steemhunt here.
Discover Cool Products and Get Rewards by STEEMYou can surface new products, upvote and comment on them, and most importantly, you will be rewarded with STEEM tokens for your contribution.

Make sure post that hunt which is already not posted yet. Dupe, plagiarism based, and poorly written hunts aren't acceptable by the Steemhunt. Also, increase your Hunt Tokens in your wallet because it determines your User Score there. The highest User score is 10 which is totally based on your hunt tokens ✖ contribution score. The more user score you have, the more chances to earn big votes.
What is Hunt Token?
HUNT is an incentivising community platform on top of Steem Blockchain for product influencers who have exceptional knowledge and passion for cool new products. It's a bridging platform for makers to reach out to early adopters for the successful launch of their product.
Hunt tokens are what you can only accumulate for now as this token hasn't launched yet. The chances of launching it is when SMT will officially launch. It may probably happen in the next three to six month.
I can proudly say that I have earned more than 200k Hunt Tokens. This is only possible due to my precious time which I gave to SteemHunt Platform with loyalty and consistency. Value your Time and know yourself that what can you do Right now for the Bright Future. The Future is in your hands so you are the ONE who can polish or ruin it. I am working on Steemhunt since 28th September, 2k18. I never skipped any day not to open steemhunt website. I am regular hunter out there.

Thanks a bunch, @steemhunt for giving us a chance to earn Liquid Steem and Hunt Tokens against little hard work. I am jubilant to be a hunter who never breaks any of the rules till now. I am planning to work here till the web is live. You guys can also earn handsome amount of coins and tokens. I am going to share my experience with all of you who are newbies on this Platform. How did I get a little success on Steemhunt? Lemme share all...
---
I would love to mention the Methods which you can adapt to Earn Hunt Tokens and Steem. Staying Active there is the key to success on StemHunt.
Many of us using Google Chrome that is lightweight than other Browsers. You can install Steemhunt Extension in your browser to see what are the top 12 hunts of Today, Yesterday, and other passing days. For this, you will get hunt Tokens each day as per your User Score. This is a one-time cost and you will get Tokens every day automatically in your wallet from Steemhunt.
2. Shuffle Button Lottery
In the past days, you were getting a good amount of hunt tokens by shuffling the button. But now you get a little one from 1 to 10 Tokens. Still, one token has some value. Maybe after launching it, the price of 1 Token set to $5. You can shuffle the Lottery Button four times a day with the given interval.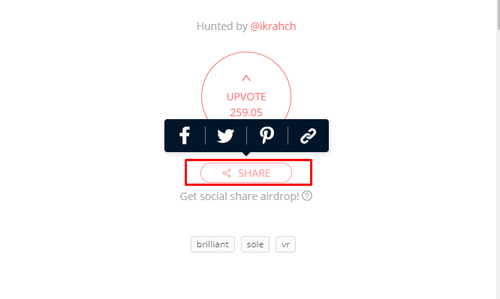 3. Social Share Airdrop
The maximum hunt tokens you can earn from Social sharing. All the things you need to do is share the hunt whichever you want to share on Facebook, Twitter, Pinterest, or copy the referral link to share on other platforms such as Discord. If people click on the shared hunt and stay on that page for a while then that shared hunt count as an effective count. Only effective counts lead you getting hunt tokens from Steemhunt. The more you share, the more you will get tokens.
4. Vote on Hunts & Comments
This is all about your vote worth. The more vote worth, the more chances to earn tokens. The less vote worth on comments and posted hunts can give you less vote. It means, its all depends on your Steem Power. I was getting insanely fewer tokens when I had only 200 SP in my account. I got 8,500 SP on the lease then I start getting a huge amount of tokens against my contribution. Vote on comments and hunts as much as you can vote in order to earn hunt tokens and curation reward.
5. Promote Steemhunt Platform
Spread the word Steemhunt on Various platforms other than Steemit. Do some catchy write-Up about Steemhunt so that people can attract to it and compelled to open Steemhunt at least once. This depends on your marketing skills that how you promote this marvelous platform. When you make your mind to promote Steemhunt then do not forget to share that post link in the section of #contributions on Steemhunt Official Discord Group. So that you can get hunt tokens as per your efforts which you have put in with a pure heart.
6. Being Active on Discord
Yeah, you can earn more hunt tokens while showing your active history out there like respond to other people in different sections of the discord group in order to help them. I hardly open the discord so I never have been active there but I know that we can earn tokens this way too.
7. Follow & Retweet Stemhunt Tweets
This is a new bounty program which is announced by Steemhunt yesterday. You can Follow the Steemhunt Twitter account then fill out this FORM to receive 100 Tokens just for following. Isn't insanely profitable?
The second one is retweet any of the posted tweets by Steemhunt and receive 10 tokens each day after filling out this form. The more you retweet, the more chances to get Hunts.
---
BTW, there is another way to get Hunt Tokens but it's ain't a free way to get. Steemhunt has launched a cool button inside the posting hunt section where you will see the below button, if you turn on, you will get 19 tokens for $1 STU. It depicted that whatever your post earn votes on that specific hunt where you turned on the button, all of the earned STU will be automatically concerted into Hunt Tokens after few days. I don't seem this fair investment so I never used it yet.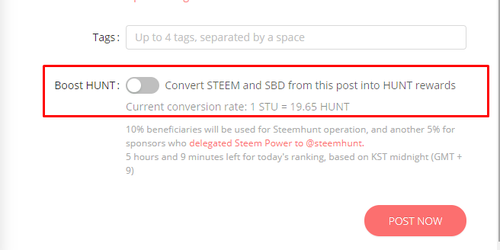 Bonus Tips:
I'm gonna speak my experience,
Share different catchy hunts on FB & Twitter with a cool 1-line intro about that specific hunt on daily basis. Add some relatable #hashtags.
Upvote cool hunts and comments right after 6 hours of posting will lead you to be an influencer. As they are choosing influencers every week based on your IES score.
Do some research to find cool hunts so that you can get a place in the top 10 positions.
Join Steemhunt Discord Channel: https://discordapp.com/invite/mWXpgks

Telegram Group: https://t.me/joinchat/AzcqGxCV1FZ8lJHVgHOgGQ