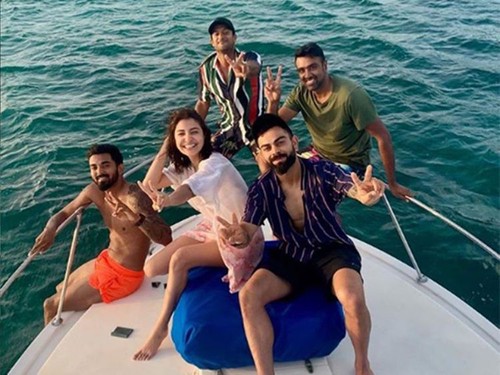 Enjoying vacations a part of each and every human and there is a right to each and every human for the enjoyment in their lifestyle whether they are famous celebrities or any kind of good personality.
They also needs to relax with their family as well as with their spouse. so here I am going to talk about the Indian Cricketer Virat Kohli and Anushka Sharma as well as KL Rahul as more from Ravindra Chandra Ashwin who are enjoying their vacation in Caribbean blues ahead in the second test.
The pictures have gone viral and one of the videos has been uploaded by KL Rahul in their Instagram profile about the latest update where Ravichandra Ashwin is also a part of it, moreover, Anushka Sharma is the only girl looking in the picture.
Well they have already won their first test match against West Indies in Antigua and now they are focusing on the second match and before this match, these cricketers need some relaxation time.
As well as Virat Kohli has also faced some problems after he dropped Rohit Sharma and Ravichandran Ashwin in this match. in the latest news has Virat Kohli has already told in the Press Conference that dropping down Rohit Sharma was a wrong decision made by him and now he will not make any kind of mistake in the future matches regarding the selection updates. so that's all about the Virat Kohli Anushka Sharma and many other cricketers vacation and I hope you guys also enjoy your vacation with your family members.
Thanks for visiting my blog...Regards...