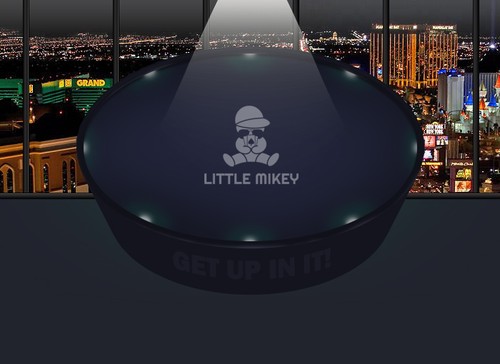 Although I wasn't able to play in any of the tournaments this past week, looking back, there was a lot of great action on scorumpoker.com, which is now home to the Lucksacks Poker Leagues as well!
Thank you to everyone who came out and played, and if you haven't yet, make sure to register and play to win SCR and SBD!
Scorum Poker Tip
Ever want to view the results of a tournament on Scorum Poker? You can find all of the results here at https://scorumpoker.com/results.php.
This Week's Winners
We finished week 15 of the Little @Mikey Poker Series and are now headed to week 16 already! As you may or may not know, we will play until at least week 30. I also announced this past week that there will be a 1,000 SCR bonus for any player that wins all 5 tournaments in a single week (all 5 Little @Mikey tournaments for that week).
Here are the results for each of the five tournaments:
Monday: Kryptokeeper
Best Losers: Tadas (2nd), Lama10 (3rd)
Tuesday: Sarge
Best Losers: Potplucker (2nd), Kryptokeeper (3rd), Tadas (4th)
Wednesday: Tadas
Best Losers: Potplucker (2nd), Inthenow (3rd), Sarge (4th)
Thursday: Tadas
Best Losers: Sarge (2nd), Kryptokeeper (3rd), Missypurple (4th)
Friday: Tadas
Best Losers: Nuanced (2nd), Sultnapper (3rd), Sarge (4th)
Final Point Standings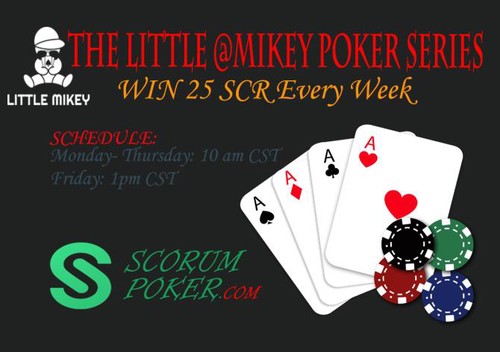 Missypurple (1)
Lama10 (1)
Inthenow (4)
Sultnapper (4)
Nuanced (6)
Potplucker (12)
Kryptokeeper (18)
Sargento (18)
Tadas (42)*
Once again, Tadas just crushed it. I will have to try to make it back to the tables this week to slow him down. 25 SCR is on the way to Tadas. Congrats man!

Support Scorum Poker
Support our poker community! Play, host, and vote for Scorum Poker.
Read the most recent post right here!
There are freerolls today. Come out and play!
---