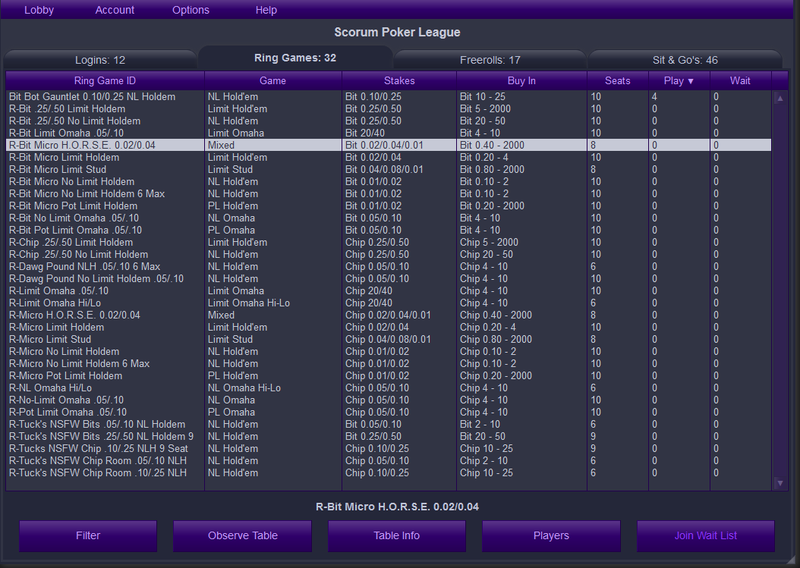 Rake Free

All games on ScorumPoker.com are rake and fee FREE! Unlike other sites, the only thing you have to beat at Scorum Poker is the other players and your desire to play like a donkey because it's a Freeroll.

But you will never have to worry about beating a rake!
Get Chips

Since there are no deposits on our poker site, you must win or earn your Chips to play in Ring Games or Sit-N-Go tournaments. Every day we have Freerolls for Chips (SCR) and Bits (1000 = 1 Chip) and if you can't find a human to play we have a few Bit tables available to play with some Bots.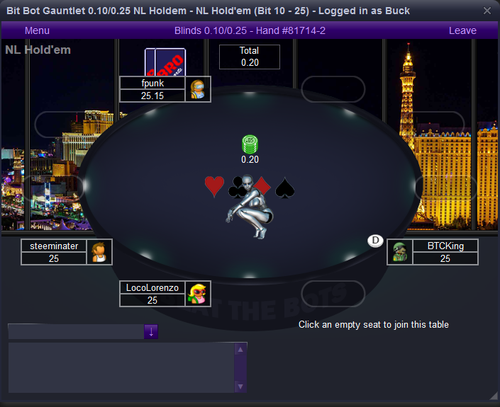 Bit Bot Gauntlet

Our Bit Bot Gauntlet Ring Game allows you to play against some of our customized Bots, tailored to prepare you for the human donkeys you will face later.
Hourly 100 Bit Freeroll

Every hour you can play in our 100 Bit Freeroll which only requires 3 players. Since we're just getting off the ground and only have a few dozen regular players at this point there were some players who said this game was not filling enough.
To solve this problem until we have enough human players, I have added 2 Bots to this game to make sure only 1 human is required for the game to start. Once it begins to fill with at least 3 humans I will remove the Bots from the game.
Bots

Some players don't like Bots or even the mention of them. I was one of those players when I started Lucksacks.com (our Steem Poker site). It only took a few months to realize that there needed to be a game going 24/7 to get the site going and Bots were the only way to do it.
So I bought some cheap bots that filled seats and that's about it, then bought some expensive bots that could dominate most humans and those were a lot of fun. So I created a Bot Gauntlet Level Tournament and only one human was able to make it all the way through, "The Bot Master" Lebekons.
Unfortunately the Developer of that Bot stopped supporting it and it I pretty much wasted about $700 since they would no longer work with the updated poker server. But, the cheap bot Dev is still around and knowing how bad I (and others) got fucked by the other Dev he made a new version of his Bots and that's what we're currently using/testing.

Overall I think it was a lot of fun, so I'm trying to build what I tested first on Lucksacks and the first run went OK, we just have some issues with the Bots going offline and I had to shut it down until that is fixed.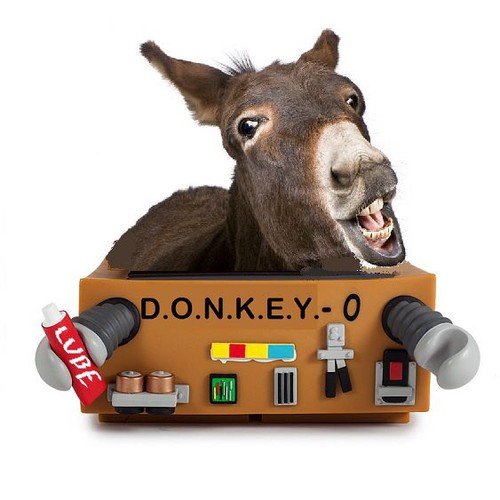 Rest assured that Bots only play on these 2 tables marked as Bot tables. You can always hover your mouse over another player at the table to see that players Scorum name. The bots generally say @donotpayme or similar for their Scorum name.
Bits won by the bots are just burned. Their account balances are reset back to 1000 Bits when I start them up after they've gone offline or they've gone broke, which is usually the case because of the donkey settings I have them on.
---
Easy Bits

The lesson is, if you want some easy Bits that you can Trade for SCRtickets which are needed to enter into SCR Freerolls or convert into a Chip when you have 1,000 Bits, then this is an easy way to get some!
1,000 Bit Freeroll

Every day we also offer up a 1K Bit Freeroll four times a day. Unfortunately only a few people are taking advantage of this game at this time and they are taking the lions share of Bits. So get up in it!
---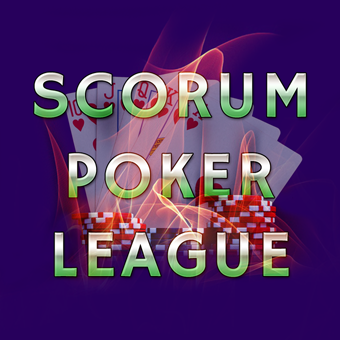 Scorum Poker League
The SPL is not affiliated with Scorum.com. We are a group of individuals that love poker and want to help grow the Scorum Community.
We run on your donations and/or upvotes.
Thank you for your continued support!
---
See you at the tables!