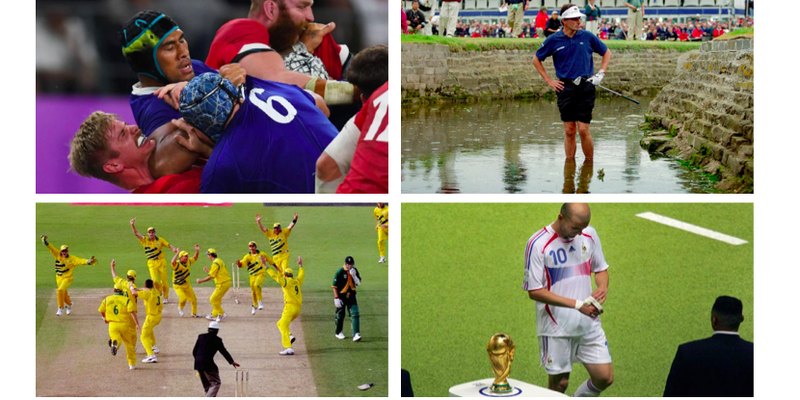 This post was inspired by France lock forward Vahaamahina's moment of madness in the Rugby World Cup QF against Wales today. With his side 9 points clear and seemingly on their way to a World Cup semi-final, Vahaamahina who earlier in the match had scored to help Les Bleus get off to a lightning start was red-carded for an elbow to the throat of Aaron Wainwright
While France fought hard and Wales somewhat labored despite the man advantage, the boys from the Valleys finally bundled over the line in the 74th minute to win by the narrowest of margins. Given how tight and competitive the game was it would be fair to say that Vahaamahina's red card was the defining moment of the match.
Mistakes are part and parcel of all sports. In fact, without human error, you could argue that all sports would be pretty boring! I read a stat a few years ago that stated most goals in football result from defensive errors as opposed to moments of brilliance from the attacking team. That being said there are instances like that of Vahaamahina where the red mist descends on a player, their normal thought process goes out the window and they make mistakes that cost themselves and their teams dearly.
Here are 3 of sports biggest moments of madness
Jean Van De Velde's Triple Bogey
I think I could count on one hand the number of times that I've watched golf but for some reason I did see this epic meltdown as it unfolded.
I'm not going to try and analysis Van De Velde's choice of shots as I have no idea what I'm talking about. The Frenchman could have taken 6 shots on the final par 4 hole to win the 1999 Open Tournament. 2 shots in and he had already driven into the rough before hitting a ball off the grandstand. With his ball buried in deep grass, Van De Velde attempted to chip the water but only succeed in shanking it straight into the murky pond.
Watching a man who moments ago would have been thinking of lifting one of golf's biggest prizes now striping off his shoes and socks and rolling up his trousers to go for a paddle was somewhat surreal. The Frenchman ultimately finished the 18th in 7 shots to set up a 3-way playoff. Englishman Paul Lawrie went on to win his first and only major and bring about the biggest fourth-round comeback (he was 10 shots down) in the history of major golf. However, the tournament will be forever remembered for Van De Velde's moment(s) of madness.
Allan Donald's Run-out
There was obviously something in the water in 1999 or perhaps it was all that fretting over Y2K that had people's normal mental processes breaking down. Equally, this wasn't the only moment of madness that you could choose from South Africa in the 1999 Cricket World Cup - how about Gibbs drop against the same opposition earlier in the tournament?
With South Africa down to their last wicket and needing 16 runs to win from 8 balls, the game rested on the broad shoulders of Lance Klusner whose powerful hitting had been a revelation throughout. The similarities between the finish of this game and some of the tense moments from this English summer are incredible. Klusener hit McGrath's penultimate ball of the 19th over to long-on where Paul Reffiel could only tip it over the ropes for 6 - remember Trent Boult did something similar in this year's World Cup final off Ben Stokes.
9 were needed off the final over and perhaps more importantly Klusener had retained the strike. Flemming's first 2 deliveries were both marmalized through the off-side for 4 leaving South Africa needing just 1 run off the final 4 balls. Donald was then nearly run-out backing-up to give the first sign that perhaps this match wasn't quite as over as it appeared but the real calamity was still to come from the 4th ball of the over. Klusener dinked it past the bowler and set-off to the danger end, meanwhile, Donald was still stood in his ground watching the ball. When finally he did react he dropped his bat and by the time he'd got his legs moving it was too late! The picture as Gilchrist breaks the stumps is incredible with all 11 Australians in-camera shot around a dejected-looking Donald with Klusener who didn't stop running already halfway back to the dressing room. Again, had Nathan Lyon gathered the ball cleanly at Headingley in this year's Ashes we could have added Stokes & Leech to the showreel of biggest moments of sporting madness!
Zidane's Farewell
Surely the greatest moment of madness from one sport's biggest names came in the 2006 World Cup Final. In terms of the stage and what was at stake, there can be no more prominent example of what can happen when the red mist descends.
So what did Materezzai actually say to get this kind of reaction from one his generations best?
There are many accounts of the exchange between the 2 and none of them have ever been fully confirmed by either player. However, when the 2 came into close quarters there was some regulation pushing and shoving and Zidane responded to this by telling Materazzi that he was welcome to his shirt after the game to which the big Italian responded: "I would prefer your whore sister." Further unconfirmed rumors are that Italy manager Marcello Lippi had suggested to his side that they raise the subject of ZZ's sister to the French captain given that Lippi was aware of some family problems the player had had during their time together at Juve.
Zidane leaving the pitch, head down as he walks past the World Cup is an iconic sporting image. It would also be the last time that the great number 10 would play professional football as he retired after the tournament. I'm sure he was hoping for more than just a fleeting glimpse of sport's biggest prize ....