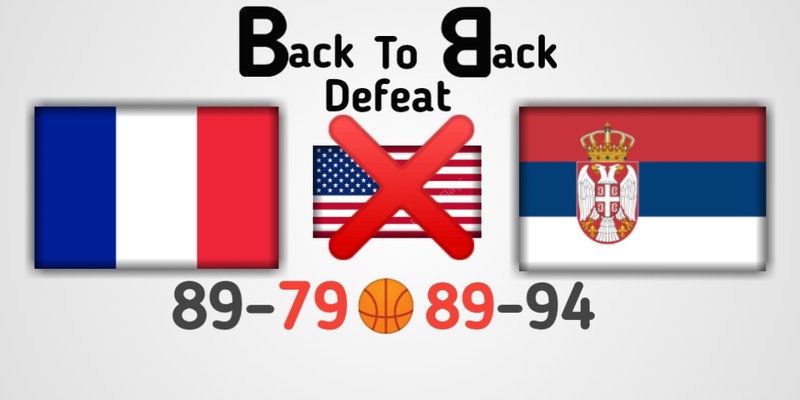 The 2019 FIBA World Cup came to an end yesterday as Spain were crowned Champions as they record their second (2nd) FIBA World Cup gold medal after winning it in 2006.
Team USA, the runaway favourites to win the FIBA World Cup for a third time in succession will never forget this year FIBA World Cup in a hurry after their dream for the 3th consecutive World Cup title was cut short by France and was further dragged to 7th place.
It was shocking that the World number 1 team missed out in the Semi-finals as France ended their winning streak of 58 games winning the USA Team 89-79 points.
Trying to recover from the first lose to prevent further going down the final standings they met Serbia for a 5th place game and yet again they were humbled thereby subjecting them to their lowest ranking in history of basketball with NBA Stars.
USA vs France
In their last 9 meetings France has never defeated the US in major international competition, making it an easy one on paper.
Team USA came into this game with a 100% record after defeating all the teams they face in the 1st and 2nd round.
France on the other end were defeated by Australia in Group L to avoid a last-eight meeting with defending champions USA making the France Team look more beatable.
France came back from a seven-point fourth quarter deficit to win 89–79 (18-18, 21-27 , 27-18, 13-26) over USA.
Mitchell's game-high 29 (in three quarters) and Team assist 4 and rebounds 6 was not able to save the team as he was surprisingly held scoreless at the 4th quarter.
France's duo Fournier and Rudy Gobert scored 43 points with Rudy Gobert having a game rebounds of 16.
The loss then dropped the US Team into a fifth-place bracket against Serbia.
USA vs Serbia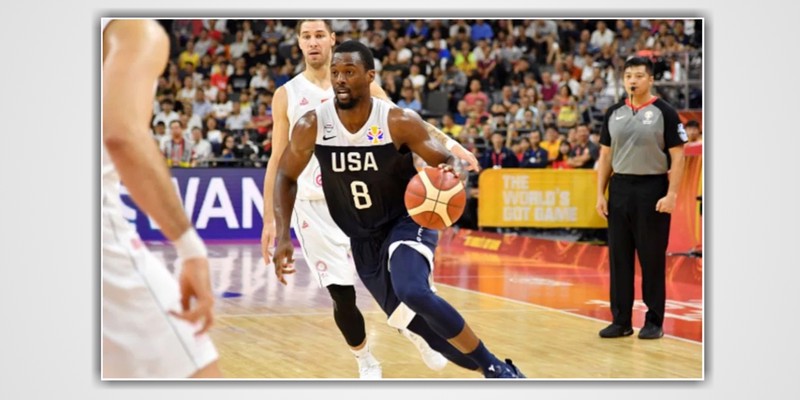 After such a great fall the US Team needed to bounce back to winning ways but meeting a team like Serbia in a fifth-place bracket who were one of the title contenders was actually a high huddle to get across.
The Game was won right from the first quarter as the Serbia's rush to a 25 points lead as they outscored Team USA 32–7.
Waking up from their slumber the US Team held a 33–12 advantage in the second period to close the gap as they trail 44–40 at the half.
Both teams were separated by a point as the 3rd quarter ends 27-28 in favour of the Americans.
The Serbians then bounce back at the final quarter to win 23-21 as they wrap up a 94-89 victory to drop the USA Team to their worst finish contest.
Serbia's Bogdan Bogdanović scored game-high 28.
USA Barnes scored team-high 22, Middleton with game rebounds 6 and Walker pull game assist 8.
USA vs Poland
Utah Jazz, Donovan Mitchell scored a 16 points and 10 assist to lead the US Team to a 7th place finish after defeating Poland 87-74 (28-14, 19-16, 16-25 , 24-19) at the Wukesong Arena , Beijing.
It was a 3/4 win for win for Team USA as they settle for their worst major tournament finish ever, surpassing their 6th-place finish in the 2002 World Championship.
Poland's Mateusz Ponitka scored game-high 18 points.
Conclusion
The US Team didn't look set to defend the title they won back to back as Stars like LeBron James, Anthony Davis, Damian Lillard, Steph Curry, James Harden... withdrew day after day and it became a runnings joke as more distraction keep setting into the team.
But was that enough to lose such energy and confidence?
As there were still some notable NBA names on the squad from Kemba Walker, Donovan Mitchell, Khris Middleton and Jayson Tatum.
Parting Words
Well-done guys.
You guys were able to clinch a spot at next year's Olympics Games.
So drag yourself off the mud and put your house in order against next year's Games.
While the 2019 squad has no choice but to soldier on, national attention will now shift to the 2020 Olympics in Tokyo as the we look forward to seeing the coach recall some more Super Stars.
Typically, when the US embarrasses itself on the world stage, it redoubles its recruiting efforts in order to get its revenge.
So we expect you guys to bounce back stronger and better next year because you have their Country pride to defend.
God Bless The United States of America.
---