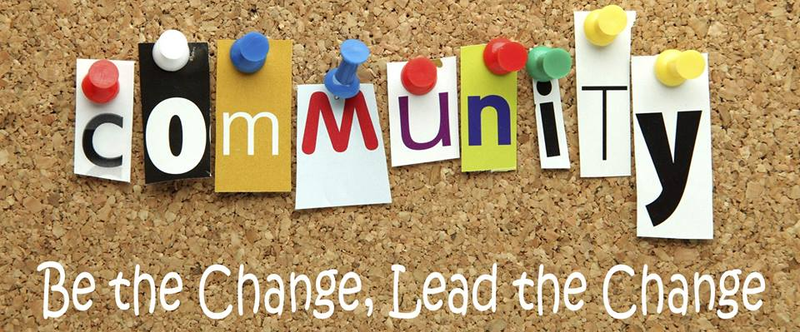 What's great about Scorum is that not only the community is willing to fight abusers but the team is listening to our call. We know the Scorum team has made it so we couldn't vote our own comments due to the massive amount of abuse we've seen in the early weeks but they also have mentioned to be working toward a tool to fight plagiarism on the platform.
Now what about people stealing content from a website in a different language , translating it using google or any other tool and copying it word for word or almost, into a post. While I was searching on google for a solution that could potentially detect google translation I've hit a wall. There is simply no tool right now that can efficiently detect google translated texts even if this is literally the same thing as plagiarism.
I have decided to come with a very simple system and a new way for you to earn! Yes you can now be rewarded for your investigative skills. I know this is not something that bothers everyone but how many times have you voted for an article thinking "this is such a great post, how can I not reward the author?!" to end up learning that you've wasted an upvote on content that was directly stolen from another website, translated with a tool directly copied into scorum.
Some people have abused the system this way and earned thousands of sp from it but let's not live in the past anymore since we can do something about it right now.
The system is very simple, I created a discord group that will exclusively be used to report abusers.
ALL REPORTS SHOULD BE MADE IN THE REPORT-SCORUM CATEGORY of the discord channel. IF EVERYTHING IS DONE THE RIGHT WAY, YOU WILL BE REWARDED FOR YOUR REPORT IN THE FORM OF A '%' UPVOTE. THE '%' UPVOTE MAY VARY due to how active you are and the amount of sp the post received. Your report could also earn you additional rewards from other members that happens to see your comment on one of these posts.
FOLLOW THE 2 STEPS BELOW TO UNDERSTAND WHAT YOU HAVE TO DO AND HOW YOU WILL BE REWARDED.
STEP 1:
<LINK OF THE TRANSLATED POST> ----- <SOURCE LINK OF THE ORIGINAL ARTICLE>
(IT IS VERY IMPORTANT THAT YOU ADD THESE SIGNS < > TO PREVENT LINK PREVIEWS IN THE DISCORD CHANEL)
TRACKING NUMBER #1 ( IF THIS IS THE FIRST REPORT) IF THE PREVIOUS REPORTED NUMBER IS #4, THEN YOU HAVE TO TYPE #5

STEP 2:
YOU NEED TO GO TO THE TRANSLATED POST AND COMMENT SOMETHING LIKE THIS OR JUST THE SAME:
This post has been reported to the discord channel Scorum Abusers https://discord.gg/eAFkJ9f for copying a Google translated text.
Orginal link: http://www.google.com/googletranslation ( this is obviously the link of the website where the translated post was taken from)
tracking #1 ( THIS TRACKING HAVE TO MATCH THE TRACKING REPORTED IN THE DISCORD CHANNEL)
ADDING A WARNING MESSAGE WOULD BE IDEAL : "YOUR ACCOUNT WILL BE MONITORED AND IF YOU DO NOT CHANGE YOUR BEHAVIOR, ALL FUTURE POSTS ARE GOING TO BE FLAGGED WITHOUT ANY INVESTIGATION."
Adding the scorum channel link is important, there is a category in the channel where members that are caught can plead their case and be taken off the abusers list.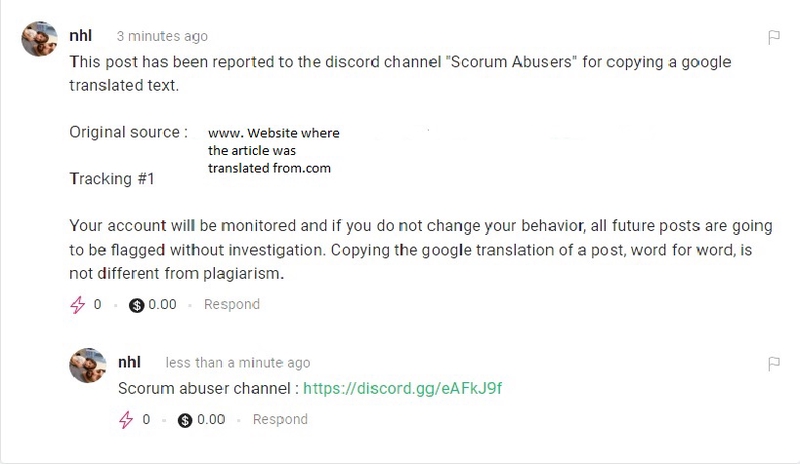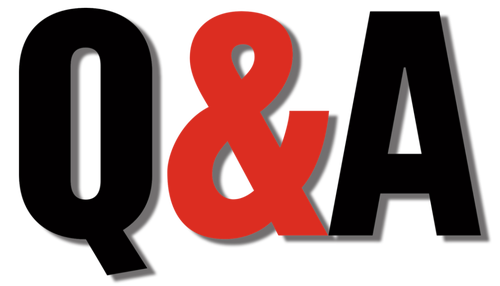 What happens when someone make up a fake report and is caught for it?
You will have to contact me privately on the discord channel or on telegram , if done intentional in the hope of earning a reward this user will be added to the abusers list for his shady behavior @Dailymodo.
Can I also report plagiarism?
Yes you can but the reason I am mostly focusing on google translation is because the Scorum team already have plans to deal with plagiarism.
What happens If I have been caught and reported for abusing the system?
If you have been caught you will need to show the community that you are willing to change your behavior, you will have to join the scorum channel https://discord.gg/eAFkJ9f and explain in the category "I will change my behavior" that you understand what you've done and you won't repeat the same mistake.

How do I find where a post has been translated from?

This is the hard part here, Of course you are not asked to go out of your way and search hours and hours for a post which you have your doubts on. Usually people doing this take their photos from the same post they took their translation from. A simple reverse image search trough google could lead you the the article in question. You will also find many of them publishing their source link at the end of their post thinking that its alright to just copy the translation in English if they insert the source at the end of the text.

What If I am a real translator?

If this is the case you should follow the rules published by the Scorum team here https://telegra.ph/Scorum-Translation-Bounty-Updates-08-08
IT IS VERY IMPORTANT TO MAKE SURE THE TRANSLATED SOURCE LINK IS THE SAME AS THE ONE POSTED ON SCORUM BEFORE REPORTING ANYTHING. THE EASIEST WAY IS TO COMPARE THE 2 TEXTS SIDE BY SIDE OR TO USE AN ONLINE TOOL LIKE THESE 2:

- https://www.prepostseo.com/plagiarism-comparison-search

-https://copyleaks.com/compare
THE MAIN GOAL FOR REPORTING THESE USERS IS TO DISCOURAGE FROM THEIR BAD BEHAVIORS. THEY WILL BE ADDED TO A LIST AND IF THERE IS NO CHANGE, REPORTED TO THE DEVELOPERS.

THIS LIST COULD BE AUTOMATICALLY TRACKED WITH THE HELP OF A BOT AND ALL FUTURE POSTS FROM THESE USERS WOULD RECEIVE A WARNING COMMENT WHICH WOULD ALSO LET EVERYONE KNOW WHO THEY ARE DEALING WITH. (THAT WOULD BE THE BEST SCENARIO)
The reward system will be optimized in the next few days/weeks. I intend to keep track of the different members participating in making this platform better. I would really like to develop a reward system that would scale with the level of participation.
I honestly have no idea if this will be successful in term of changing people's behavior. I know it will be time consuming and I would have to recruit help in the future. Please take this as a Pre-Beta type of system, as there is still a lot of work to be done. I am looking forward to see what you think about this and If you have any idea about how the reward system could be innovated let me know!
Feel free to visit the Discord channel https://discord.gg/eAFkJ9f , every category has a pinned message with a brief explanation. Would you like to see a new category added? Let me know.

In conclusion, if you ask me my own opinion on translated posts even from real translators, I would answer you that I dislike the idea that someone who has the ability to express himself in English would not try and create something original of his own.

Telegram: @Dailymodo
Discord Channel: https://discord.gg/eAFkJ9f