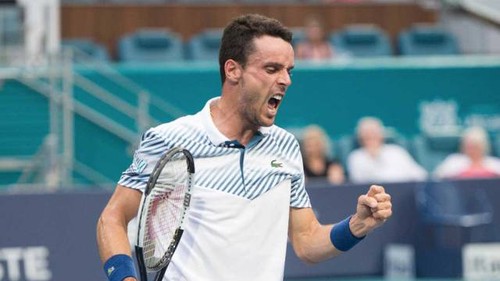 It's a Spaniard who likes fast surfaces
Like Feliciano Lopez, more comfortable on grass than on land, Roberto Bautista Agut is one of the atypical profiles of Spanish tennis. Like his compatriots, he was trained on clay, but it was on faster surfaces that he got his best results on the circuit. The 22nd world relies mainly on a flat game to direct the exchanges. He is not very fond of the lift dear to his compatriots. Of his nine titles, only one was found on earth. Versatile, it is hard that he admits to feel the best. He won seven titles on this surface and one on grass at Rosmalen in 2014. His only final Masters 1000, he played indoor in Shanghai on hard in 2016.
He often beats Djokovic
Novak Djokovic leads 7-3 in his duels with the Spaniard, but remains in two consecutive defeats in 2019 (in Doha and Miami). In Grand Slam, the last word has always returned to the Serbian. Not without evil. At Roland Garros in 2016 and 2018, it still took four sets to get by. Like the US Open 2015. What made the world number one say: "I expect a complicated match. He beat me twice this year. This will certainly give him confidence to tackle this game. He is a very consistent player with his forehands and flat backhands. He has this ability to stay in the point even when he seems to be in trouble. The ball bounces lower on the grass, which I think is more suited to his style of play. "
His absolute idol is David Ferrer
Valencian, former world number three, who retired from the circuit this year after the tournament in Madrid, is a reference in his eyes, on all fronts. "I try to learn everything I can from him, it's an example for me," he explained in an interview given to Superdeporte in 2015. "I take advantage of every second spent with him: that this at the table, during a discussion in the cloakroom or training. "For his part, Ferrer had said about his compatriot:" There will never be another Nadal, but if there is a Other Ferrer this could be Bautista Agut. "
He had planned to be in Ibiza this Friday
In spite of all its qualities, the solid Bautista Agut had not planned to reach the last square at Church Road. The proof ? He had to celebrate his bachelor party this weekend in Ibiza! On the dance floor, far, far from the London turf. "I prefer to be in London, he had fun at a press conference. Six of my best friends are waiting for me there, but I think they'll be flying to London on Friday. "
He is a fan of the Villarreal football club
Son of a former professional footballer, Joaquín Bautista, Roberto Bautista Agut is a true football fanatic. At the age of 12, he played in the youth category of Villarreal FC, his heart club, as an attacker. "I scored a lot. I was not very technical but I scored in all possible ways, I was going to put my ear to do it, "he said to AS.