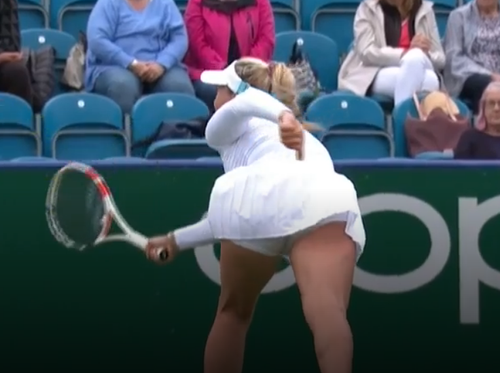 The semi-final of the WTA-500 in Eastbourne was very unexpected. In the first match of the ½ final, Camila Georgie played against Anette Kontaveit. The Italian is on the 75th line of the rating. The representative of Estonia is on the 27th place in the world ranking. Judging by this indicator, then Kontaveit will be the favorite. The girls did not meet with each other.

Georgie was able to outplay Plishkova, S. Rogers and Arina Sobolenko. Kontaveit turned out to be stronger than Kuznetsova, Andreescu and Golubich. If judging by the net, then the Italian athlete still has the advantage. As a result, it is worth waiting for a 3-set match.
Review of the first set of the ½ Final of the WTA-500 in Eastbourne: Camila Georgie - Anette Kontaveit
Well, yes, the match was supposed to start at 13-00 Moscow time. But only at 16-20, the tennis players appeared on the court. The match itself began at 16-30 Moscow time.
Anette Kontaveit was the first to serve. Camila was leading in the score: 40 - 15. Anette was able to level the score: 40 - 40. After 4 "exactly" and 3 breaks won back, Kontaveit was able to realize her serve. Kamila confidently wins 2 games. In game 3, Kontaveit wins his serve at "0". Score: 1 - 2. In the 5th game the score was "even". Anette converted two rallies to win her serve. Score: 2 - 3. After "exactly" Kamila converted her serve. The score is equal: 3 - 3.
Kontaveit wins the 7th game. In the 8th game, Anette was able to realize a break point. She went to serve the set. In the 9th game, Kontaveit played 3 breaks, but Kamila was able to put the squeeze on her opponent and from the 4th attempt to realize the break point. Set score: 4 - 5. After that, Camila Giorgi is removed. In fact, nothing foreshadowed such an end. Most likely, she felt uncomfortable and did not want to fight to the end.
Anette Kontaveit, without a fight, reaches the final of the WTA-500 tournament in Eastbourne