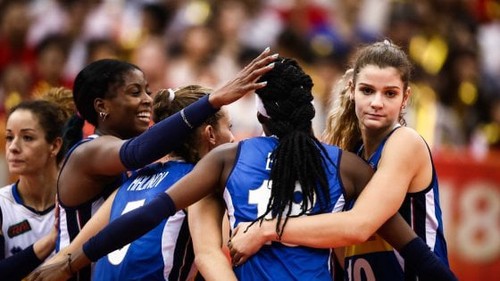 Volleyball, Women's World: Italy in the final
An almost endless match against China gives the women of Mazzanti, the world final after an expectation of 16 years. In the final the opponent will be Serbia who in the other semifinal beat Holland.
Today the final.
CHINA-ITALY 2-3 (18-25, 25-21, 16-25, 32-30, 15-17)
For Italy, women's volleyball will be the second world final of its history.
Regardless of the outcome of the final we can already congratulate this team for the extraordinary world played and a memorable semi-final with China. In the final we will meet Serbia that we have already crossed in the third phase and that has beaten us.
THE MATCH
In the first perfect Italy set, he does not miss anything and China does not react. Good Italians not to get excited in a race that is really worth and to which this team was not used. The blue men play as veterans despite their age and take home the first set.
China does not want to give up and on the other hand tries to repeat the world finals, like four years ago, then the Asian lost the final with the United States. In the second set the Chinese are able to find their game and put under the Italian national team, which however struggles and tries to maintain contact with rivals. At the end two aces of Hu just entered make the difference and China draws 1-1.
Here the Italians are in trouble, the Chinese immediately take the upper hand in the third set, but then a lucky series of batting changes the story of the set: from 8 to 6 China to 8-11 Italy. Galvanized the Italians close in their favor the third set, now the result is 2-1.
China resumes as if nothing was the fourth set, with a surgical beat and a ruthless attack puts the adversaries in pain, which then thanks to Egonu and Sylla, recover and bring in balance. You fight point by point and the fifth set ball (after having canceled 2 match balls to the blue) Zhu draws the score.
Italy beats point to point. Zhu responds to Egonu in a war of dunks. You get to two Italy match ball. But two blue errors still equalize everything. New opportunity and new mistake. Until the final apotheosis.