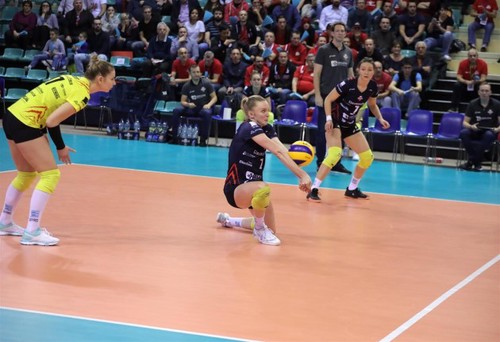 Yesterday's clash between Developres SkyRes Rzeszów and ASPTT Mulhouse in the 2020 CEV women's volleyball cup was indeed a very entertaining and highly competitive match. The fixture was no doubt a clash between two great teams where only would come out victorious.

The game which saw fans in droves, all in attendance to catch a glimpse of who the winner would be between both teams, witnessed war as both of them went into tie breaks and required the golden set in deciding the winners of the clash.
Prior to this match, french team, ASPTT Mulhouse hosted Developres SkyRes Rzeszów in the first leg which they won but also did that via a golden set. This latest clash was just like a repetition of their very first encounter but the difference being that the home side of Developres SkyRes Rzeszów secured the win and were given an edge over their fierce rival by proceeding to the eight finals of the competition.
Developres SkyRes Rzeszów's Katarzyna Zaroślińska-Król secured 18 points for the hosts and champions of the clash whereas ASPTT Mulhouse's Laetitia Moma Bassoko made it 30 points for the visitor's but sadly, ended the game defeated and eliminated from the competition. Games like would require not just team work or individual brilliance but luck. They truly fought hard and also deserved to win but i guess it wasn't for them yesterday.