Ski Jumping (flying) from Germany
Markus Eisenbichler is third in ski flying in Oberstdorf in the first competition. The victory is secured by Timi Zajc from Slovenia. Kamil Stoch has wind pitch. The German record holder Markus Eisenbichler (Siegsdorf) finished third at the first of three World Cup races in Oberstdorf with a lot of wind luck.
In a curious competition, the 27-year-old only had to admit defeat to the only 18-year-old surprise winner Timi Zajc from Slovenia and Dawid Kubacki from Poland.
Competitors crash
Eisenbichler had only been seventh after the first run, but in the final the opponents in front of him crashed due to strong tailwinds. Zajc flew with his first World Cup victory on 220.0 and 233.5 m, the Tour second Eisenbichler (224.5+222.5 m) convinced with two sparkling clean runs. Kamil Stoch, the clear pole after the first run, slipped down to fifth place.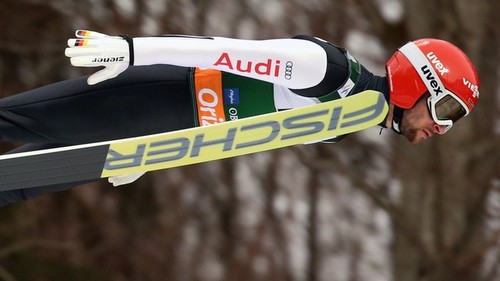 After an exhausting flight day with five rounds (twice competition, once qualification, twice training), Stephan Leyhe (Willingen/198,5+211,0) took eleventh place after Windpech in the first round and a strong second attempt. Olympic Champion Andreas Wellinger (Ruhpolding/209.0+210.5) came 13th.
The local hero from Oberstdorf, Karl Geiger (209.5+208.0), finished 16th, Richard Freitag (Aue), last year third at the World Flying Championships in Oberstdorf, is still in a low form and only finished 22nd (203.5+205.5).
Junior Team World Champion Constantin Schmid (Oberaudorf) missed the final of the best 30 with 194.0 m in 31st place. Martin Hamann (Aue) had flown past the competition of the top 40 as 44th in the qualification.