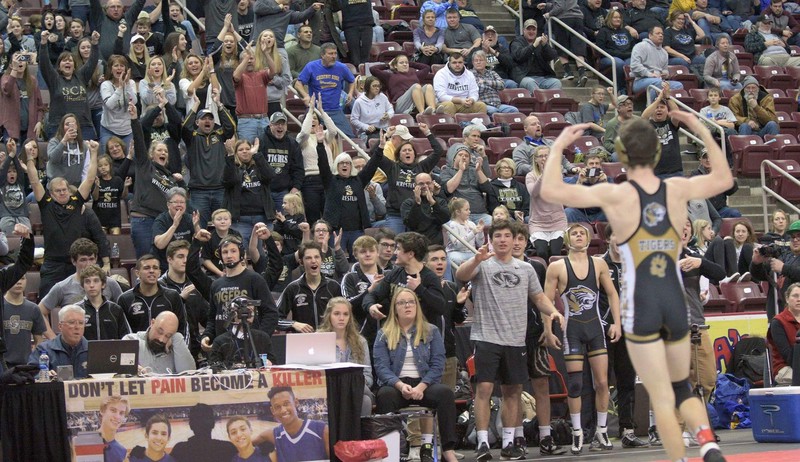 By MARC MALKOSKIE
Press Enterprise Writer
(From Friday, March 1)
FRANKLIN TWP. — High school athletes, especially the ones at smaller schools throughout District 4, are often encouraged to play multiple sports.
Not Southern Columbia's Patrick Edmondson.
He's a wrestler. That's it. That's all he wants to be.
"Pat and his dad always kid around because they say, 'He can't run fast. He can't catch a ball, he can't throw a ball. So the only thing he can do is wrestling,'" Southern coach Jerry Marks said. "And that's all Pat does. He trains over the summer and wrestles in tournaments, and just puts in the time and work."
Not that Edmondson didn't give other sports a try when he was younger.
"I just didn't find any success in them like I did in wrestling, and I didn't like them as much," he said. "So my dad and I talked about it, and we said, 'We're going to focus on one thing and we're going to be good at it.'"
Edmondson (40-7) is better than good. The 132-pound sophomore is one of just three wrestlers in this weekend's Class 2A Northeast Regional tournament to earn at least 40 wins this season, joining teammates Kole Biscoe (40-5 at 113) and Gaige Garcia (40-0 at 195).
He is also fresh off his first District 4 title, rallying to defeat Sullivan County's Nathan Higley (31-2) in a sudden victory, 4-2, in the district final last Saturday.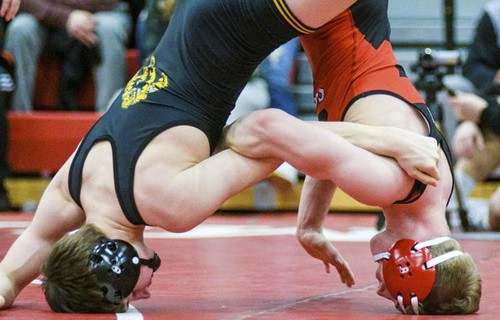 Edmondson will wrestle District 4 fifth-place finisher Logan Newton (28-11) of Wyalusing in the regional quarterfinals tonight.
The top-seeded Edmondson hopes to eclipse his third-place finish at regionals last year, and then best his sixth-place finish at states a little more than a week from now.
"I think last year kind of dictated what we expected from Pat," Marks said. "Getting sixth as a freshman was great, and he had a great drill partner in (two-time state champion) Jaret Lane. Jaret schooled him, took care of him and taught him a lot of the things that Pat is utilizing today. His sophomore campaign is going just as expected."
When his high school career is over, Edmondson, who's already 84-19, could give Lane's district record of 182 wins a serious run if he stays healthy. Lane had 86 career wins after his first two seasons.
While many of his teammates are well-known for their success in football, Edmondson benefits from staying in a wrestler's mindset year-round.
"I go into the room every day and train as hard as I can," Edmondson said. "That prepares me for everyday life. Because anything that gets thrown at me in life, I can always work through because I've been able to work through everything in wrestling. Wrestling is tough and you're beat up all the time, you're wrestling people you don't know and there's always challenges ahead of you. I take that mentality into life and I'm just ready for anything. You can throw anything at me and I'm just going to be resilient and come back."
Edmondson's mental toughness is complemented by his maturity. When the Tigers lost a heartbreaker in the gold-medal match to Reynolds at the state team tournament three weeks ago, several of his teammates were emotional.
However, the now-crowned district champ looked at the big picture and didn't shed a single tear.
"Last year, I was more upset when we lost the Reynolds match because I lost as well. I felt as if there was more I could do," Edmondson said. "This year, I came out and won and I did all I could do in my opinion. There was no real blame I put on myself like I did last year, and I wasn't as emotional. I didn't feel the need to cry and show that emotion."
"Pat's one of those guys where he's like another coach in our room," Marks said. "He shows a lot of the moves and helps us out to show technique. His maturity makes him seem a lot older than he is. We look forward to having him for two more years."
Marc Malkoskie covers sports for the Press Enterprise. He may be reached at 570-387-1234, ext. 1338, or by email at sports@pressenterprise.net. Follow him on Twitter at @mmalkoskie.