A couple of days ago @julienbh introduced the Pinnacle Bet Bot here on Scorum. This is a great step into the right direction of Scorum in general, but in particular in offering the best odds in the world of sports betting. This will make BetScorum the ultimate platform to place your bets. This post is aiming to highlight some of the benefits of this bot, as well as a small guide on how to use it.
I would like to make sure that I have discussed this in advance with @julienbh, and he has allowed me to put this guide online.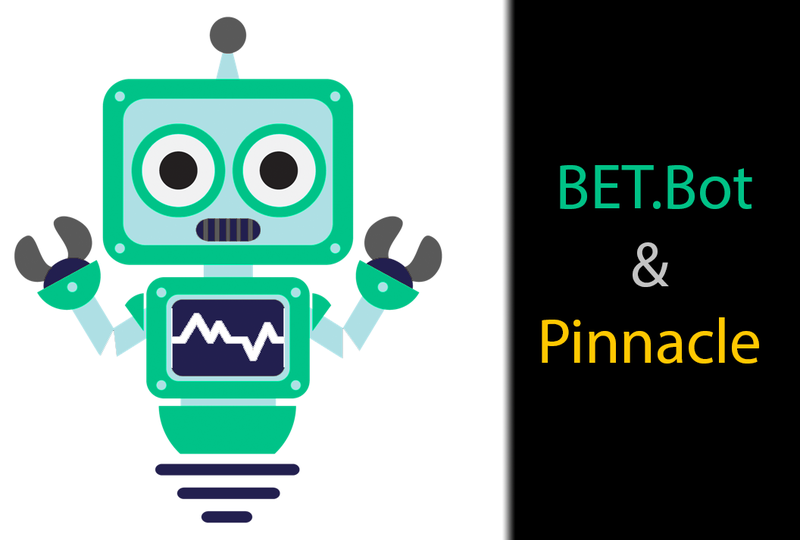 How did the Bet Bot start?
When the SBC team were still active on Betscorum, @costanza and, @btb were constantly matching bets of other users that were having trouble getting their bets matched on the platform itself. This was a tough manual job, which the guys did extremely well, but whenever they decided to stop the betting volumes dropped significantly, and matching bets wasn't as easy anymore. @julienbh had already developed the basis of the Bet Bot at that time, and after a couple of days discussing the needs and wishes, and after some extremely hard work coding the bot by @julienbh the results were there earlier this week.
What does the bot actually do?

As described above, it matches bets on Betscorum. It basically automates the work that the SBC team was doing previously. It doesn't just do this randomly, but it uses data from the Pinnacle Sportsbook API to make sure that anyone trying to match a bet, will always be able to place a bet on the best odds of the betting market. Pinnacle is known worldwide as being the most stable bookmaker, offering the best odds on the market. Our Scorum Bet Bot is using these odds in order to generate a better odd that can be matched only on ScorumBet, and that alone makes BetScorum a unique place for bettors. Bet Bot does not simply copy the Pinnacle odds, but it allows the better to add 0.10 to the existing Pinnacle odds. In the future that might change into a percentage, but in the beta testing period, we will be using the 0.10 addition.
BetScorum charges 0% commission
Bet Bot offers Pinnacle odds + 0.10
Fortuna Betting offers boosted odds on selected match outcomes
A lot of Scorum communities are offering free bets to be placed on BetScorum
Whereas Free Bets are offered in many places on the internet, they are an extremely welcoming feature to BetScorum in general. The other three points mentioned above, are as far as I am aware unique in the world of sports betting, and can only be found on BetScorum as of February 2019 (please correct me if I'm wrong).
Examples:
I'm going to give you two examples of what you can expect from the Bet Bot.
For the first example, we have a screenshot of the match Chelsea vs. Tottenham Hotspur which will be played today. There are tons of bookmakers out there making all sorts of offers on this match. For us, only one bookmaker counts though, and that is Pinnacle.
Odds are always moving up and down, meaning what is correct now, might not be correct anymore in 10 minutes. Bet Bot checks for new odds every 5 minutes. In the screenshot above you can see that Pinnacle offers 2.33 in odds on a Chelsea win. From that list, only 1xBet offers slightly higher odds at 2.34, whereas the other "47 more bookmakers" that are mentioned are unable to offer anything higher. The great news here is that our Pinnacle Bet Bot can do this, up to 2.43 even.
In order to benefit from this offer, you would need to place a bet on Betscorum on Chelsea for 2.43 in odds. When you then go to the Bet Bot channel on Discord you can ask for it to be matched. As long as your bet is within the mentioned range the bet will be accepted by Bet Bot.
The second example is on how to place a bet on the so-called double chances. These are the 1X, the 12 and X2 bets, where you bet on two outcomes rather than one. To be able to match those, the Bet Bot will use the exact same odds as mentioned above. It will then calculate the odds for the double chances. So let's say you actually think it will be a win for Tottenham, but you have the feeling it might also be a draw. In that case, the bot will use the odds of the Chelsea win and converts them into an X2 odd that it will be able to match. In this example, it will convert Chelsea's 2.33 into opposite odds of 1.75, and it will add 0.10 extra to it, meaning you could place an X2 bet on Spurs for 1.85 in odds.
How to play with Bet Bot?
If you want to place a bet, you will have to visit the Make Scorum Better Discord group. The first thing you need to do is to register your Scorum/BetScorum nickname. There's no need to provide your login key or whatsoever.
Type: register nickname
Bet Bot will reply with: Successfully registered "Discord name" with "Scorum username".
This will allow you to match a bet that you have already placed on Betscorum, but you could also ask the bot to provide you with the odds it can match. Either way, it is important that you know what is the Match ID.

In order to find the Match ID, you will need to go to Betscorum, select the match you want to bet on and check the digits at the end of the URL, in this case, 3257.
Now, go to the Discord channel and ask the Bet Bot for the odds available on the match.
As we speak the odds on the screenshot from Oddsportal have changed. The current Pinnacle odds are 2.40, 3.36 and 3.28. This means that the Bet Bot odds should be 2.50, 3.46 and 3.38. As you can see, the current Betscorum odds are about the same at the moment, but that won't always be the case. Someone has put up very competitive odds, which is actually very good, but this won't be the situation in all matches on Betscorum. Bet Bot is specifically useful in situations where the odds are not as high as they currently are.
With the command getodds 3257 Bet Bot will give you the current odds.

Now that you know the odds, you can place your bet on Betscorum and give the command match 3257 to match your bet.

Limitations
At this moment there are three limitations if you want to use Bet Bot.
The maximum odds are Pinnacle odds + 0.10
You can place 10 SCR maximum per bet
You can place 20 SCR maximum in total per 24 hours
Depending on the volume, the demands, as well as the available SCR in the Bet Bot Pool, this limitation might be amended or lifted in the future.
Availability
Questions?
If you have any questions, please ask it in the comments here, or at the Discord channels.
Thank you for reading and supporting this project!