Yes, I know, that this is a ridiculous bet, but... When today I was checking out the odds for the fights of the upcoming card, I saw @81 odds for the main event's draw outcome. And started thinking about this outcome.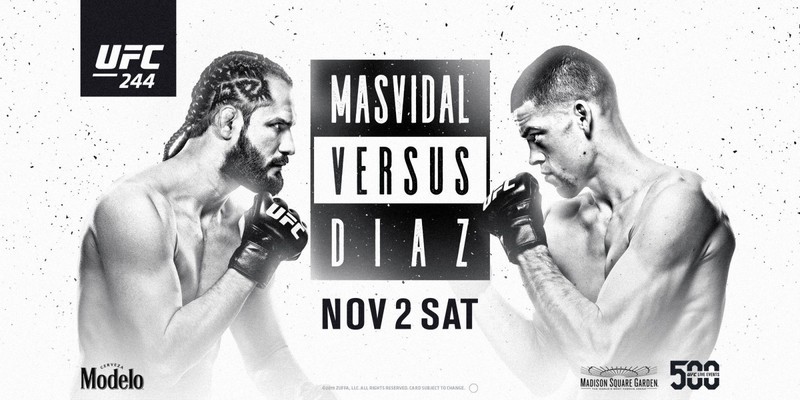 Both men are more than capable of finishing each other (Diaz more likely by submission, Masvidal more likely by KO). But I think it's more likely, that the fight will go the distance (odds are implying the same). If the fight will go the distance, I would not be surprised if Diaz would win the last 3 rounds. I would also not be surprised if Masvidal would drop Diaz in one of the first 2 rounds and that way would win one of these rounds 10-8. I don't think that Masvidal can KO Diaz with one punch (Diaz is too good of a boxer). I also don't think that he will kick him in the head (legs yes, head no). But he can drop Diaz and try to finish him on the ground. But Diaz is too good there and he will wrap around Masvidal and survive the round.
Somehow for me, this scenario looks much more likely than @81 odds. So I'm betting 1 unit of my bankroll on this outcome @81 odds :)
---
UFC 244 is an insanely good card, so just to have fun while watching it, I also picked 1 outcome from each fight on the main card and placed a system bet (4/5, i.e. need to be right 4 out of 5 outcomes to win; and 5 different bets)
My picks in the system bet: Draw in Masvidal vs Diaz @81; Till to win @2.85; Thompson to win @1.90; Blagoy to win @1.82; Lee to win @2.25.
So, to summarise, system bet (4/5) - 5 total combinations, on every combo 0.5 units of the bankroll, total of 2.5 units.
These odds are far from the best in the market, but they are my local bookie's which is easiest for me to bet on.
---
My 1st bet a few months ago was wrong and my current bankroll is at 95 units (-5%).
Today on the line is 3.5 units with insanely unlikely outcomes :) But I have a gut feeling... But who knows that's just might be incoming diarrhea xD