If 12 months ago you had said to me that coming into this, the 36th fixture of the season for both these clubs, this match would be one of great significance for Leicester and Sheffield United in their respective bids to reach the Champions League, I think I would have laughed you out of the room. But here we are, previewing a match of great significance for both sides European hopes!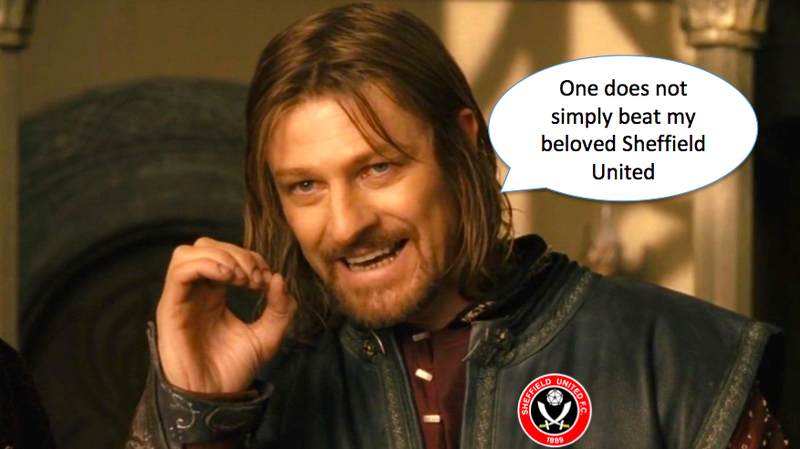 The news that Man City will be allowed to play European football next year despite showing a flagrant disregard for all of football's financial fair play rules could well cost clubs like Leicester and Sheffield come the final reckoning. Perhaps a full-on rant about that decision will come in another post, suffice to say that I can't help but feel those rules and the enforcement of them are designed less to keep the mega-clubs honest than they are to stop well run medium-sized clubs developing to challenge the status quo.
In my analysis of how the coronavirus break might impact Premier League clubs, I suggested that both these sides might struggle to recapture the form that had lead to them overachieving for the first part of the season and at least for the first few weeks that proved to be the case.
Leicester started off by dropping points to relegation candidates Watford and Brighton, getting knocked out of the cup and then losing at Everton. They righted the ship to some extent with a win against Palace and a point at Arsenal but their spectacular capitulation against a Bournemouth side who up until that point looked dead and buried means their Champions League hopes are now hanging by a thread.
As if to make things worse, Leicester have also got a very tricky run-in against 3 other sides chasing European spots. After this match they play, Spurs and then finish-up against Chelsea.
Leicester's success this year has been built on the high-press, turning over possession in the oppositions half and counter-attacking. Only Champions Liverpool have scored more on the break this season but as a % of total goals Leicester come out on top in that regard.

However, as I alluded to in a previous blog, this style of play may not (and has not) proved successful post-lockdown. Higher temperatures, lack of match fitness and a congested fixture list are all hampering Leicester's ability to play in this manner. While it would be wrong to claim that Leicester are just a team whose success is based on the above style of play, their current injury list has robbed them of the kind of players and skillsets to unlock defences from open-play more generally.

Maddison's play in-between the lines is crucial for this Leicester side as is that of full-backs Ben Chilwell and Ricardo Pereira who provide width in attack. All 3 are likely to be unavailable for tonight's game and unfortunately for the home side, their replacements aren't of the same quality.

Meanwhile, Sheffield United hardly hit the ground running themselves with just a point from their fixtures in June but have rebounded spectacularly since with 10 points from their last 4 games including comfortable wins over Spurs and Chelsea.
With that return in form has come a return in defensive stability and I think their style of play will go a long way to nullifying this Leicester team tonight. For starters, the Blades have only conceded once to a counter-attack this season so the chances of Leicester adding to their impressive tally noted above seem pretty slim.
However, the Sheffield United team don't just prevent counter-attacks by sitting deep, they actively engage opposition higher up the pitch and hold them at arms length. This observation is perhaps best demonstrated by the fact that almost a third of any game that Sheffield United play is played in the opposition's third of the pitch.

You would expect sides like Man City and Liverpool who dominate possession (62 & 60% respectively) to be at the top of this table but Sheffield United manage to take 3rd spot with just 44% overall possession (4th lowest in the league), an incredible achievement!
While it might be tempting to see Sheffield United's odds to win of better than 4.0 as a good bet based on the above, it is also worth pointing out that they have only won 4 matches away from home all season (the joint lowest number of wins in the top half) and they've managed just 14 goals on their travels with only Watford and Norwich having a worse record. With an inform and golden boot chasing Jamie Vardy in their side, it may also be premature to right-off this Leicester team just yet and therefore I'm going to give myself some insurance albeit still at a reasonable price.
Prediction: Handicap Sheffield United +1 @1.89 or better
.
Place your bets here on betscorum