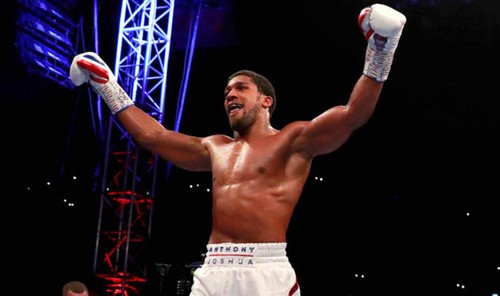 Well, it is no news that AJ has knocked out one of the toughest boxers of this generation yesterday evening. It is also a common knowledge that it was the first time the Russian will hit the canvas in his almost two decades as a boxer from an AJ style kind of KO.
I did a post some couple of the days back regarding the much awaited bout for which I asked users to make comments and predictions. Not too many users commented (perhaps 10SCR and full upvote isn't enough), but the few who did were able to make interesting comments and predictions.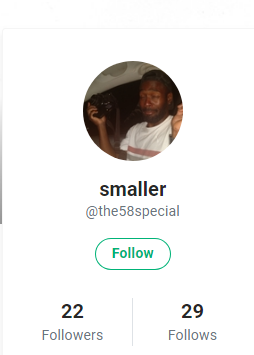 What is news is that a user @the58special was able to predict that AJ was going to knock out the Russian precisely in the 7th round. To my utter surprise that was what happened. His close contender is none other than a wonderful and prolific content creator @brandonk who predicted AJ was going to knock out his opponent in the 6th round. (That was how low he rated Povotkin). Don't get me wrong, if you know brandonk on this platform, i am sure you will agree that he knows his onions when it comes to Boxing and especially MMA.
As promised, i gave full upvote to the best comment/prediction and sent 10SCR to user @the58special who has less than 1kSP as shown on the screen shorts below.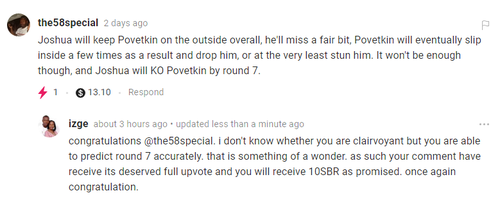 I have heard so many boxing fans urging AJ to cross over and start fighting American heavyweights. I am in full agreement with the call. Right now the greatest American contender in the heavyweight division is Wilder. However I think AJ should finish off with all the European Boxers before facing Wilder who is expected to fight Fury early December this year.
In my opinion, AJ is the present and the future of heavyweight boxing, the likes of Wilder and Fury are in the past. We have an adage in Hausa which says "SARKI GOMA, ZAMANI GOMA" (10 different kings with 10 different seasons). In my amateur estimation, AJ has a minimum of 10 years dominion of heavyweight boxing, being the king that he is. Others have dominated it before, he can do it too and probably do more.
A factor worth considering is that AJ is still young and has a combination of a thick Nigerian blood running through his veins as well as the intelligence of a British boxer. All he needs to do is to continue to take AKPU and GARRI to build up those muscles for everlasting build up of knockout tallies. :D
THANK YOU AS USUAL FOR STOPPING BY @izge