As Australia head towards a series defeat against India in which their much vaunted fast bowling attack has been completely out-played by the visiting Indian quicks, the remaining first-class cricketers of Australia are now having to answer serious questions about how they play slow bowling. 2018 was the worst year for Australian cricket that I can remember and it seems as though the seismic shock waves of the ball tampering fiasci are not just being felt within the international squad but also throughout the domestic and the administrative arm of Cricket Australia. The recent ODI squad selected for the upcoming series against India sees several of the form BBL batsmen being left-out presumably on account of past failings and the fact that as with the T20 franchise games, the ODI encounters against India will involve a lot of wrist spin which BBL batsmen are failing to play with any conviction at present.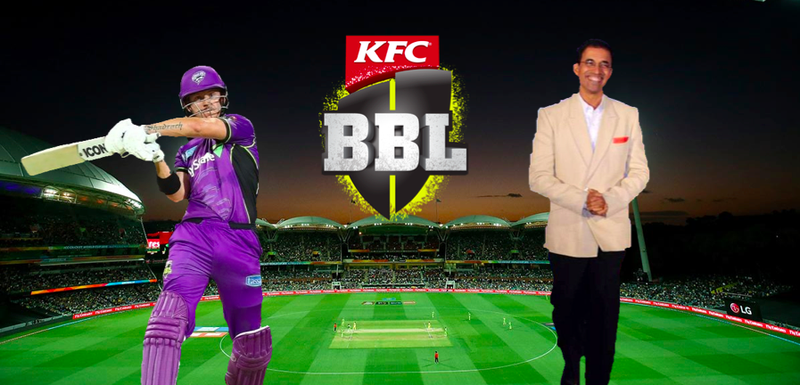 Short, Coulter-Nile and Agar miss out on ODI selection despite BBL form
From a fantasy league point of view, this is great news for those of us with these guys in our teams. D'arcy Short has the highest average points per game of any player (109.5) scoring big runs up front and also chipping in with useful wickets. Nathan Coulter-Nile looks fit and is bowling with great pace. His 3 wickets in the match yesterday against the Heat helped my fantasy team to a win (see below), while Ashton Agar is a consistent performer in all formats with both bat and ball and was certainly one of Australia's better players during their tour of England last year. These 3 players join the likes of Chris Lynn and Travis Head in being dropped in favour of Usman Khawaja, Shaun Marsh and Peter Handscomb, all of whom have struggled during the recent Test series and who in general are not seen as the most explosive of batsmen.

Australia won just 2 ODIs in 2018 meaning that their win ratio was lower than any other ODI playing nation including the likes of Papa New Guinea, Nepal and Scotland. While a reaction was necessary, I doubt very much if this is the sort of line-up that will strike fear into the hearts of the opposition as we lead into cricket's showpiece tournament this summer. With Smith and Warner set to come back before the World Cup begins these may be risky words to utter but in all honesty, the Aussie ODI side seems to have reverted back to where the English were this time 4 years ago and that didn't work out too well for us in the last World Cup!
While the likes of D'arcy Short may not have performed as well as may be hoped in ODI cricket this year, I do believe that he should have been retained in the squad. Firstly, as noted above it has been a tough year for Australian cricket in general and Short has been part of some experimental and largely unbalanced ODI sides. It's always difficult for a player looking to take that next step in their career to have to do so in a side as unsettled as the Australian one has been over the last 9 months or so. Perhaps what Short needs is a vote of confidence from the selectors as opposed to the cold shoulder. Secondly, it seems ludicrous not a select a player when he is in form. We saw in 2018 how well Jos Buttler performed for England coming off the back of an excellent IPL. T20 franchise cricket might still be seen as a bit of a lesser format to ODI & Test Matches but when a player is striking it well in the shortest form there is no reason to believe they can't take it with them into a longer version of the game.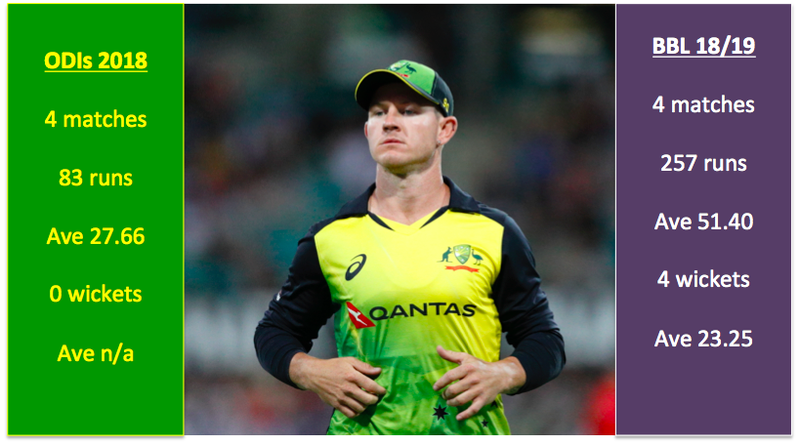 Struggles against spin continue
All in all the standard of batting in the BBL has been below average thus far with most batsmen finding things tough against the slower bowlers and in particular wrist spinners who are capable of turning it both ways. Given Australia's recent troubles in the UAE against Pakistan and indeed their 5-0 ODI whitewash against England in which Adil Rashid and Moeen Ali were their main tormentors, it seems a reasonable assumption that players from down under are struggling to pick the varieties that these bowlers have to offer. Having experience facing these players is crucial but also a batsman needs to go into the game with a set plan of attack in order to wrestle control of the contest back in their favour.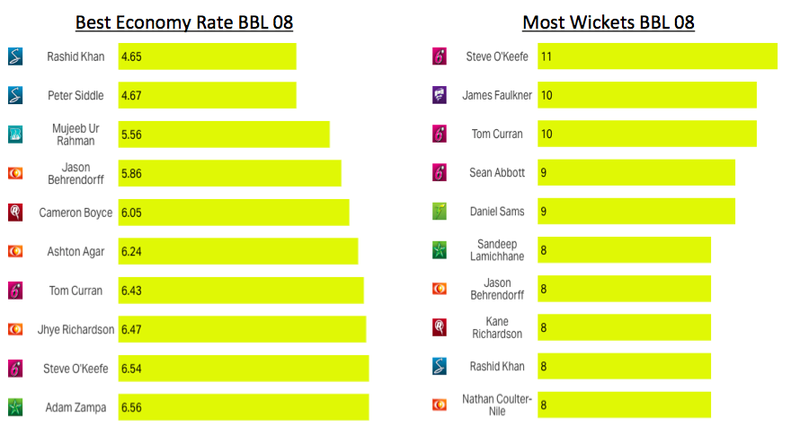 There is a definite reluctance amongst Australian batsmen to get down and look to sweep bowlers of this nature, a tactic that England employed to good effect on their recent tour of Sri Lanka where they won the series across all 3 formats. Of course, saying it is much easier than doing it and even when I have seen batsmen attempt this tactic in this year's BBL they have generally failed to execute the shot successfully. Take for example Cameron White's dismal against Rashid Khan (2mins 36 secs on highlights real). What you won't see on the below video is the fact that White attempted to sweep every single ball Rashid Khan bowled him until he finally missed one and was stone dead LBW. The sweep shot should be used to help disrupt a spin bowlers line and length but like any shot, if a bowler of Rashid Khan's skill knows you are definitely going to play it then he can easily adjust his length and increase the likelihood of an LBW or top edge getting him a wicket. To be quite frank some of the guys, even players like Cameron White who is highly experienced cricketer, look like rabbits in the headlights when facing spin bowling.
The other aspect to consider with this year's tournament is that the pitches appear much slower than I have ever seen in Australia. Not only is this benefiting bowlers who can take pace off the ball but it is also hindering batsmen who have grown up on faster, bouncier wickets. Going back to the above observations on the sweep shot, it is entirely understandable that players who have traditionally played on harder wickets would for one not have faced as much spin bowling and two, not have wished to sweep the slower stuff that they did face it. There are a couple of articles that I may choose to write in the near future, firstly about the use of drop-in pitches and the effect they are having on the game and secondly about the scheduling of T20 franchise cricket. Suffice to say that the use of drop-in pitches and the loss of international stars is having a negative effect on this year's BBL.
Fantasy League Update
This round saw my team, the Scorum.com Sixers up against famous cricket broadcaster, journalist and author Harsha Bhogle. Bhogle is one of the best known and most loved (he was voted the best cricket commentator on an ESPNcricinfo poll) speakers on the game of cricket around the world and his knowledge on the sport is such that he has advised the highly successful Mumbai Indians IPL franchise back in his home country of India. However, his cricket knowledge wasn't quite enough to overcome my boys as the Scorum Sixers delivered their 4th consecutive win to put themselves joint top of the league alongside Mark Waugh and Mike Hussey.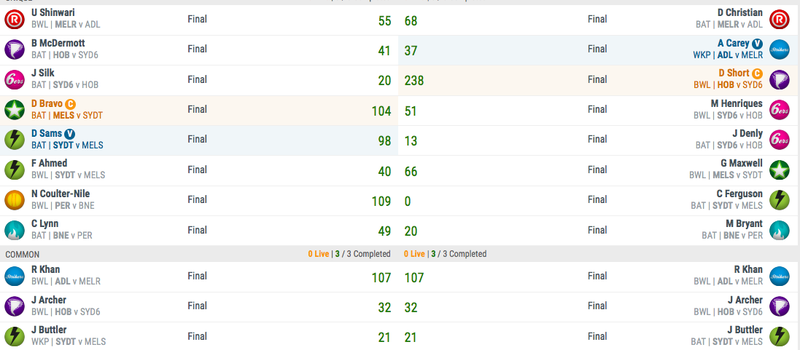 I have to say that after his captain D'arcy Short plundered 238 points on Friday, I thought my goose may be cooked in this round but I did know that I had more players involved in Saturday's matches and therefore stood a chance of pulling it back around if they could perform. Daniel Sams has been a great buy and I'm very glad that I picked him in my initial squad as his value has shot up $72.5k since then. His big hitting alongside some decent efforts from Bravo and Ahmed with the ball closed the gap before Chris Lynn and Nathan Coulter-Nile completed the comeback in the final match of the round.
Elsewhere @raamesa got a great win against former Australian international batsman and current national selector Mark Waugh! @hassan narrowly missed out on beating Shane Warne's team and @jpm8341 was unlucky in recording the 2nd highest points tally of the round to come up against Mike Hussey's team who scored the highest number of points with 877 in round 5.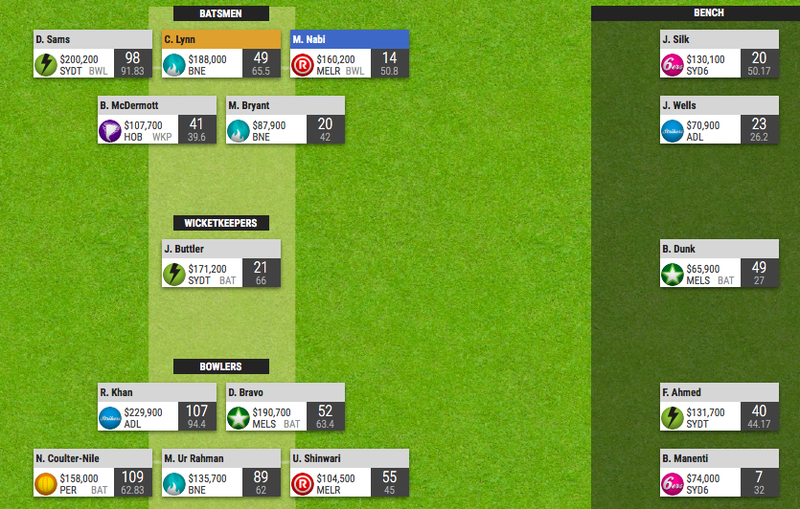 This round sees the Heat and Renegades play twice so naturally, I have included additional players from those 2 sides. Mujeeb Ur Rahman comes off the bench as a straight swap for Fawad Ahmed. Meanwhile, I've brought the exciting young Max Bryant into my team at the expense of Callum Ferguson and I have made a fairly big call in dropping Jofra Archer for Mohammed Nabi. Archer has not quite been at his best for the past few matches and with the Hurricanes top-order playing so well it seems unlikely that he will be required too often with the bat meaning his price as an all-rounder looks a little inflated. By contrast, Nabi will probably contribute with both skill sets in 2 matches and so should give me a nice little points bost when my team takes on @rameesa in round 6.