As Jos Buttler has discovered over the past 9 months or so, they don't call it Test cricket for nothing!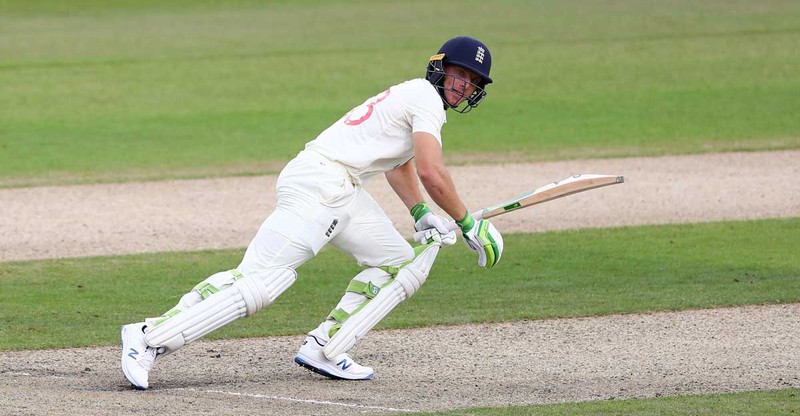 When Buttler was recalled to the side in 2018 there was reason to believe that he had finally cracked the tempo of the longest form of the game with a series of good knocks against Pakistan and India that summer culminating in his maiden (and to date only) Test Match century.
Since then Buttler's returns for the Test team have dropped off and if going on raw statistics alone it would have been tempting for the England selectors to have replaced Buttler for one of the other strong options they have waiting in reserve.
However, to be overly critical of Buttler in recent times based solely on the numbers is to misunderstand the varied and changing roles he's been asked to play during that period. Below is an in-depth look at his stats in various positions since his recall to Test cricket in May 2018.
Keeper vs Non-Keeper
Those of you who can remember a pre-coronavirus world will recall that Buttler's return to the side off the back of a stellar showing in the 2018 IPL was as a specialist middle order batsman.
In fact Buttler kept wicket just once during his first 18months back in the side after Jonny Bairstow injured his finger in the 3rd Test against India in 2018. Thereafter, a combination of Bairstow and Ben Foakes have kept Buttler's role limited to that of middle order basher.

It's no major surprise that a player used in these 2 roles will return better figures as a specialist batsman. In fact, I wrote an entire article about that a couple of years ago that you can read here.
The challenge of course for Buttler is that as a batsman he was just starting to establish himself in the Test arena before then being asked to don the gloves and reinvent his role in the team.
Chopping and changing in the Baylis/Farbrace era was far too common and selection in general left England overstocked with certain types of player all too often forcing them to try and shove square pegs into round holes. Buttler can be seen as a primary example of a player who didn't benefit from that approach.
Variety of batting positions
To highlight that last comment further, the below shows the variety of roles that Buttler has been asked to play these past 2 years.
By in large, England's all-rounders including the likes of Ben Stokes and Moeen Ali have had similar problems and while Stokes now seems to have found a natural home at number 5 and is making good use of his settled role/position in the team, Moeen has been disregarded and perhaps rightly feels a bit short changed given the flexibility he's provided the side and the occasional match winning performance.
Therefore, It seems only fair to judge Buttler after an extended run-in the team in his latest role as a keeper-batsman coming in at 7. This, the 3rd Test between England and the West Indies, will be Buttler's 8th in that position. Given England's recent policy of giving players a good opportunity to prove their worth (Joe Denly got 15 Tests at number 3!) then it'd seem only fair to see where Buttler is at the end of the summer.
1st Innings v 2nd Innings
Another common issue for keeper-batsmen is the disparity between 1st innings and 2nd innings records which is only to be expected given the workload they must endure in the field.
We don't have a massive amount of sample data if we are just judging Buttler in this respect over 8 Tests (England have only batted 2nd in 1 of those games) but a familiar trend is already beginning to appear.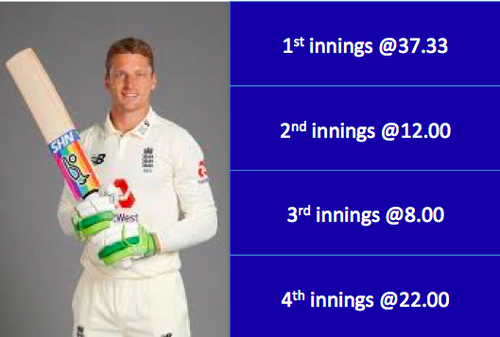 More than just a keeper-batsman
And of course it would be remiss to not mention the many other roles Buttler is expected to play for England across various forms of cricket.
Sticking with the Test side, he is a senior member of the team and major influence in the dressing room as underlined by him being chosen to captain one of the sides in the intra-squad warm-up matches this summer and then being named vice-captain for the 1st Test as Ben Stokes took over the reigns of captaincy on a temporary basis.
He is also the long-time vice-captain of England's white-ball teams and it seems only a matter of time before Eoin Morgan stands down to allow Buttler to take on leadership of a side that he has been a key part of for the past 6 years.
Buttler is also required to don many different hats within the limited overs team. Whether as an explosive middle order player in the 50-over side or an opener for T20s, there is cause to believe that when looking at Buttler's responsibilities across the full spectrum of international cricket that he has one the most challenging and diverse roles going.
The Future
Short-term, England's management has stated it plans to use squad rotation to avoid injury and burn-out over this intense summer of cricket.
It is good to see that Buttler will be rested for the upcoming ODI matches against Ireland. We already know his value to the white-ball team and his place is unquestioned. As noted above, it would be better to allow him an extended run in the Test team with a relatively settled batting line-up above him to judge what his full capabilities are as a keeper-batsman in the longer form. The rest should allow him to play all the Tests against Pakistan next month.
In his place, England could well give young Tom Banton, one of the emerging T20 stars on the world stage the chance to showcase his immense talent. Banton has already struck 2 fifties in the intra-squad 50-over warm-ups and I feel it would be unwise to burden Bairstow with opening and keeping duties.