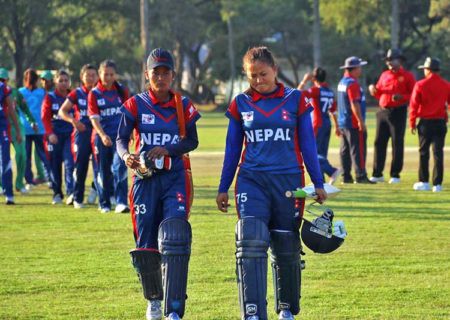 This tournament will be held from Asar 4th on the Nepali calendar. The dates has been finalized as well as the trophies has been displayed. National sports Council is the organizer of the tournament. Mahakali Sports Society is looking after the management of the tournament.
The matches will be played in Mahendranagar. This tournament was postponed a week later due to some technical issues. A total of 8 teams will participate in the tournament which will be divided in 2 groups of 4 teams each.
Group A consists of APF, Mid-Western, Region 5 and Gandaki Region. The teams in Group B are Region 1, Region 2, Region 3 and Karnali Region. Each team will play a game against each other in the group stages. The top two team in group stages will reach the semi-final of the tournament. The first match of the tournament will be held between Gandaki Region and Mid-Western Region. Region 2 and Karnali Region will play the match in the same day.
Th total budget of the tournament is 88 lakhs out of which 35 lakhs will be provided by National sports Council while the rest will be handled by Mahakali Sports Society. The winning team will get a sum of Rs. 5 lakhs while the runner up team will get 3 lakhs rupees. The best player of the tournament will get 30 thousand rupees. The best bowler and bats women of the tournament will get the sum of rupees 15 thousands each. The woman of the match will get twenty five hundred in each match.