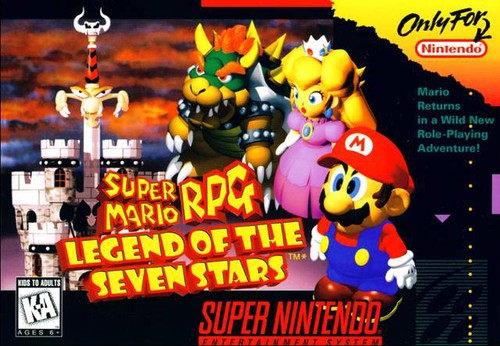 When this game was released, I'm sure many people were surprised, since the union of the world's most famous video game character and the RPG genre was a very strange union, but equally, to the surprise of many, this title turned out to be an excellent game of the RPG genre, demonstrating that our favorite plumber can be present in any genre of the video game, and still succeed.
Obviously I'm talking about the already classic: Super Mario RPG: Legend of the Seven Stars.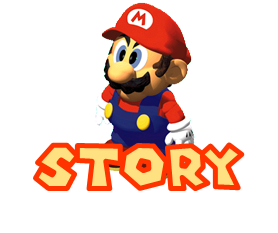 Just as Mario's union with the RPG genre turned out to be a little strange, so is the story of this game. The story of Super Mario RPG: Legend of the Seven Stars begins when Bowser, as is customary in many of his games kidnaps Princess Peach and therefore, again our favorite plumber goes to her rescue, arriving at the castle where Bowser had taken the princess and after having a fight with our "faithful" enemy, to everyone's surprise, the castle is crossed by a giant sword, in such a way that a portal is generated where a great amount of enemies from another galaxy enter, that army takes control of the castle and much of the kingdom, so Mario, along with the help of old and new friends, will have to join together to expel the invaders, but as I said earlier, this story is also a bit strange and it's because Bowser, too, was part of our team, certainly a very rare twist of plot, but that is well implemented, as it gives a good tone of humor to the game, which in itself, in Super Mario RPG: Legend of the Seven Stars we'll find it a lot.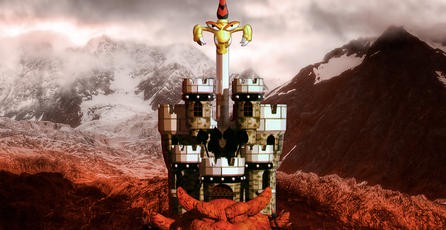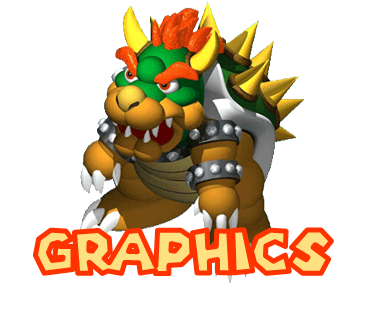 Super Mario RPG: Legend of the Seven Stars is one of the games that knew how to make the most of the graphic capabilities of the SNES. With graphics very similar to those seen in the also classic: Donkey Kong Country, Super Mario RPG: Legend of the Seven Stars has an excellent graphic quality, with good animation in each of the moments of our adventure, equally in the battles, each attack that we are going to make presents a good level of fluidity and eye-catching, which makes a game that visually will be entertaining to watch.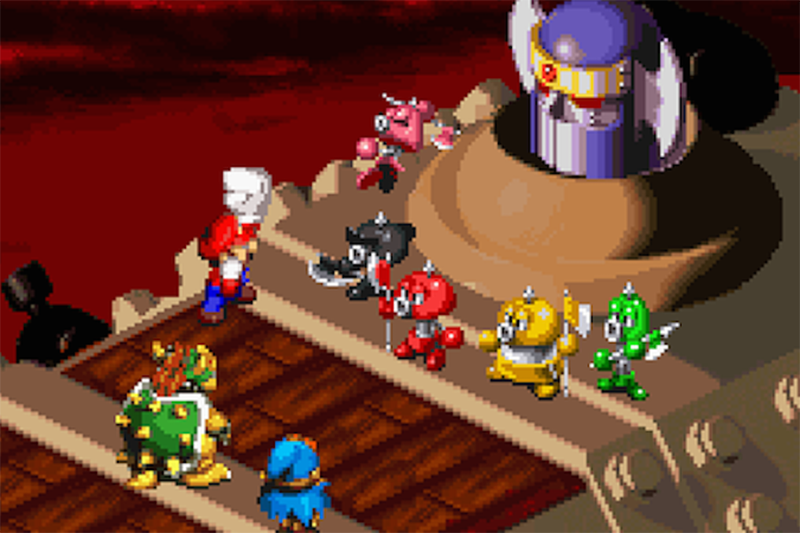 It also has a good scenario design that is something that is very characteristic in RPG games and as was customary in many old games such scenarios are rendered, so the level of details in them are superior to other games that don't have this design style. Very good color palette, although this is not surprising, because being a Mario game, the use of striking colours is something that is going to go fixed, as everyone knows that this style of very vivid and varied colours is the hallmark of our favourite plumber's presentation.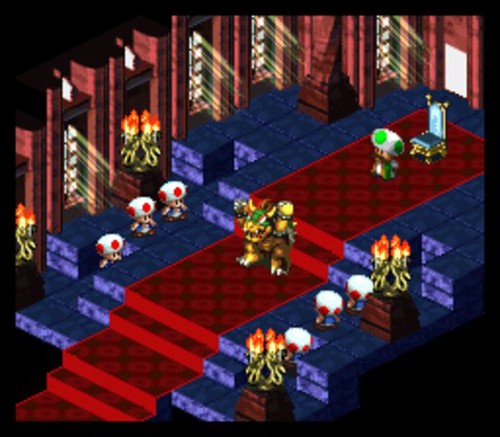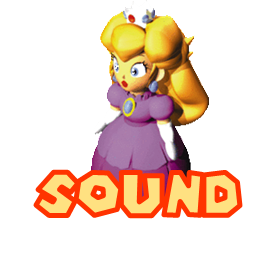 If in itself, Mario games have a list of excellent melodies and today are representative of the world of video games, Nintendo and a whole generation, with the union of Square to create this game, it is not surprising that the level of composition is kept very high, because equally, it is known that most of the games developed by Square and later SquareSoft have a quality of almost perfect melody, as they know how to convey infinities of feelings and situations through the use of melodies that are unique in their style. And Super Mario RPG: Legend of the Seven Stars is no exception, although it still maintains that cheerful tone that so characterises Mario, if you can notice the work done by Square in this game. As well as the sound effects are very good, especially the battle effects, where they take many of the sound effects that we can find in old Mario games, and although this specific title does not belong to the genre that is so well known to our favorite plumber, I have to say that they fit very well with this title.
Video Author: F4m1LyGuy10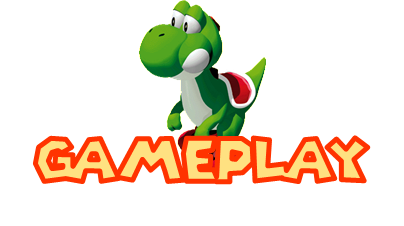 As for the gameplay Mario RPG maintains much of the characteristics of Square games, where battles will take turns, we must attack our enemies according to the ability of our characters, go from city to city, complete missions, buy items and equipment to help us in battle and increase the statutes of our characters to make them stronger in battle. But a very important detail and an addition that being a Mario game is very important, is that in several places of the scenarios we find platform areas, and is that being a Mario game can not miss the platforms that both characterizes and represents this saga, in such areas, we can find hidden treasures with a variety of items that can help us in the rest of our adventure.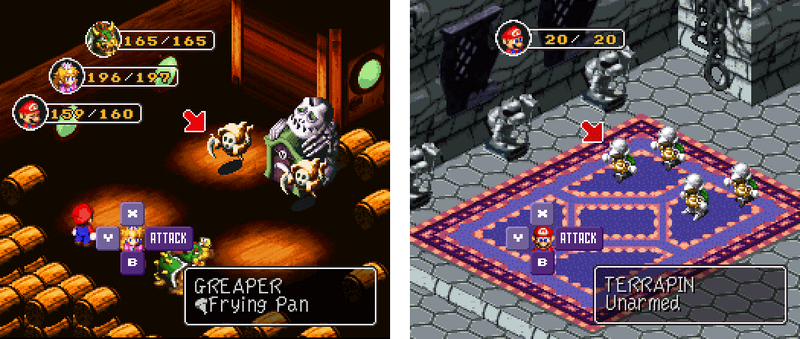 Unlike other games of the RPG genre, in Mario RPG there are no random battles, as the enemies appear in real time on the stages and when we get close to them the battle begins, this way not having the classic random battle system, in some cases we can avoid some confrontation that we do not want to do as our convenience.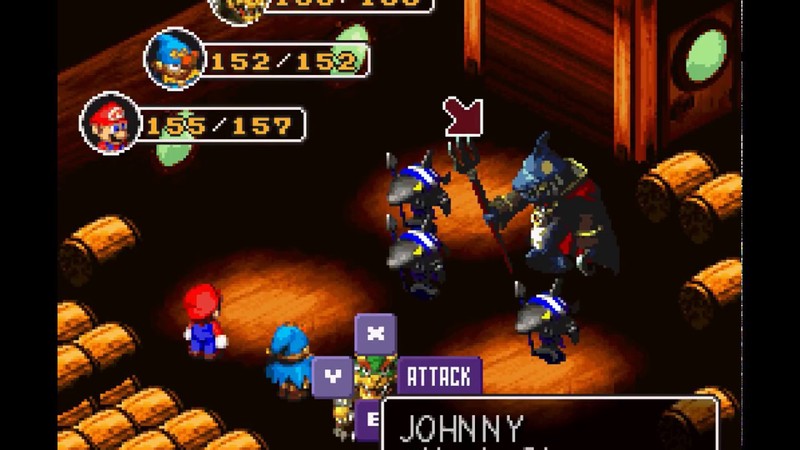 Another important point and different from other games of the RPG genre, is that when sending our character to make an attack, in order to generate more damage to our enemy, we must press the attack button just at the time that the weapon of the character we are controlling is going to hit our enemy, this way a gameplay is formed a little more dynamic not having to wait for our character to make the attack automatically, this way includes the player much more to the gameplay.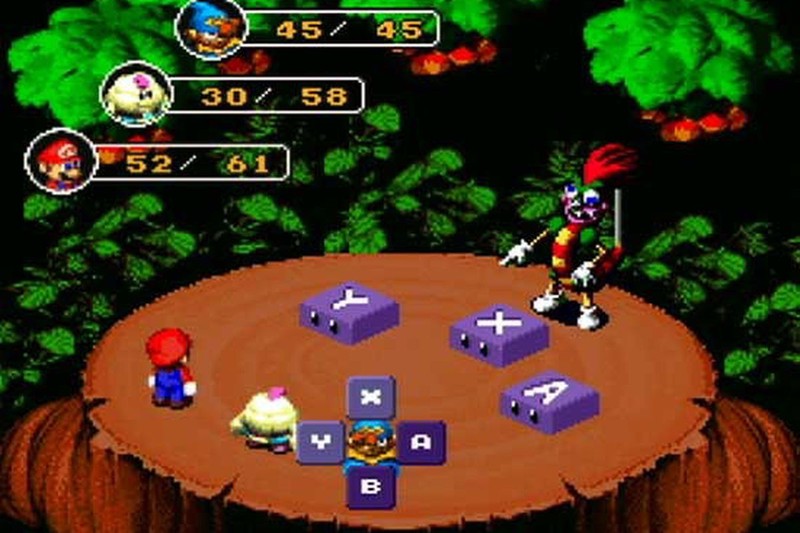 Super Mario RPG: Legend of the Seven Stars is an excellent game, full of comedy, adventure, many mini-games and a title that proved that our favourite plumber can succeed in the gaming industry no matter what genre he's in.