It is 13 December 2018, the Alexandra Palace in London is packed, it's time for the darts.
The first day of the William Hill World Championship of darts 2019.
Who will be crowned as the first World Champion in any sport of next year?
We will be finding out in the next couple of weeks.
I already predicted today's matches in this post earlier today.
Let's see what happened tonight.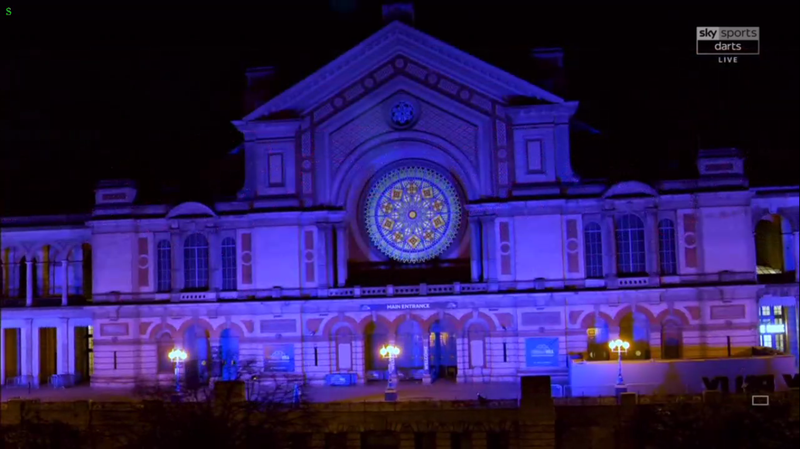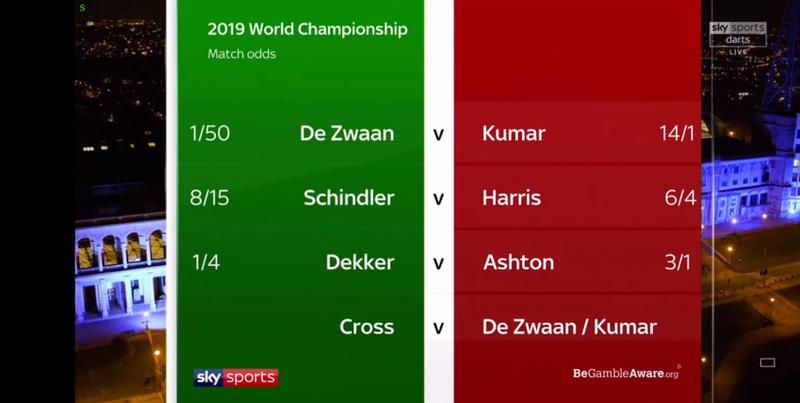 Jeffrey de Zwaan (NED) - Nitin Kumar (IND)

Prematch I predicted a 3-0 win for De Zwaan (under 3.5 sets at 1.30). I also believed De Zwaan would win the first set 3.0 (1st Set Leg Handicap Jeffrey de Zwaan -2.5 at 1.95). On top of that, I predicted that Kumar would not hot two 180s (Nitin Kumar Total 180s Under 1.5 at 1.45)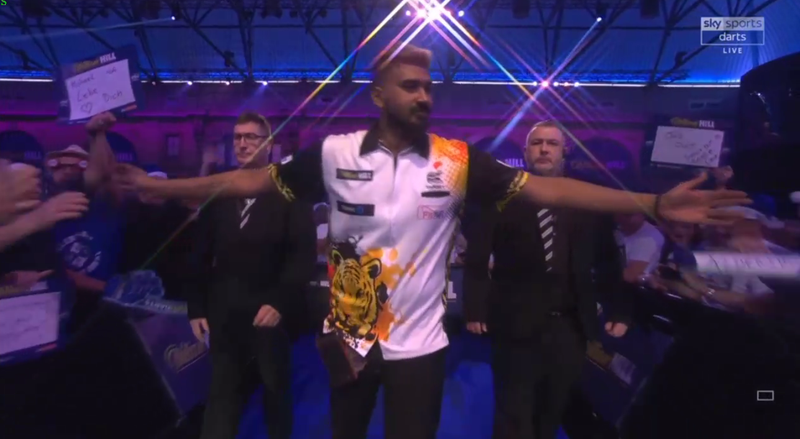 After Kumar walked on stage, "Could You Be Loved" of Bob Marley came out of the speakers. Jeffrey de Zwaan is actually a hardcore music fanatic, but the PDC does not allow this type of music during the walk-ons of the players. De Zwaan had therefore opened an internet voting to choose his new walk-on song.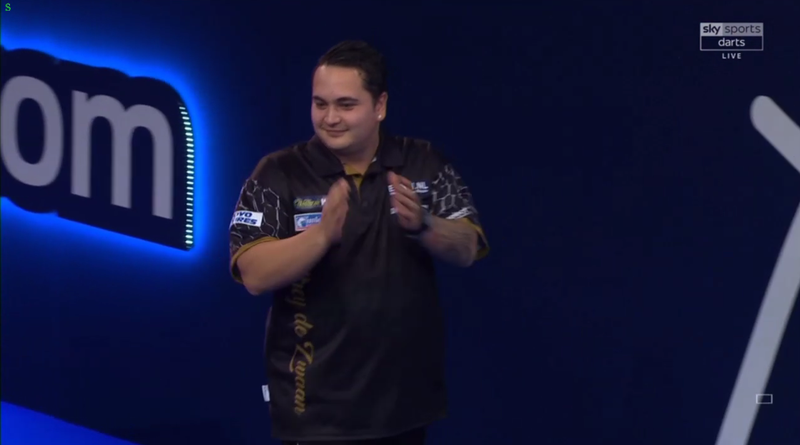 It was Kumar to start the first leg. For our first bet to go right it was important that De Zwaan would immediately break the throw of Kumar. However, Kumar started really well with a couple of high scores and put himself down at a double first.
Kumar had just 18 points left and had to throw a double 9 (in darts you got to finish with a double, or outer-ring shot). It was clear that Kumar was nervous and he did indeed miss the opportunity. De Zwaan then had to finish off his 52 points. The first dart in the 12, meaning he had 40 points left, then the dart in the double 20. The first leg of the tournament to Jeffrey de Zwaan 1-0.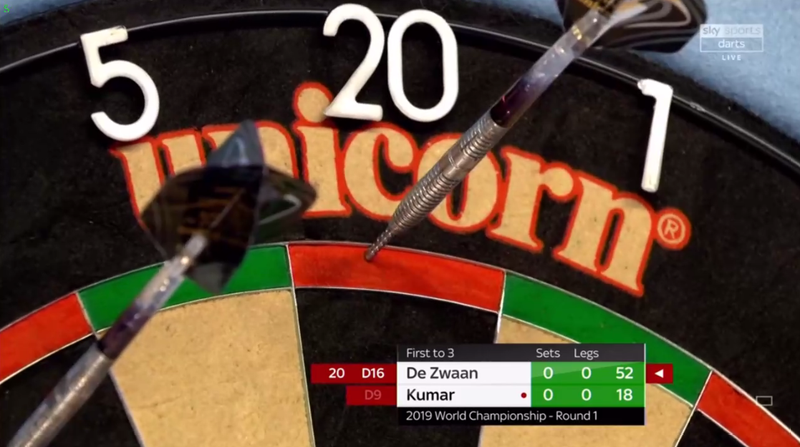 With the first leg going to De Zwaan it was clear he was going to win the first set as well. In the second leg, he threw the first 180 of the tournament. He then nearly threw a 122 outshot, but still finished off the set with a 3-0 win, which needed to happen to win our bet. De Zwaan completely outclassed Kumar in that set.
De Zwaan also won the first leg of the second set after he threw his second 180. It was time for Kumar to show his abilities. With De Zwaan waiting on 36 (double 18), Kumar still had 60 points to throw. The first dart went into the 20, meaning double 20 was needed to win the leg. His second dart was too low, inside the 20. His third and last dart had to end up in the double 10 and it did, Kumar won his first leg of the match.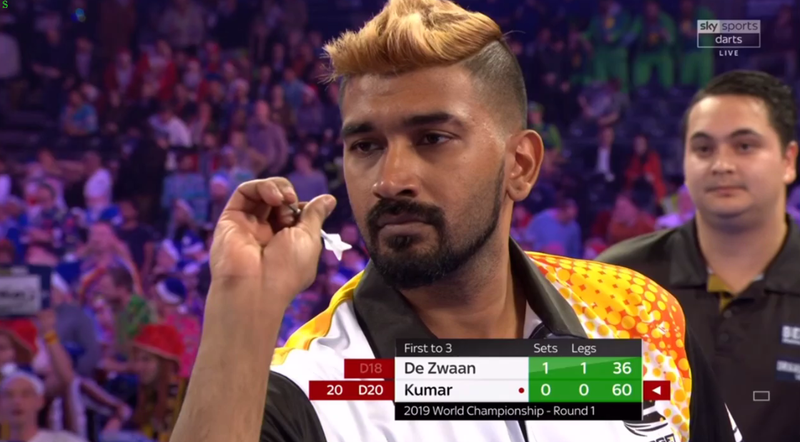 De Zwaan then started off the next leg with a 180, meaning he was still on track for the ultimate darts achievement, a 9-dart leg. His fourth dart hit the triple 20 again, and so did his fifth dart. Four to go to reach the ultimate achievement on the opening day of the world championship. Nerves are getting you, your hand starts shaking, you release and... it ends up just above the wire. Too bad, unlucky, better luck next time. De Zwaan still managed to finish the leg with a great 86 finish.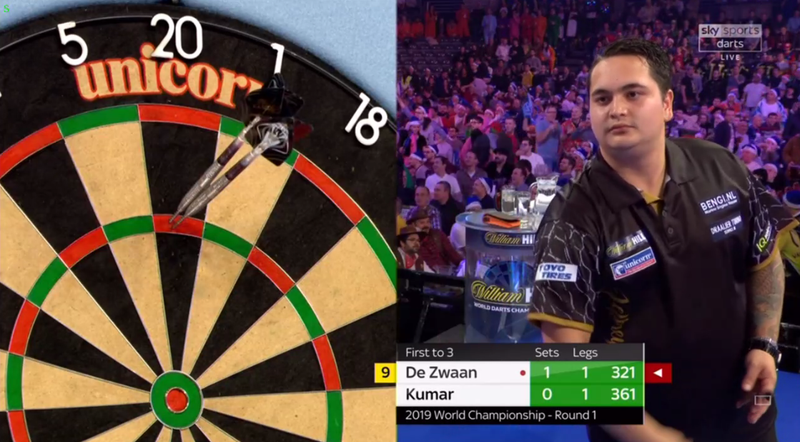 The task for Kumar was to equalize if he wanted to take something out of this game. He worked himself down to 16 points and then threw double 8 to make is 2-2 in legs in the second set.
It turned out to be all for nothing as De Zwaan took the deciding leg of the set with a 70 point finish. De Zwaan was now leading 2-0 in sets, the crowd was going wild.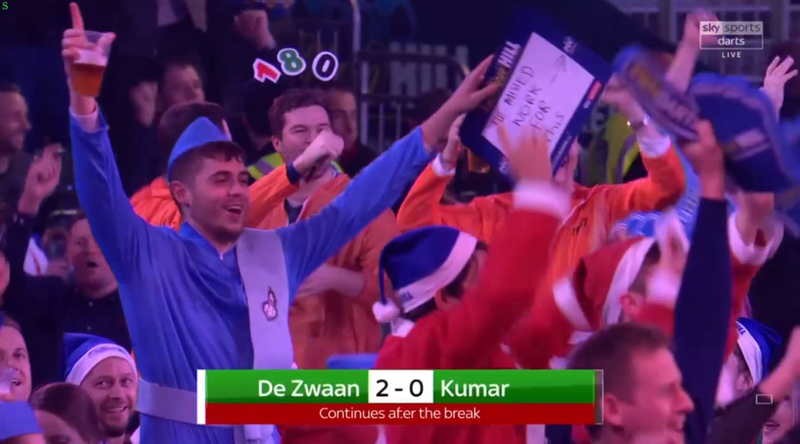 The third set started with chances for Kumar to take the first leg, however, he misses. De Zwaan then had 16 points left, he missed the double 8 on the inside, meaning 8 points were still left. He then aimed for double 4 but hit it just outside of the target. That dart worked as a marker for De Zwaan, who threw his third dart perfectly there where it should be, double 4.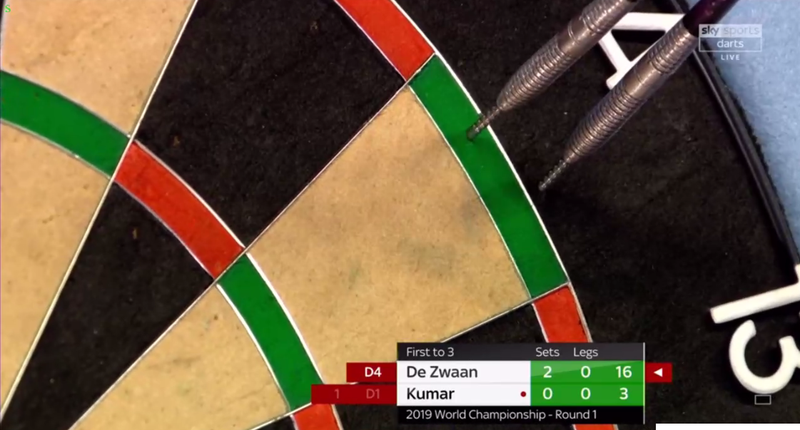 Plenty of chances for De Zwaan to make is 2-0 in legs in the third set to win in a clean sweep. However, he missed several darts at the double, giving Kumar the chance to come back in the leg despite a large gap between them early in the leg. Kumar eventually threw the double 10 and equalized the set, breaking De Zwaan's throw.

Kumar then even got the chance to break De Zwaan and to take the lead in the third set. Like in the previous opportunities, Kumar got nervous and missed, giving De Zwaan the chance to hit double 20 and take the lead again.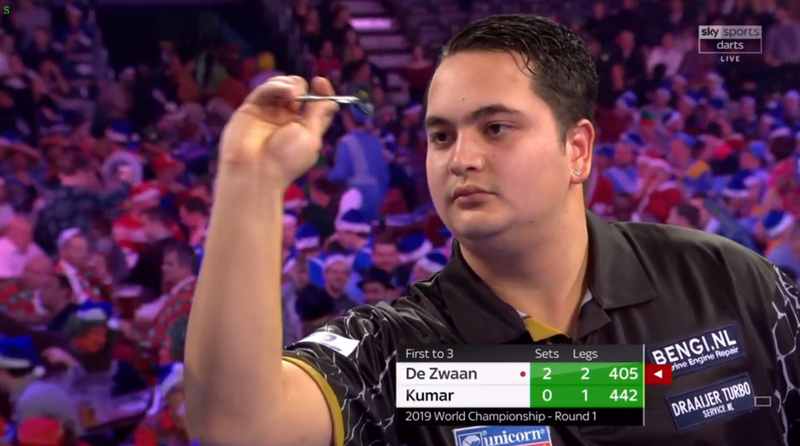 It was then up to De Zwaan to finish the game off and send Kumar back to India. De Zwaan understood the importance, as he knew that he, as the winner of this match, he would have to play another one against the defending world champion Rob Cross later that night. With another 52 finish, the match came indeed to an end.
This meant that also the other two bets we had for this match were winners. Kumar did not throw a single 180 during the match. Not only a nice 3-0 win for De Zwaan, but also for us.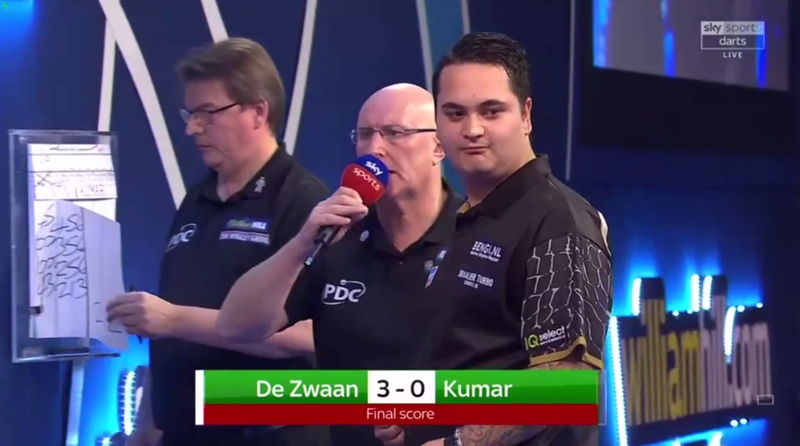 De Zwaan's 3-dart average was 91.18 points, whereas Kumar struggled and only reached 77.75 points on average. As said above, Kumar did not throw any 180s, but De Zwaan managed to put five of these on the board.
Martin Schindler (GER) - Cody Harris (NZL)

The next match was between Martin Schindler and Cody Harris. Both players, in my opinion, are very equal to each other when it comes to abilities and recent performances. Therefore I expected a close match and I gave a slight favor towards Cody Harris, especially with 2.35 odds. I expected the game to go all the way to the fifth set (Total sets over 4.5 at 2.85), and I took also a handicapped bet on Harris (Set handicap Cody Harris +1.5 at 1.60)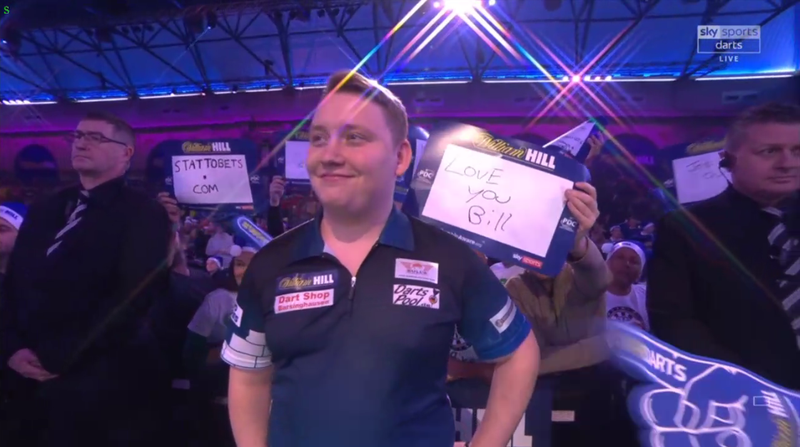 It is Harris to throw first in the first leg of the match. Schindler, however, starts off very well and takes a big gap early on in the leg.
When he gets to 82 points, he throws the first dart into the bullseye (50 points) and then finishes it off with double 16 to take the first leg.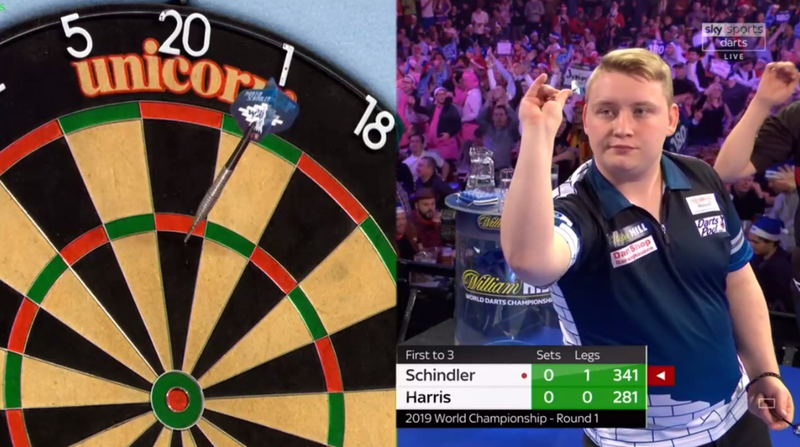 Schindler then gets a chance to make it 2-0 in legs, but in order to do so, he has to hit 164 points. He gets down to 50 and has one dart to throw the bullseye. This time he misses, which automatically gave Harris the chance to immediately break back. With double 6 Harris did indeed take the break back.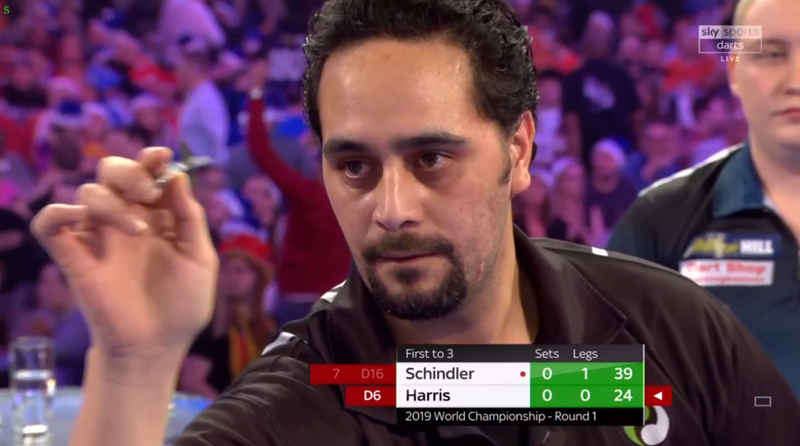 Harris continued to throw well on his own service and with double 16 he expanded his lead to 2-1 in legs. When he threw his first 180 of the match in the next leg he made a difference and after hitting double 20 the first set was his.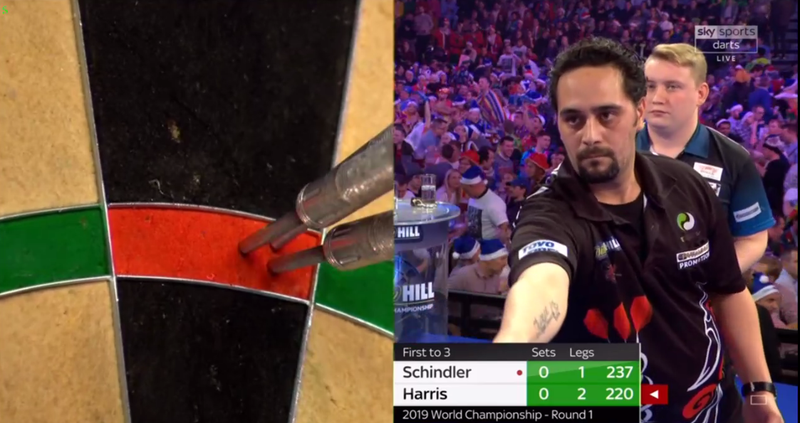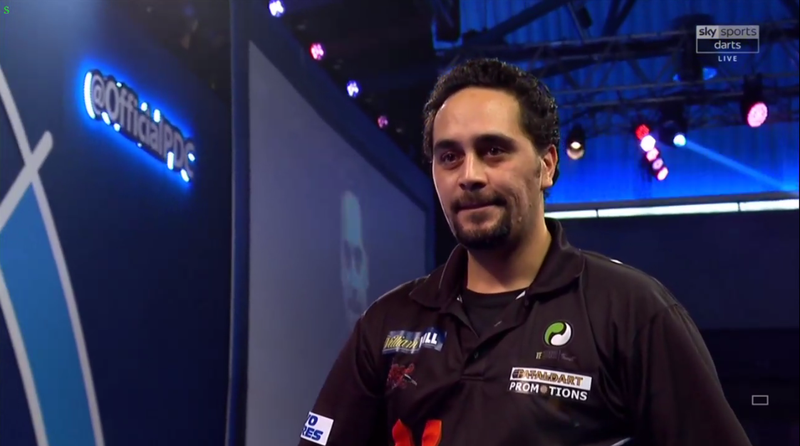 Schindler starts off with a 180 in the second set. It was the start of a much better set from his side. He took the lead by winning the first leg by hitting double 20.
In the meantime, the cameraman spotted Fred and Wilma Flintstone in the audience. They seemed to enjoy their time at the Alexandra Palace.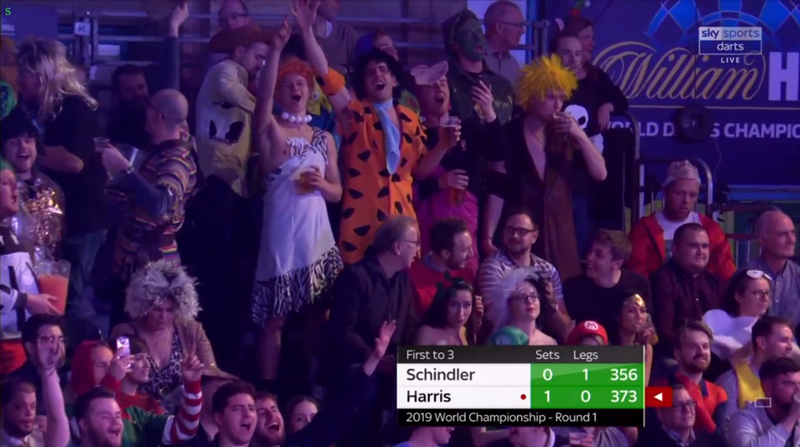 Harris was under trouble in the aim to keep his own leg and to make it 1-1 in this set. Schindler was putting him under pressure, which resulted in Harris struggling to find a double. It took a couple of misses, but when Harris had 7 points left, the set was equal again after hitting 3 and double 2.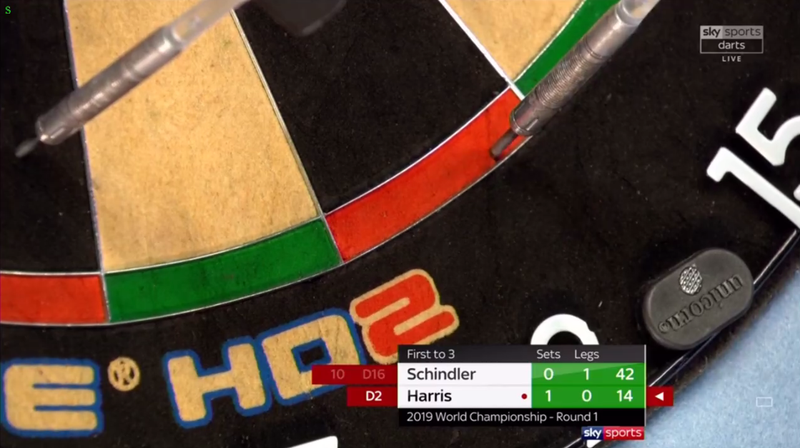 The level of the match is rising and both players score a 180 in the next leg. The scores are becoming bigger, it is clear both players are getting warm now.
Now it was Schindler time and he took a 2-1 lead due to a 70-point finish, that ended at double 10.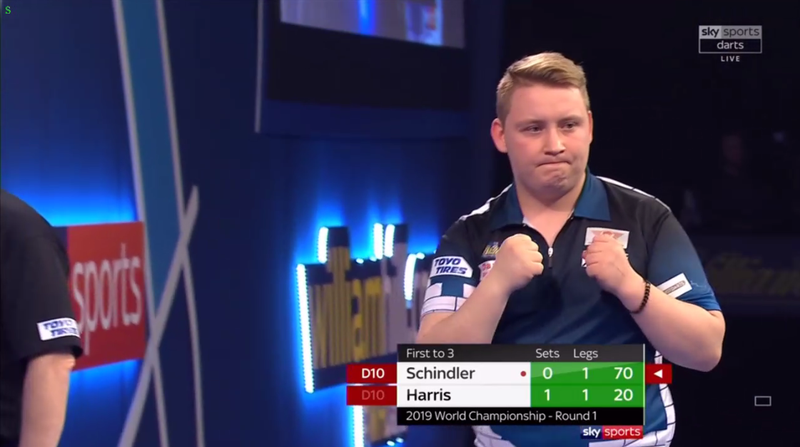 The next leg was important. If Schindler would win it, the match was fully equal. If Harris would win if he would be getting close to a 2-0 lead in sets. It was Schindler who would win the leg and the set with a finish of 95.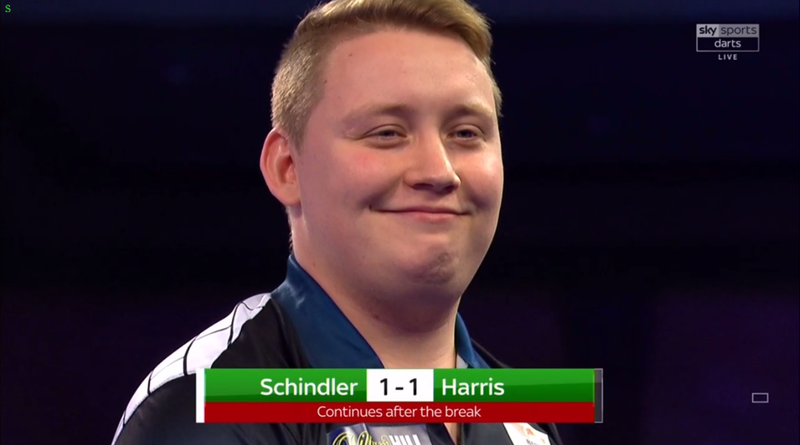 In the third set Harris ups the pace, he walks faster to the board, grabs the darts quicker from the board and above all, throws faster. This seems to suit him very well and it looks less good for the performance of Schindler. It becomes a win-win situation for Harris who comfortably takes the whole set, 3-0.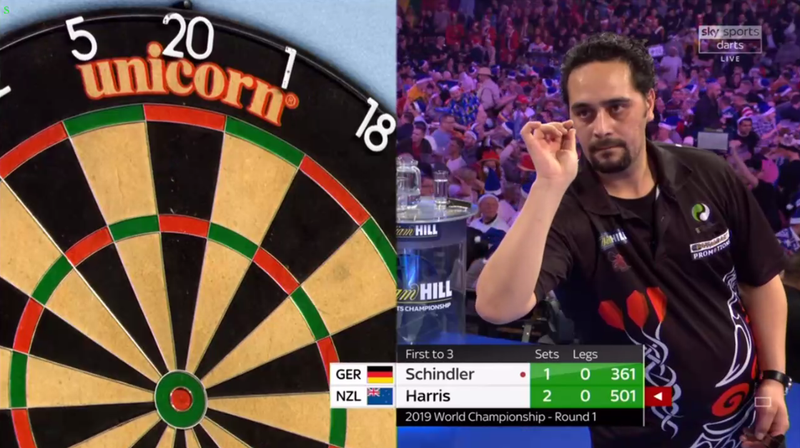 Schindler does not want to give up and fights back.
Through double 20 he gets an early lead in the fourth set, but Harris pays him back doing the exact same thing. He immediately puts Schindler under pressure in the next leg, but Schindler did not fail and produced an 83-finish including a very important double 9. In the next leg Schindler finishes with double 5 and wins the set.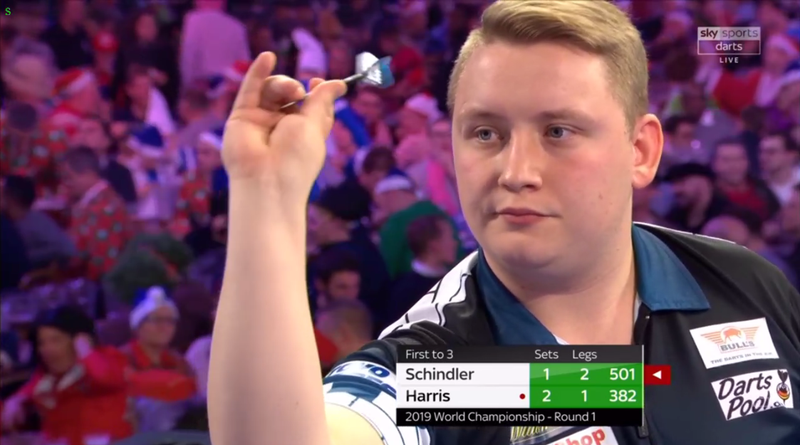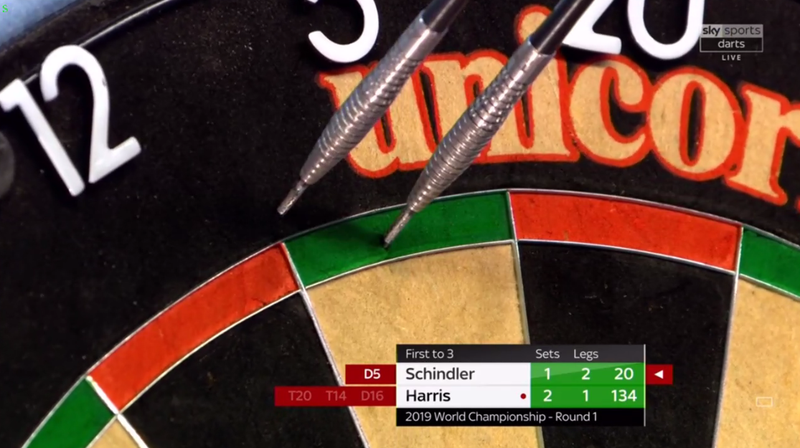 In the decisive fifth set, Harris took a 1-0 lead as Schindler missed three double chances. Harris then converts his double 8 to take the lead. Schindler responds with a 180 directly from the start in the next leg. Harris is unable to overcome it, which means the match was still completely tied.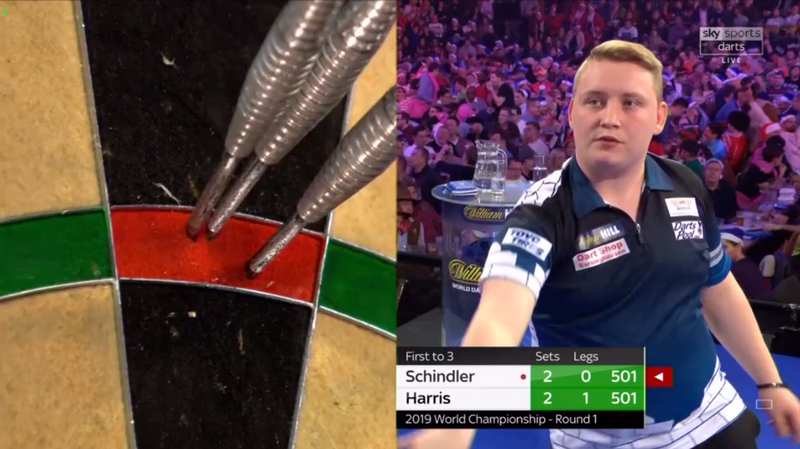 The end of the match is near and tension rises, it's very noticeable and the crowds are getting wild again. Who is going to win this match? All my predictions, also in this match were right. It was Harris who took a 2-1 lead with an 85-point finish. Harris then gets his first match dart as he aims to finish 104 points. He succeeds through double 16. Martin Schindler is eliminated, Cody Harris goes through.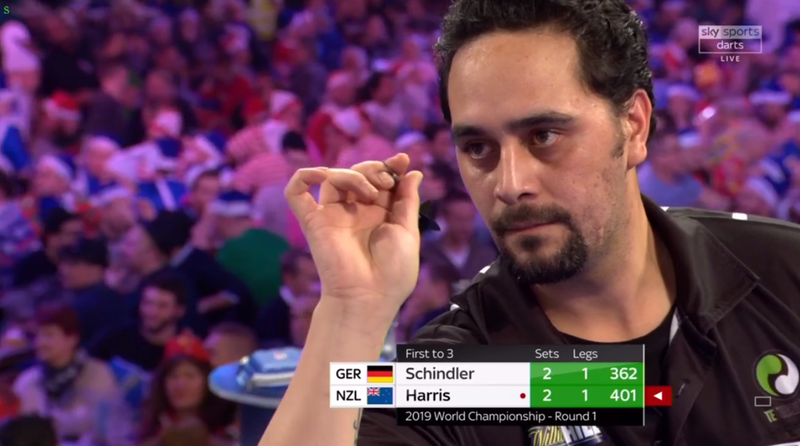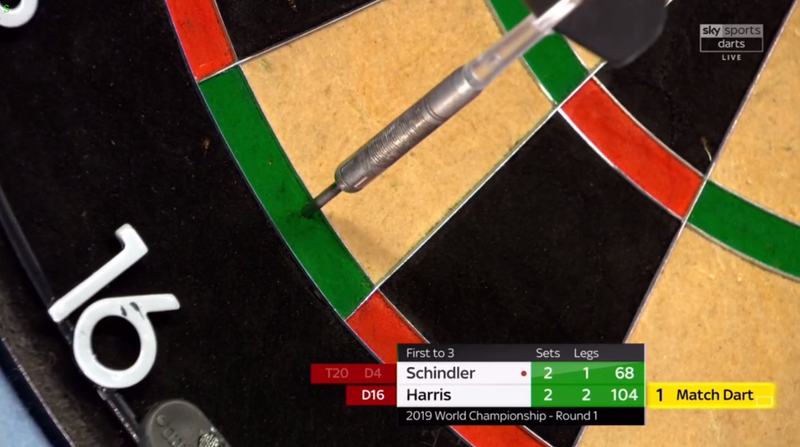 At the end of the match, the averages were somewhat on the low side, but it has been a very entertaining match. Schindler averaged 85.18 and four 180s, Harris threw an average of 88.66 and had three 180s. The checkout percentages of both were around 40% which is actually pretty good.
Jan Dekker (NED) - Lisa Ashton (ENG)

There she is, Lisa Ashton, she's a woman on a mission if we may believe her walk-on music. For the first time in many years, we have a woman participating in the world championship. Later on this tournament, there will be another one. Now it's time for Lisa, who is a 4-time Ladies World Champion.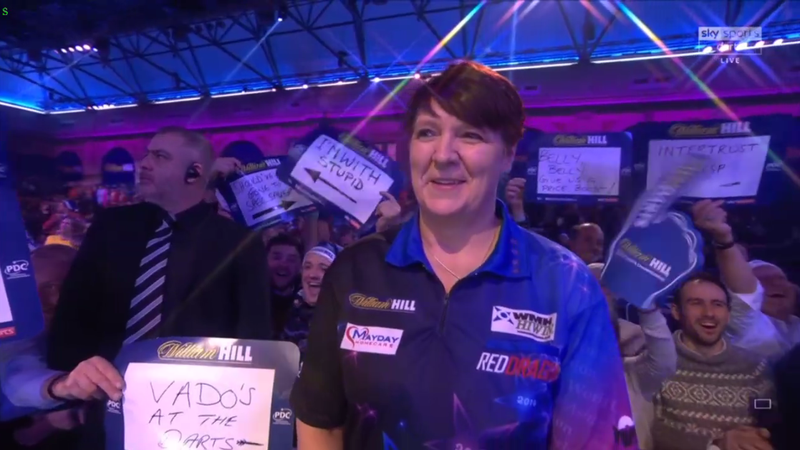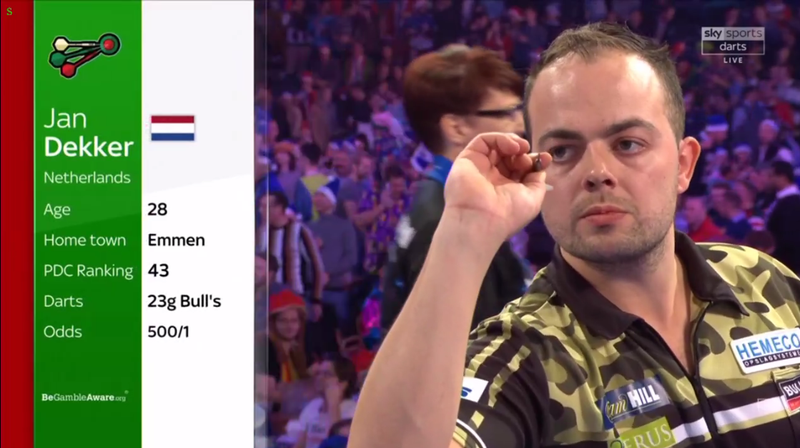 Her opponent is Jan Dekker from the Netherlands. He's a good quality player and expected to win the match with ease, at least that is what I predicted. (First set correct score 3-0 at 3.55). Also, the first player to score a 180 and most 180s (both Jan Dekker and both at 1.60). Lastly, Lisa Ashton total 180s under 1.5 at 1.90 seemed fair too.
The first three darts Lisa Ashton threw were good for 140 points, however. She started off like a rocket and finished that first leg in just 15 darts.
The second leg was not different, again a 140-shot by Ashton, Dekker nowhere to be found and another 15-dart finish.
Jan Dekker was terrified because Lisa was on fire.
nanana nana nana na nana na nana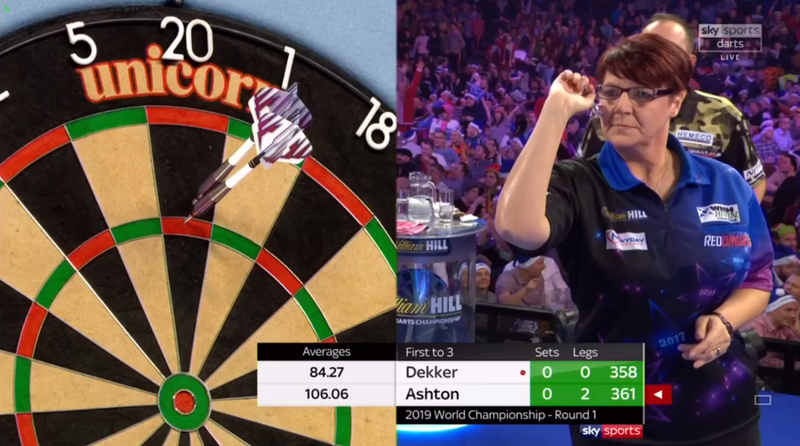 The crowd was going mental with a massive support for Lisa Ashton.
Jan Dekker didn't take it very well and looked aggressive on stage.
And on fire, she was, especially in that third leg of the first set. As if her two 15-dart legs weren't impressive enough, Lisa Ashton threw a 121 outshot finishing with the bullseye, just using 12 darts to do so. Ashton's average in the first set was 107+ which is outstanding for any player, even for the likes of Rob Cross and Michael van Gerwen for instance.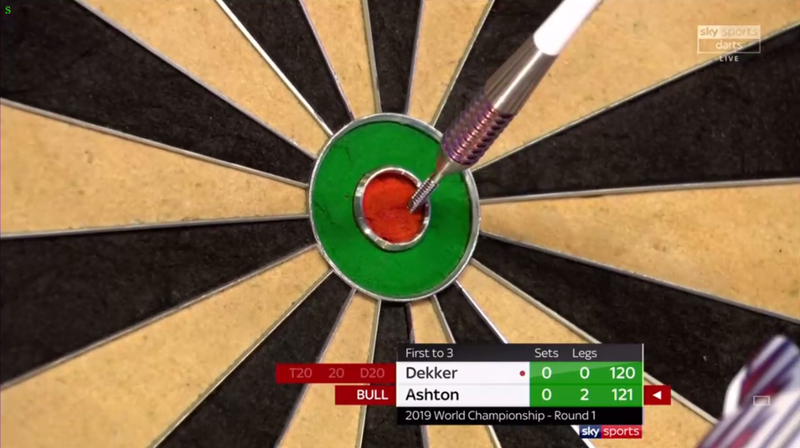 I predicted the set to go 3-0, but in Dekker's favor, therefore this was the first bet of the night that went wrong.
The second set started, and Dekker looked even more aggressive. He was now a man on a mission, and he had to proof himself. There was no way Ashton was going to keep up this level, he knew that, we knew that. Still, he knew he was in a fight, a massive battle, and he would need to give it all to take it to the next round.
Dekker threw a 180 in the first leg of the second set and won that leg, to take a 1-0 lead.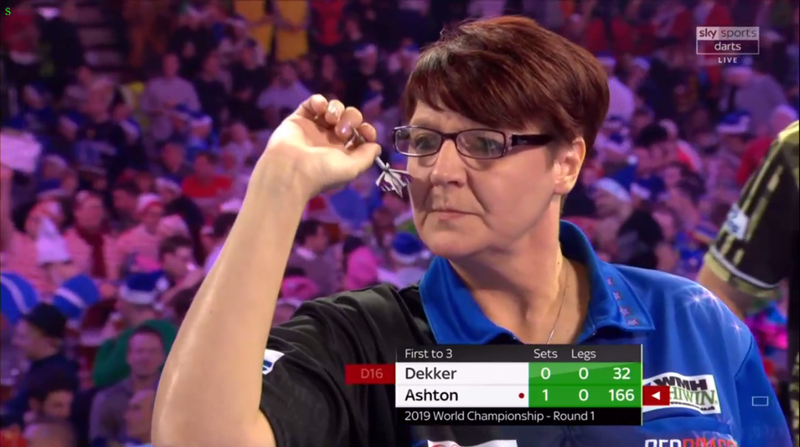 Ashton definitely did not give up, and why would she? She left at some point just six points to be thrown in the second leg, but unfortunately for her, she missed the double 3. Dekker stepped in and was now working on a comeback, as he leads Ashton 2-0 in this second set.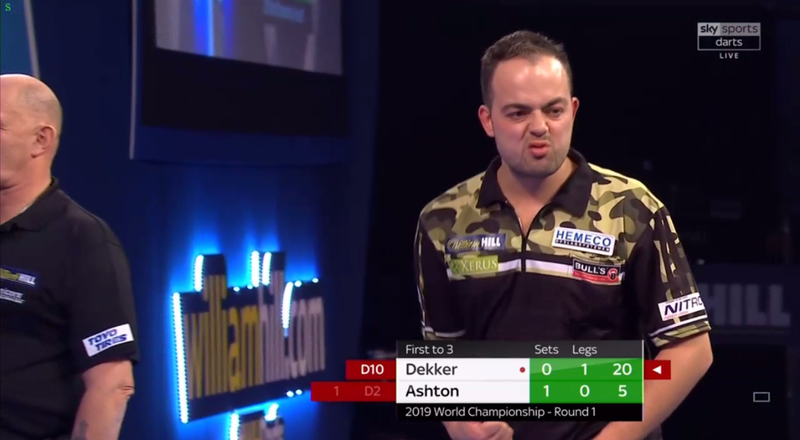 Dekker continued and also won the next leg, after throwing double 8 and they were now equal in sets 1-1.
We can say that from here Jan Dekker had overtaken the momentum from Ashton, as he continued to dominate in the third set. His aggressiveness from the first two sets seemed to calm down and his confidence seemed to grow, he knew he was going to do it in the end or wasn't he?
With a double 18, he secured the first leg of the third set. In the second leg, he aimed to break Ashton's throw. He was a bit under pressure, but the win in the leg was there when he threw his double 8.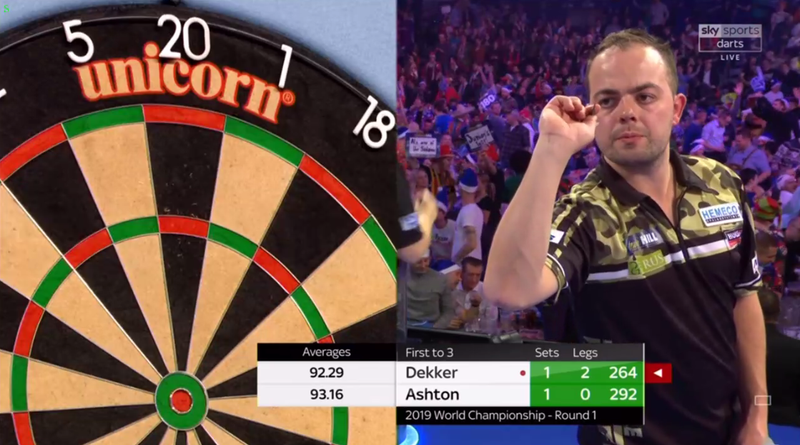 This was the moment where he would continue and settle the deal, one would expect. However, Ashton didn't feel like that at all and was aiming or another comeback in this match. With double 16 she won the third leg, which was an immediate rebreak of throw, giving her again all the chances to do something special.
With a double 10 in the next leg things were all square again 1-1 in sets, 2-2 in legs.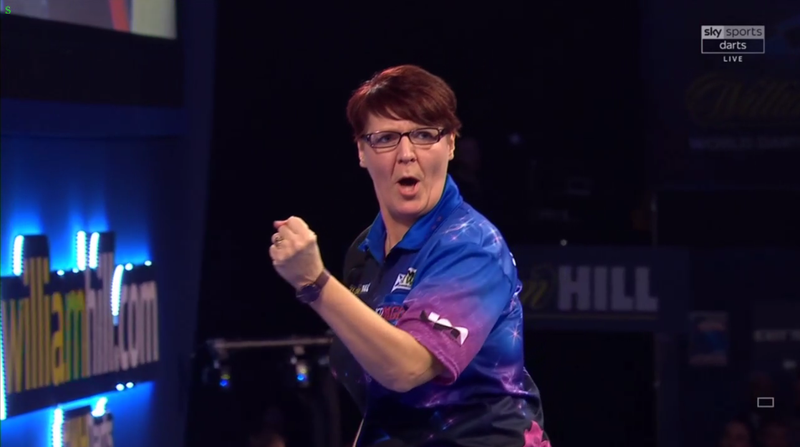 The fifth and final leg of the third set was a special one, the tension was rising and both players knew the importance of it.
Dekker took it with double 20 and took a 2-1 lead in sets.
Look at the roar, that shows how much it meant for him.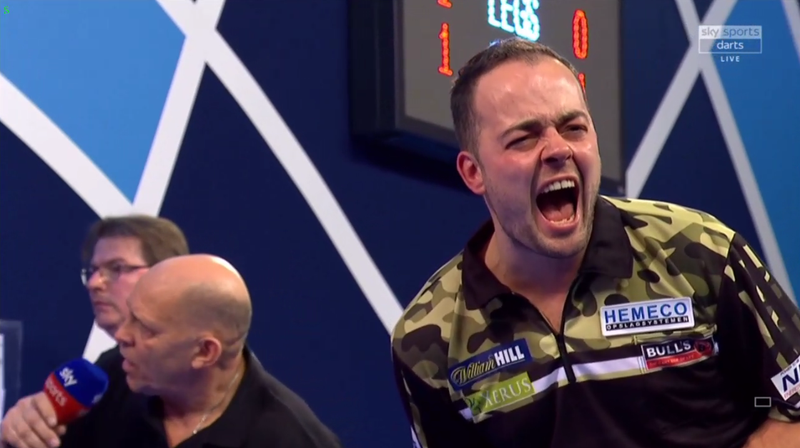 In the fourth set, Ashton started again with good scores and she took the first leg of this set with glance.
This to the enjoyment of the crowd who was hoping for a comeback from the Lancashire Rose in this set.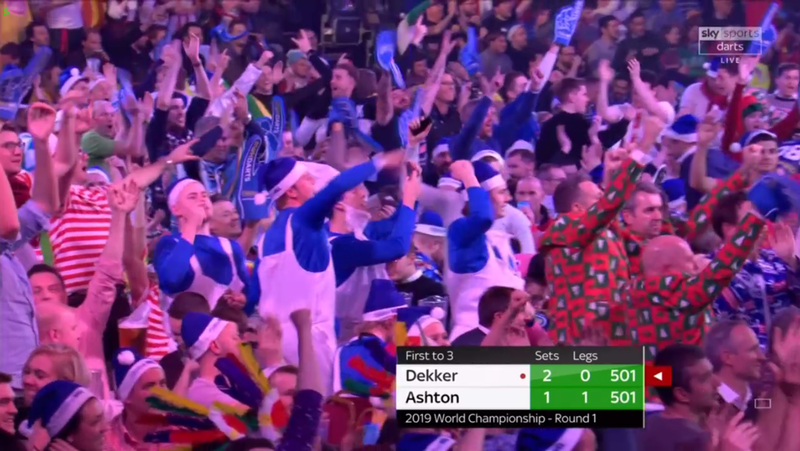 Dekker did not want to let that happen and finally showed his balls. Under a massive pressure from Lisa Ashton in that second leg he produced what can be considered the most important finish of the match. His 101 outshot got him back in the game and gave him all the spirits he needed to finish it off.
With high scores, he went on to make it 2-1 and 3-1 with two double 8 outshots.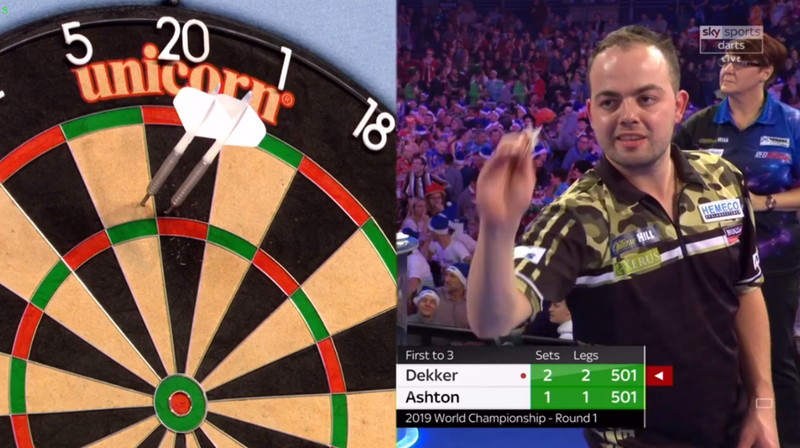 The was one more match to be played that night, but that one was so special, it will get its own article.
Thank you for reading, please let me know how you liked it in your comments.