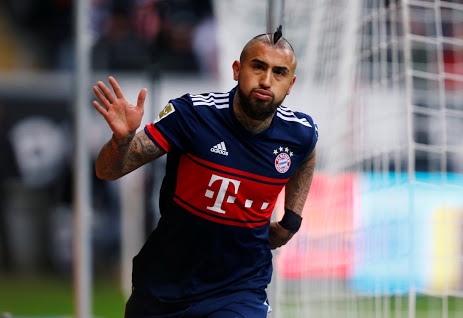 Barcelona and Bayern Munich have reached an agreement for the transfer of midfielder, Arturo Vidal to Spain for £18 million.
Vidal will join the Blaugrana on a three-year deal which is subject to him passing a medical.
The Chilean International was reported to have consented to retuning to Italy, with Inter and AC Milan interested in his signature but it happens his agent also offered him to Barcelona.
The La Liga champions wasted no time in sealing the deal following the return of Paulinho to China with Guengzhou Evergrande on loan after just one season in Spain.
Andres Iniesta also leaving to Japanese side, Vissebal Kobe was also another determining factor which made the Blaugrana waste no time in finding a replacement.
The 31-year old was limited to just 17 Budensliga appearances last season due to injury and was even linked with a move away to Chelsea in January.
Although he insisted he was going to remain in Germany with the Budensliga champions, it turns out he is set for a new life, this time in Spain.
Vidal becomes Barcelona's fourth signing of the window, joining the likes of Arthur from Gremio, Clement Lenglet from Sevilla and most recently, Malcom from Bordeaux whose deal was hijacked from Roma.
GUESS WHO'S LEAVING?
In the outgoing direction, Aleix Vidal has been released from the team's pre-season camp in America to finalise a move away from the Camp Nou with Sevilla the most likely destination.