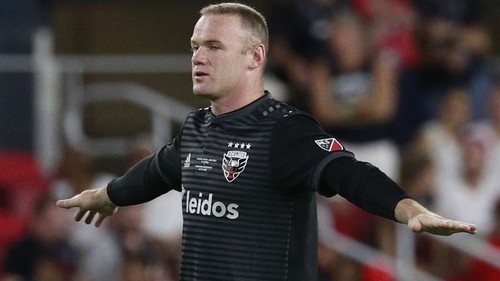 The Major League Soccer (MLS) DC United's 2018 season will be divided before and after Wayne Rooney. The team that was at the bottom has been on the rise since Rooney came.
Striker Rooney, who represented England, took on a new challenge this summer. I left Everton on June 28 and signed a contract with MLS DC United. Although he failed to show explosive performance as he was in his prime as he grew older, his fans in England were greatly disappointed because he played in the game.
Rooney is showing excellent performance in his favorite position. Rooney often plays midfielder instead of striker in Everton. Manager Benjamin Olson of the DC United has appointed Rooney as an striker by giving him captaincy, while Rooney is rewarding his faith.
Rooney, who made his MLS debut in a game against the Vancouver White Caps on July 15, saved his team from the five-game draw, helping him from his five-game draw. Since then, he has made nine goals and six assists in 17 league games.
The DC United were at the bottom of the list before Rooney joined the club. The team had maintained its place in the playoffs until the 2016 season, but ranked last in the 2017 East Conference, and the slump continued until this year. He was last in 14 games before joining Rooney, with two wins, five draws and seven losses.
When Rooney started playing, the team got on the upturn. Although Rooney started his first three games with one win and two losses, he has recorded nine wins, three draws and two losses since he started full time wearing captain's armbands. Among them, the last seven games are undefeated. The record is the largest number of unbeaten records since 2015. The ranking, which was last, also rose to sixth place, making it possible to reach the playoffs.
Bastian Schweinsteiger, a colleague who played for Manchester United with Rooney, and who now plays for the MLS Chicago Fire, also said Rooney changed the team. "Loney had a tremendous impact on the DC United," he said. "Rooney is a great player. He understands the game well and always threatens his opponent. "He is a player who can decide the game."
Rooney had a humble attitude, saying the pressure of being placed in the lower ranks led his team up the ladder. "Some pressure is needed," Rooney said. Overcoming the pressure, we are getting results. When it comes to the assessment that his team has changed due to his joining, he said, "Good luck is with us."