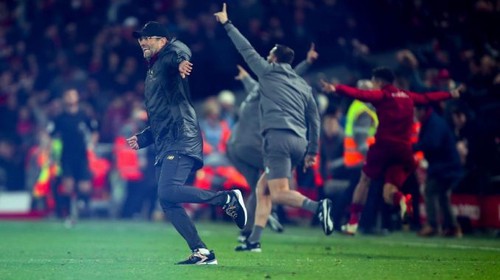 Everton - Liverpool is one of the biggest and oldest derby in England. The battle for Liverpool always offers interesting, uncertain meetings with a lot of struggle, both on the ground and on the stands. This is how it will be this time, no matter how Liverpool has a much better, better team than a rival in the world.
Everton since 2010 has not won the Merseyside racing
Everton is eliminated from the FA Cup and is ninth on the table in the Premier League. Accordingly, it can be assumed that the season for them in some way is already over. They almost have no chance of going out in Europe. Except, of course, the fact that they could seriously reduce the hopes of their angry rivals Liverpool to win the title.
But Everton in Merseyside derby has been disastrous in recent years. They did not celebrate on any derby duel against Liverpool on the last 18 mutual meetings. Or rather, they have no victory over the rival of the city from the distant 2010. In the first inter-duel this season, they played well during the match, but were defeated in a bizarre manner. Origi scored a goal for the duel in the 96th minute of the match.
After three losses in the series, Everton in the middle of the week finally celebrated victory with 0: 3 in Wales at Cardiff. Gilphy Sigurdsson scored two goals, on that match so Marco Silva would not make too many changes and hoped that this successful formula could bring another good result.
Marko Silva will not change too much
Pickford will be on goal, and in defense we will probably see Kurt Zuma, who will return to the team after suspension. He will be the only change in defense from the last match and will play with Michael Keane (Phil Jagielka too wears out against Cardiff). Everton has a great quality of side defense positions, and Lucas Dine is one of the best leftback bouts in the league this season. Seamus Koleman slowly regains his form after a injury injury, and he assisted Sighersson against Cardiff.
In the midfield, Andre Gomes hopes to return to the scene of Morgan Schneiderling, along with Idris Guéje. Silva has the chance to solidify his midfield midfield by using three conventional players, but this still remains an alternative system.
In addition, Silva does not want to move Sigurdsson out of his position after his excellent performance against Cardiff. If he pulls him more offensive, he will not be able to express his qualities in an amateur way. Theo Walcott and Richardson are the first wings of the wings, but Bernard is well on his way to start because of the freshness on his side. This could mean that one of the two wings that started against Cardiff will start on the bench, but Richardson can also play as a spitz. Dominique Calvert-Levin scored a goal against Cardiff, but his performance now depends on the possible wings' rotation and whether Richardson will play as a winger or as a striker.
The choice of Klop depends on the return of Firmino
Jürgen Klopp also has question marks on the starting team, and Roberto Firmino is likely to return among the top 11. However, after he missed the victory over Watford 5: 0 due to injury, he has no guarantee that he will be able to start, which would be a problem for Clop. The question is whether he will continue with Origi, who scored in the middle of the week, or will he move Mohammed Salah as a central striker? It seems more likely that Salah will play on the right side, where he will try to use any space left behind by the offensive Dign.
The real star in recent weeks is still Sadio Mane. Although he played an average match against Manchester United, Manne played an excellent match against Watford scoring two goals. On this match, his sprinting behind Everton's defense could be crucial.
Robertson and Arnold are in top form
There is a chance Klop to turn again to Dzherdan Shaqiri if Firmino is still out of the line. He can also perform with a 4-2-3-1 formation, but in the last few weeks his choice is 4-3-3. Fabinho is in good shape, Georgio Wyonlum offers a lot of energy and flexibility in the middle, and Henderson may be the most suitable choice for midfield this match alongside them. Nabi Keita and James Milner are the other options.
Liverpool's victory over Watford was highly dependent on the two sides on the side positions. They helped achieve all five goals. Andrew Robertson was an assistant with three goals, and outstanding Trent Alexander-Arnold assisted two goals.
They will again break into the offensive, and Everton's wing defense discipline will be heavily tested. Joel Matip plays well alongside Virgil van Dyke, and Liverpool have not scored a goal in the last four games. One of the most deserving ones, of course, is Alison on the goal.
Our proposal:
Liverpool's victory at 1.64 in 1hBet
To fall below 3.5 goals @ 1.35 in 1hBet
Share
Ticket of the day (Sunday, 03/03/2019)
Sunday would not be a week unless a betting ticket was played, especially as it is now, full of matches. In today's ticket we present you two duels which, according to us, have a great chance of a pass.
Lyon - Toulouse - 1/1 @ 1.90 in 1xBet
Lyon plays quite volatile and unpredictable this season. When we say fluently, we think of matches that shine against much weaker opponents, and he already knows how to surprise with giants. An example of this was the duel against Barcelona where they made a rematch and remained in the race for the ¼ finals of the Champions League. On the other hand Toulouse is in a very poor form and we do not believe that the bad series will stop right on this match. Our proposal is 1/1, and you can play it in 1xBet with a score of 1.90.
Real Sociedad - Atletico Madrid - 2 @ 2.15 in Bet365
Real Sociedad, if he played the same as home as a guest, would certainly have been the leader of the table. Unfortunately it is not so, so they are currently in the 8th position. Atletico Madrid will fight to the very end for the title, although they know it will be difficult. We think that this duel will win guests, and the Bet365 coefficient is 2.15.
TOTAL COEFFICIENT FOR THIS TYPE IN BET365: 4.08
What's Paying Today? (03.03.2019)
March 3, 2019 Viktor What is paying today? 0
which is paid today
For today, within our favorite category, we will present you a great match with a great coefficient.
Sosiedad - Atletico Madrid - 2 @ 2.2
The total payment for this match is 8,146 euros. For the victory of Sosijedad, 310 euros were paid, for 120 euros, while the remaining 7,716 euros were paid for the victory of Atletico Madrid.
Values are based on 1BBet information and are correct at the time of writing this text.
TYPE OF THE DAY: 03/03/2019,15: 05 FULAM - CHELSE
March 3, 2019 Viktor Type of day 0
VICTORY FOR SARI
England, Premier League, 03/03/2019: Fulham - Chelsea TIP 2
Result:
For today's type of day, we chose the match between Fulham and Chelsea from within the English Premier League. Hosts this season are disastrous, so it's no wonder they are on the penultimate position. Namely, they recorded the same number of losses in the last 4 matches. On the other hand, Chelsea must start with a winning series if they want to avoid the dismissal of Surrey. We do not have much dilemma here and we think that the guests will be dominant. Our proposal is a win for the guests, and you can play it in 1xBet with a score of 1.57.