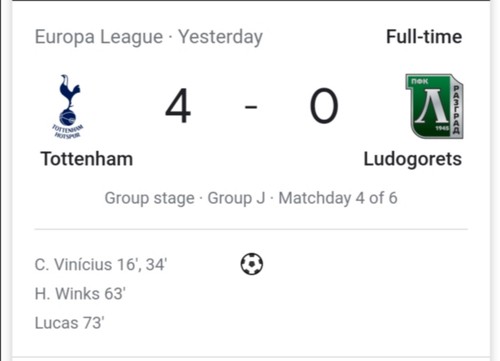 Tottenham were big favorites ahead of Thursday's Europa League clash against Ludogorets, and they lived up to their favorite role. Despite the fact that manager Jose Mourinho had chosen to save several profiles, including Harry Kane and Pierre Emile-Hojbjerg, it was a Tottenham team that was in control of the game from the first minute.
In particular, tenant Carlos Vinicius was to blame for Tottenham living up to the favorite dignity in the first half. The 25-year-old Brazilian, who has been loaned for the rest of the season at Benfica, scored twice during the first half. Thus, the break position was 2-0 to Tottenham, and the mission for the under-tipped guests had now turned into 'Mission Impossible'.
In the second half, Højbjerg was changed on the field after an hour of play, and shortly after, he and his teammates were able to cheer on Harry Winks' scoring to make it 3-0. However, ten minutes later they increased their lead to 4-0 when Brazilian Lucas had the last foot on the ball.
The rest of the match went the same way. Tottenham were clearly most on the ball, and Ludogorets had a hard time bumping anything offensively together. In fact, the Ludogorets managed to play the entire match without sending a single finish away against the Tottenham goal.
With the win, Tottenham have nine points for four games. For the time being, that is enough for a shared first place, where Belgian Antwerp are side by side with the London club.