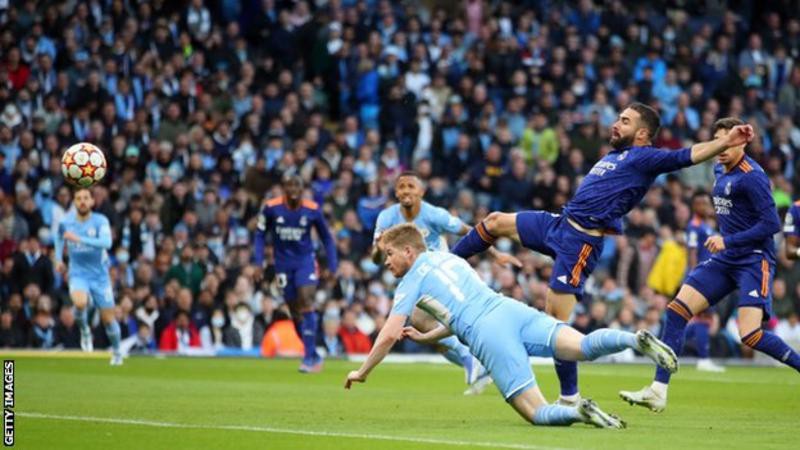 Manchester City will have to make do of a slender lead as they beat resilient Real Madrid 4-3 at the Etihad Stadium in a thrilling encounter.
Manchester City started the match with such gusto and energy, as they got their reward when Kevin De Bruyne headed in Mahrez's cross to give City the early lead with two minutes having been played.
City were a constant threat in the first half and we're energized by their early lead, added a second when De Bruyne found Gabriel Jesus who having escaped a challenge from David Alaba slotted the ball in the back of the net to give the Citizens a 2-0 lead in just eleven minutes. City kept the tempo up and Madrid had to be resolute as they defended waves upon waves of attack from City after been rattled by the early goals.
Manchester City kept the pressure on Real Madrid and should have gotten a three goal lead when Mahrez having collected a pass on the edge of the box decided to go for the glory instead of squaring it to the unmarked Phil Foden which obviously had Pep Guadiola throwing a fit at that.
Manchester City were punished for their wasteful chances as Benzema slotted in a goal from delightful cross from Ferland Mendy to give Madrid a lifeline in the 33rd minutes of the first half with a scoreline of 2-1 at halftime.
Real Madrid were let off the hook after the break as Mahrez struck the post and the follow up from Foden was superbly defended by Madrid defender but Manchester City got their two goal advantage back as Fernandinho cross was headed in at close range by Foden to put the score at 3-1 in the 53rd but Vinicius Junior had other plans as he dummied Fernandinho and raced with the ball from his half to expertly dispatch the ball in the net two minutes later as the scores became 3-2 with 35 minutes to go.
City kept probing and probing with Zinchenko dribbling the ball toward the Madrid box and was fouled but the referee waved advantage with which Bernardo Silva perfectly placed shot found the back of the net with Courtois ball-watching to again restore City two goal lead with scores at 4-2 but Madrid were resilient and again reduce the goal deficit with eight minutes remaining when Laporte handled the ball with resulting spot-kick taken by Benzema as he scored a panenka to put the score at 4-3. Manchester City did have chances but both Sterling and Dias could not get to the ball on time as the final whistle concluded an absolutely scintillating game of football.