There comes a moment in your lifetime when you feel on top, things fall into place easily and luck finds you a worthy partner up until nature reminds you it is still in charge of your affairs and you find yourself failing at those things you once passed sometime ago. SUCH IS LIFE.
This is my entry for the weekly Happy Moan-Day contest set up and coordinated by the benevolent and wonderful Pete of this platform. This is one of the two contests he organizes weekly and they are meant to reward users for hard work. Are you a user lacking the necessary recognition for your efforts, are you struggling on Scorum, click this LINK or the profile of Pete for in there is where you find some joy.
I am a fan of Real Madrid, I have always been from my younger days, the days likes of Fernando Hierro, Roberto Carlos, Ronaldo De Lima, Zinedine Zidane all donned the popular white shirt. One thing that fascinates me about Real is the classy players they possess and how they are known to entertain the crowd even if they lose the battles. I can't really recall what actually made me start supporting Real Madrid but I guess fate was the orchestrator as I can vividly remember watching them while very young and there and then in front of the television, I made my choice of a favorite team.
With time I got to know of their successes, why and how they are regarded as the best club team ever. The most prestigious trophies has seen them won it more than any other team and they did that with players regarded as world class and best on the planet.
Fast forward to recent years or from the last two decades, current president Florentino Perez who is currently overseeing his second tenure in charge of the team is known to be a fan of classy and popular players who are not just seen by him as world class players but also as business objects.
The policy of Perez has sometimes backfired and sometimes paid off, the world class players bought sometimes fit into the team and sometimes do not. Some even play well for sometime and end up losing form and as well, market value. Despite chants going against these purchases of world class players at exorbitant prices with little or no concern whether they fit into the playing style of the team, Perez continued with his splurging or galatico signings as it is fondly called until former player and French legend Zinedine Zidane was assigned the role of managing the team for some time.
The French man picked up the players at his disposal and danced their way to an European trophy for the second time in three years. They also chased the eventual league winners Barcelona to the last match of the season, consistency was just the watchword.
The next season saw Zidane given full charge of the team and one thing he made sure to avoid was another splurging by the President. Instead he called on younger players either on loan or from the B team to support the starters instead of a new big signing that will disrupt the flow and chemistry in the team. With that same squad, Zidane lifted two consecutive European trophy including a league trophy that has eluded them for more than half a decade.
At the end of Zidane's third successful season in charge of the club, he announced his departure to the surprise of everyone. Just as we fans were mourning his departure, rumours arose that five times best player in the world, a living legend and our highest goalscorer Cristiano Ronaldo would be leaving as well. The news came with a shock, I won't deny I felt sad and still feel it ever since. Apparently every fan of the club misses Ronaldo but we always knew there would be life without him someday but why not at least allow him to retire in the team with all he has done for the club.
We took a deep breath and fought to get over both our legend's departures as Julen Lopetegui was appointed as coach. Unfortunately, Julen handled the team poorly and ended up getting the sack and another former player of the club Santiago Solari was assigned as his replacement at least until a replacement was signed, just as Zinedine Zidane was appointed.
What some of us thought was what happened. Solari immediately got off to a Zidane-esque start, winning matches and scoring lots of goals. The display of the team very much improved and people were beginning to forget the Ronaldo saga which arose when the team was finding it difficult scoring goals.
Not long after, a new option for optimism arose in Brazilian youngster Vinicius Junior. The 18 year old boy alongside Karim Benzema and other veterans in form gave the fans a reason to smile again. They met a Barcelona that drubbed them 5-1 earlier in the season under Lopetegui and earned a draw that would have been a win for them had they been more clinical. Another tough encounter with cross town rivals Atletico Madrid, a team they haven't won for so long saw Real beat them comfortably in front of their own fans. Things were going smoothly and enjoyably until last weekend.
Real Madrid are seeking to wrestle the league title away from defending champions Barcelona and with consistency and some draws from Barcelona, they came as close as 6 or 7 points away from top spot. Consistency was exactly what Real needed to climb over Barcelona and not rely on them to drop points against other teams but they couldn't stand the test of time.
With other competitions to play for, the Uefa Champions league and the Copa Del Rey, both of which are very important and competitive especially the former, Real Madrid had to be able to possess a much experienced squad which can be shuffled time and time again without losing consistency or risk losing the three battles due to fatigue because they are humans playing not machines.
Solari made six changes from the team that were constant starters for the 14 games that was played in 48 days. He replaced them with some second eleven players and the other starters who were not having a worthy replacement in sight continued.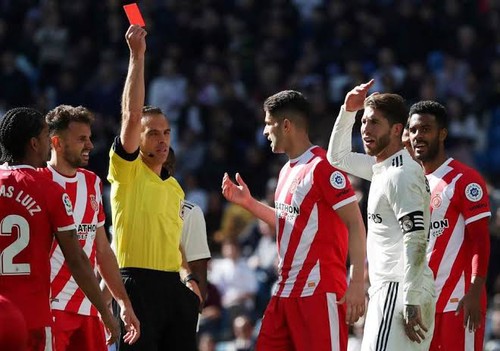 Last weekend against Girona, Real Madrid scored first in the 14th minute of the game but ended up taking their foot off the gas not long after. Girona pressed hard until they were rewarded with a penalty which they converted. Later on in the match, a movement from the middle of the park passed through a displaced Real Madrid team and unluckily for them, they conceded another and ended the match in defeat as they couldn't equalize despite barrages of attacks and the coach throwing in his favorite boys, worst of all, captain Sergio Ramos left the match with a red card.
Real Madrid now sit 9 points below top spot and have gone down to third position, it remains to be seen if they can be able to mount a title challenge as they are still on course to win all three tough battles without their former terrific and consistent goal scorer in Cristiano Ronaldo.
My advice to Real Madrid is, "In life, you win some and you lose some but never stop fighting. Winners never quit and quitters never win".
THANKS FOR READING..