This is the story of Delano, a 12-year old boy from The Hague (Den Haag in Dutch) in the Netherlands. Ever since he can remember he is a fan of the local football/soccer team in his hometown, ADO Den Haag.
You can imagine his happiness when he was invited to become an official ADO Den Haag ball-boy in the upcoming match against De Graafschap. For those who can't imagine, Delano was over the moon, this was a dream coming true for him. Of course, the news spread rapidly among friends, classmates and family members.
Matchday
On Sunday, 9 December 2018, when Delano woke up, he was still the normal young boy he had been during his twelve years on his planet so far. What he didn't realize at that moment was that this day would change his life, at least for a couple of days.
It was indeed the day of the match for which he had been invited by the club to be an official ball-boy. Once arrived at the stadium he received instructions as to how to perform when on the pitch. Whenever the ball crosses the line, make sure that if you are closest to the player willing to have the ball, you are the one to provide it to him as soon as possible. After that, go and collect the ball they just used and keep it until the next opportunity. Watch and enjoy the match from your special position next to the pitch. Pretty logic and clear rules. Obviously, he wasn't allowed to walk onto the pitch, or to throw a ball onto the pitch during play.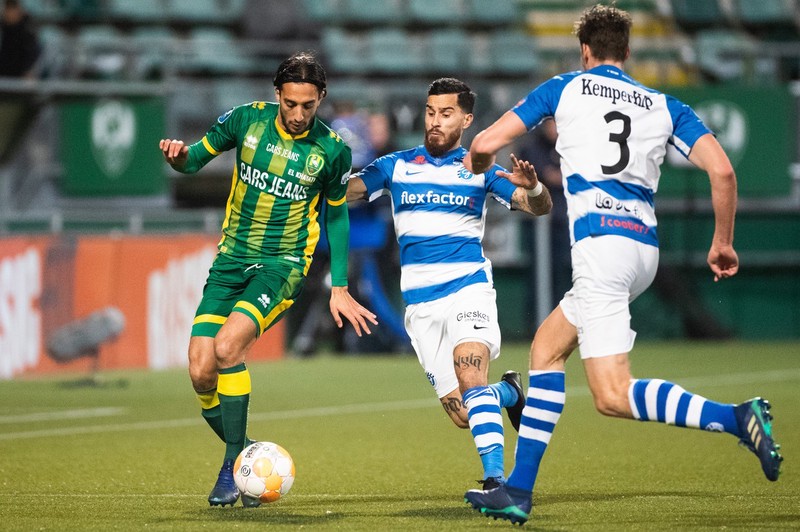 The moment of fame
After 42 minutes into the match, not much had happened. It was still 0-0, not much chances for either of the teams and the fans were getting bored. Delano's spot in the stadium was right in front of the "Midden-Noord" section of the stadium, in which the most fanatic ADO Den Haag fans take place.
The fans behind him wanted a ball to play with as a distraction from the boring game. They did their utmost best to convince little Delano, but he stood his ground. He was not going to give that ball to those grown-up men behind him.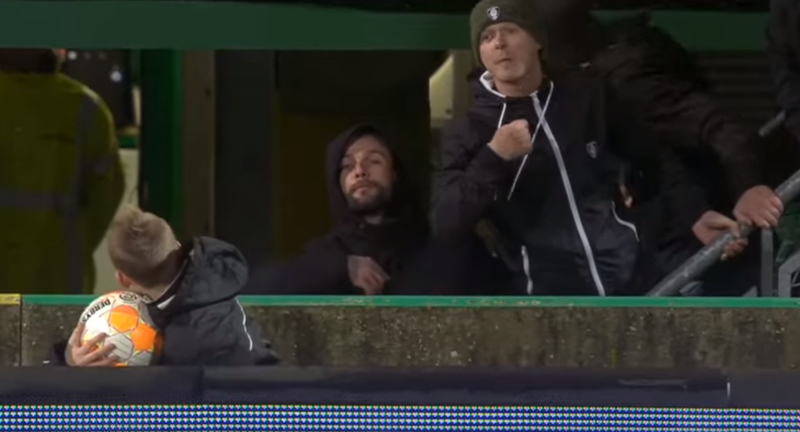 The fans didn't give up however, they were really fed up watching the game and simply wanted to entertain themselves with a ball. None of them had a ball in their possession, so all their hope was on Delano giving them the ball.
In all fairness, Delano didn't want to do it, after all, he was instructed prior to the match. None of these instructions, however, said, "Don't give a ball to the fans behind you". Delano still felt like he couldn't do it, but at some point, you could see that he started to think about it. The more people were waving at him, begging for the ball, the more likely it was for him to give it to them. Eventually, he could no longer stand the pressure and decided to kick the ball into the stands.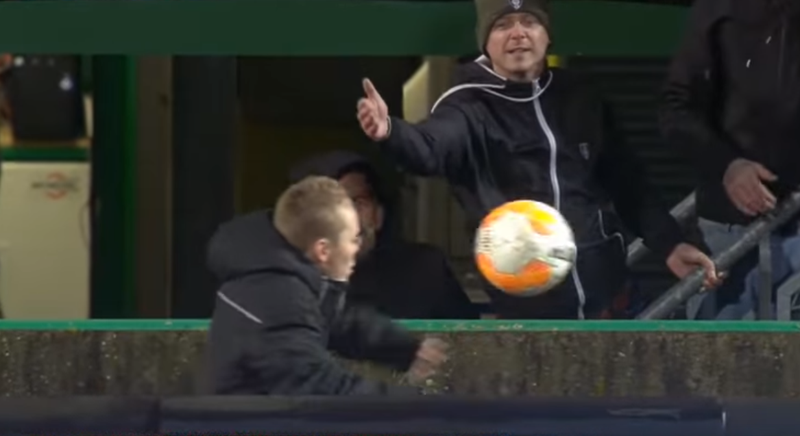 This to the enjoyment of the fans who were instantly passing the ball towards each other for the remainder of the first half.
Delano was their new hero and the fans were singing "He is a hooligan, he is a hooligan", followed by a round of applause. He was now one of them.
Now, don't get me wrong. I am against hooliganism and anything related to fighting people just because they support another team. There's nothing wrong with disliking a team and supporting another. The rivalry should however be nice and fair, without any aggression being involved.
With Delano breaking the rules here, I can see the funny side behind the chants. It's not that the fans want him to fight with fans from other teams, they just admired him for being a rebel. I also generally don't support not following the rules, but this was totally a joke from the fans, and it was pure the pressure that made Delano do this.
A few minutes later, a young woman came over to take him off his duty, as he had crossed the line.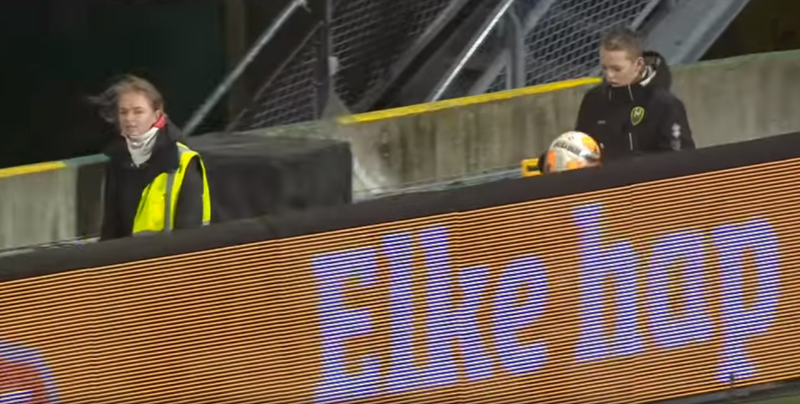 Aftermath
Already during halftime, some fans that were in the stadium went to some stewards asking them for answers they couldn't give them. I've heard that some angry fans also called the club immediately to let them know they made the wrong decision.
ADO Den Haag, on the other hand, was convinced they did the right thing. They told the little boy that he was no longer allowed to be a ball-boy at their club in the future. Whenever this news came out, not just the fans of ADO Den Haag were angered, but people all over the Netherlands. Blogs, websites, newspapers and social media platforms were all over the topic, with most people backing they boy and going against the club's decision.
It didn't take Supporters Group FCDH too long to get in touch with Delano's family, and eventually with Delano himself. They made him a personal banner and went with him on a photo. They placed that photo onto their Facebook page with a statement.
"Our man of the match! Midden-Noord asked for a ball, as the match was too boring and got it from this boy. Our club then made the decision that 12-year old Delano will never be allowed to be a ball-boy at his favorite club. Delano, please know that you are always welcome to join us. You are a real one!"
ADO Den Haag later reverted the decision and has confirmed they made a mistake. Delano has since been told that he is allowed to be a ball-boy again at the next home match against Feyenoord if he would like to. They've also offered him to walk into the stadium with the players if he would prefer that instead.
My opinion
As mentioned above, I am completely against hooliganism. However, this to me personally does not classify as such. For me, what the fans did here was funny in the first place. As for Delano, I don't think there was nothing else he could do than what he did. Not giving the ball would not have resulted in the fans stopping to ask, they would have just increased the demands until he would give it.
To me, ADO Den Haag made three mistakes here. First of all to take him off duty in general. Second, to take him off duty when the game was still going on, despite the fact that the match was already in stoppage time. If they were going to take him off and blaming him for what he did, then they should have at least waited until the first half was over, and basically not let him return in the second half. Lastly, I believe that banning him to be a ball-boy again in the future was a mistake. The fact that they turned around that decision so quickly after Delano's case went viral proves that their decision to do so was wrong.
Here's the video that shows what happened:
Thank you for reading, and please share your opinion in the comments below.
Also, don't forget to let Delano's story go viral worldwide by upvoting this post!