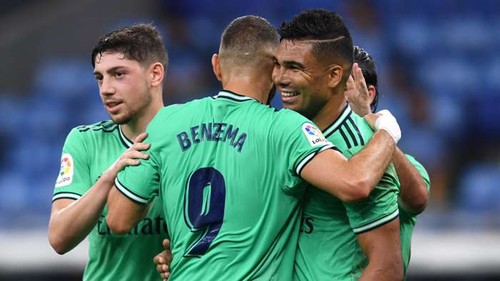 In Spain, the Frenchman is making everyone have a special regard for him today and perhaps it will be so for quite a long time! Karim Benzema and his fantastic pass last night against Espanyol was something else.
---
The Real Madrid striker who delivered an assist to Casemiro is on the surface wonderful, to say the least. The number 9 in Madrid gave a perfect heel to his teammate which is not different from the pass Guti gave to the same Benzema, a few years ago. The special thing about this goal by the Brazilian is that it allows Real to win 1 to 0 and take the lead in La Liga alone, after the blunder of Barca on Saturday. Even the Spanish journal Marca is not mistaken, for it paid homage to Benzema with this title, "Genius reigns over La Liga".
---
For my part, I believe that it is "a heel of a leader" who sends Real to the title of champion with two points ahead of its sworn enemy. Everyone is paying some kind of tribute to the forward with this pun, "What a heel!" No doubt, Benzema's pass will be remembered for a long time. No wonder Zidane captioned it as "one of the best plays of the season".
---
This lead for Madrid however is not a guarantee to lay back and bask in the back heel euphoria. We all know, that the almighty Barca is not known to let go pretty easily. Gerard Pique was heard to have said in a tweet that "we are Barca and it is not over yet. Fighting to the end is part of our DNA". Pique further added that the local press hasn't spared them since the Saturday draw. In my opinion, the bashing by the local press may not be entirely out of place. No club will be spared for making a costly mistake such as was done on Saturday by Barca at a crucial moment.
---
The question of whether Real Madrid will be able to maintain this lead, only the remaining few weeks can answer that.
Sincerely @izge.