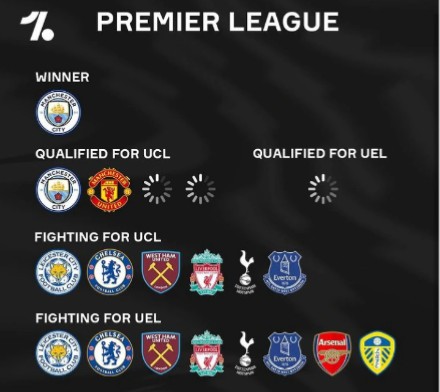 The Barclays Premier league is Gradually coming to a close and there are Basically five teams that can tell what's next for next season amidst the spot for Europe qualification and the league demotion. Manchester City are Crowned Champions while Manchester United with 70 points are sure of making it to the UEFA Champions league even if they get to lose their remaining games while Sheffield United, West Bromwich Albion and Fulham are destined to play in the lower division; EFL Championship, the second tier in the English leagues come next season after their relegation as been confirmed.
EPL CHAMPIONS LEAGUE SPOT
For UEFA Champions league spot, only two teams can join the already qualified duos; Both Manchester clubs with Chelsea, Leicester, West Ham United, Liverpool, Everton and Tottenham are dragging for same spot, which team will sit third and which to occupy fourth. The Merseyside teams; Liverpool and Everton seems to have an edge considering the fact that they both have four games to go till the end of the season as they'll both be travelling tonight as Everton will be filing out against Villa tonight and Liverpool against Archrivals; Manchester United. Chelsea on the other hand do have a very tight fixture as they have two finals (FA CUP and UCL) and yet tough games, to play Leicester twice both in the FA CUP FINAL and in the league which may decide where both teams will end this season and where in Europe they might be playing as both sides do have an edge with regards to their current more comfortable spot... third and fourth compared to the other four teams (West Ham, Liverpool, Tottenham and Everton). You concur that this is a serious battle, so unpredictable.
SINCLAIR RESERVATION
Former Manchester City player; SINCLAIR was bittered over how the fixture between Manchester United and Leicester City went as he felt it killed the competitiveness in the remaining weeks of the competition.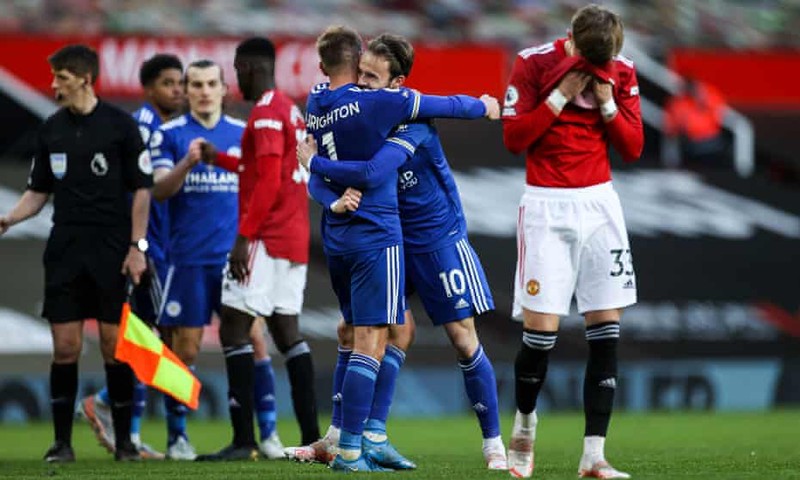 He felt Manchester United should have deduction in number of points saying 3points will be too small but 6 points will be reasonable to deduct stating because Ole changed 10 players that started against Aston Villa thereby, retaining only Greenwood stating that that's an Obvious TEAM B with none of their starting lineup starting except Mason. He mentioned that that made it an easy to lift trophy for his former club; Manchester City to lift also considering giving the Foxes an upperhand to finish top four knowing fully well it's a battleground at the moment yet not taken as such, knowing fully well that UNITED will come out with full force against the Anfield Boys; Liverpool and demands that the Red Devils face reduction in number of points for this.
EPL EUROPA LEAGUE SPOT
The Battle gets tougher at this Spot as there are Basically only 3 spaces for contention here yet two more teams are added up to join this battle for a possible Europa league spot (Chelsea, Leicester, West Ham, Liverpool, Everton, Tottenham and an inclusion of Leeds United and Arsenal).
Arsenal strengthened their chase for Europe spot with a Victory at Stamford Bridge after defending an early goal to beat Chelsea and keep hope alive to at least please their fans who will not want to witness a season without European competition. Leeds on the other hand took it more seriously at the weekend as they defeated Spurs with 3 goals to 1 and will definitely be seen fighting till the end as well.
In Summary, there are five Spots (2 to qualify for Champions league and 3 for the Europa League). To house any at this point will require fighting till the end possibly not losing a game which seem impossible with still some tough fixtures.
MY QUALIFICATION PREDICTION
Champions league Spot
Manchester City
Manchester United
Chelsea
Leicester
Europa Spot
Liverpool
West Ham
Everton/Tottenham.
It has never been this tough with 10 teams (full mid-table) fight for Europe spot. It proves the number on teams on the same level either to say the bigger teams dropped in form or the average teams heightened their games or better still a coincidence of both.