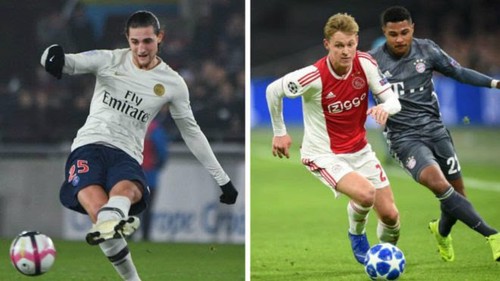 Barcelona ambition to bring two players at once. He is Adrien Rabiot from Ajax Amsterdam and Frenkie De Jong from PSG. Both names are often called Barcelona's management in recent months. As expressed by Marca.com.
Adrien Rabiot and Frenkie De Jong have been Barcelona's targets for the past few months. The latest report from related parties, said that Barcelona is ready to bring two central midfielders in the near future.
But what happens to the three midfield players who are currently still strengthening Barcelona, ​​such as Ivan Rakitic, Arturo Vidal, and Sergio Busquets who are now more than 30 years old. While the wrong or midfielder brought in from Liverpool, Philippe Coutinho, said Barcelona management had not been able to adapt to the maximum in that position.
Meanwhile, Barcelona are also rumored to be releasing Denis Suarez, and Rafinha Alcantara is rumored to be sidelined at the end of this season due to severe ligament injury. While Carles Alena, is too young to continue to rely on the first team.
Regarding the two midfield players who will be carried off by Barcelona, ​​Adrien Rabiot and Frenkie De Jong will sign a contract next summer. Frenkie de Jong will be released at a price of 70 million uero.
While PSG, they are eyeing Southampton midfielder Mario Lemina, as a replacement for Adrien Rabiot. This is indeed strange, PSG is actually targeting players who are struggling to rank below the main league this season. But PSG not only targets Mario Lemino, but also targets Frenkie de Jong who is also the target of the Spanish giant, Barcelona.