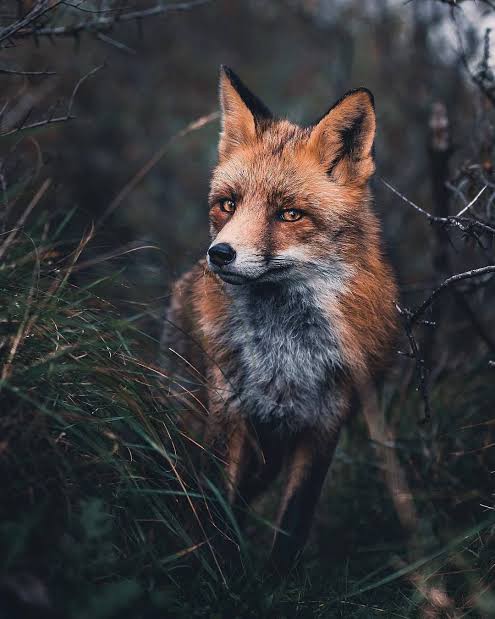 Some see being cunning or sly as smartness that surpasses strength [German proverb], some others disagree, they liken the cunning to a fox, which is as murderous as the violence of the wolf [Thomas Paine], both groups have their reasons, for me, I feel if there are no rules of engagement, then there is no harm or shame in being cunning. The game of football like every sport is guided by different rules and regulations, any sort of antics and trickery outside those rules and regulations are not acceptable and can be term as 'violence', 'improper' conducts amongst other conduct violations.
Sergio Ramos, fully aware of the rules and regulations, chose to ignore them or probably tried to outfox everyone. The Spaniard was booked in the UEFA Champions League round of 16 ties against a familiar foe, Ajax Amsterdam of the Netherlands, but it was later discovered by UEFA's ethics committee that it was a premeditated act by Sergio Ramos, Ramos was then slammed with a 2-match ban which ruled him out of the next 2 UEFA matches.
HOW IT UNFOLDED;
Ramos, improper conduct went down in the 1st of the 2-leg match of the UEFA Champions League match between Real Madrid and Ajax at the Johan Cruff Arena, Netherland, Ajax home ground. Real Madrid had taken a respectable 2-1 lead and was holding on till the final whistle, but then, Ramos in his 'sly wisdom', picked up an 89th-minute booking (his accumulated 3rd), for what seemed to be a careless tackle on Ajax's striker, Kasper Dolberg, but during the post-match interview, Ramos was quoted saying;
I would be lying if I said I didn't force the booking...
His comment apparently showed that his ack was premeditated rather than careless, a comment that had UEFA open a disciplinary investigation and eventually found Ramos guilty by the panel. An additional 1-match ban was added to the initial automatic 1-match ban incurred from the booking. The ban ruled Ramos out of both the return leg against Ajax, and the 1st leg of the quarterfinal should Real go pass Ajax( unfortunately Real didn't go past Ajax).
It is another Happy Moanday contest by our own @pete, click the link to be part if it.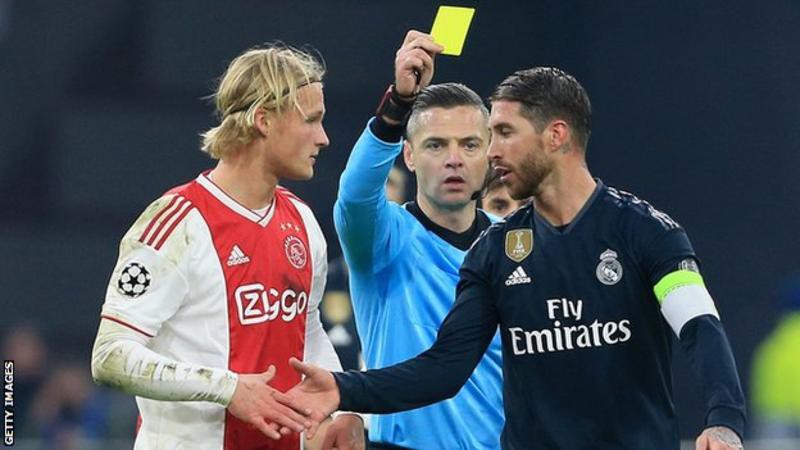 Awkward moment for Dolberg when Ramos offers a handshake after been booked, this guy should be sober, Dolberg thought in his mind.
Rubbing salt to Ramos' injury was the fact that, in his absence, Real Madrid were humiliated in front of home fans 1-4 in the return leg, as they exited the competition 3-5 in aggregated to Ajax, his leadership role at Real Madrid's defence backline as well as the team as a whole was missing.
WHAT UEFA REGULATION SAYS;
•UEFA rules stipulated that accumulation of 3 cautions carry an automatic 1-match suspension.
•It also says that all yellow cards pick up will be wiped clean after the quarterfinals.
with the rules in mind, Ramos wiping his booking slate clean, reduced the risk of being unavailable for the crucial stages of the competition, well, so it seemed if his plan was successful.
IT HAD HAPPENED BEFORE;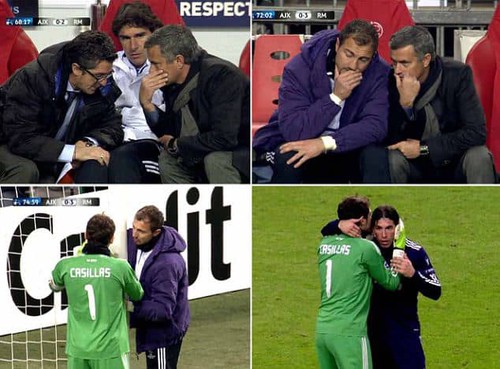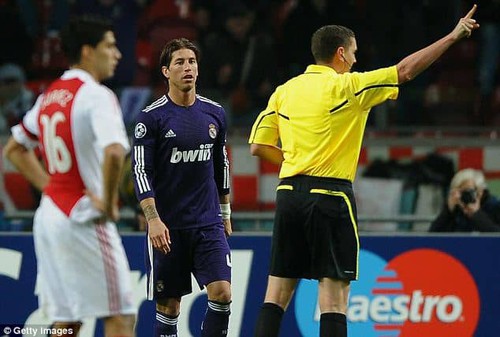 Sergio Ramos is no stranger to cunning conducts and controversies. In 2010, Ramos alongside teammate, Xabi Alonso, deliberately picked up a 2nd booking and then sent off against the same team, Ajax, having taken a comfortable 3-0 lead at the Dutch club home ground. Real goalkeeper, Iker Casillas received instructions from their coaching staff headed by Jose Mourinho through reserved goalkeeper, Jerzy Dudek, Casillas, in turn, informed Ramos and Alonso of the purported plan from the bench. The red card meant Ramos and Alonso would miss the last group G match for Real Madrid against Auxerre, and enter the knock out phase with a clean slate. Mourinho, Ramos and 3 other Real Madrid players involved in the improper conduct were charged, fined and suspended by UEFA.
Absolutely no room for unsporting conduct in the game will all love. Sergio Ramos cunning ways were caught by the long arm of justice both on and off the pitch. A wise man once said;
You can be more cunning than others but you cannot be the smartest of all - François de La Rochefoucauld
Thank you for being part of the Happy Moanday contest